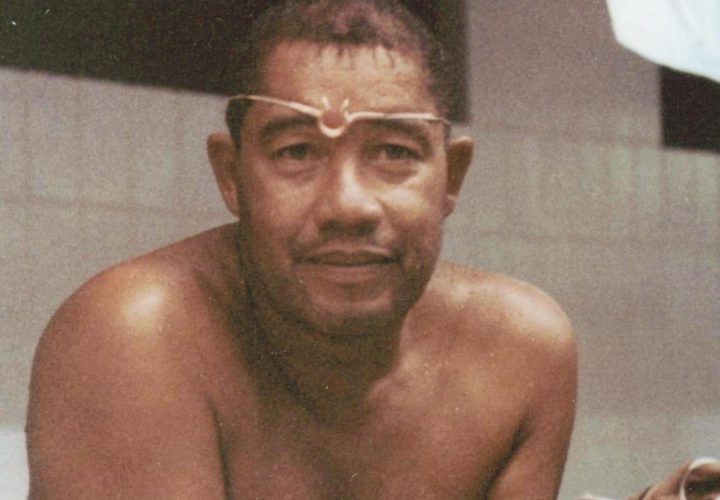 Ed Kirk - first African-American to be named a National Interscholastic Swimming Coaches Association All-America swimmer.
Photo Courtesy: ISHOF archives
Edward Roscoe Kirk passed away at his home in Braden, Florida, on Saturday, April 21. He was 87 years old. Ed was was the first person of African descent to be named a National Interscholastic Swimming Coaches Association All-America swimmer.
As a member of the famed Du Sable High School swim team, in Chicago, Ed was the first African-American to win an Illinois State high school swimming Championship, when he won the 150-yard individual medley at the state meet in 1950.
Du Sable was a segregated school in Chicago in the pre-integration era and while many of the white schools refused to swim DuSable in dual meets, the Illinois School Board mandated that all schools were eligible to compete in the state championships and they all did.
The 150 individual medley race in 1950 was not without incident. In the preliminaries, a stroke and turn judge disqualified Kirk for an illegal turn. But on the pool deck was Wally Ris, the 1948 Olympic 100-meter champion. Ris had grown up in Chicago and had attended Crane Technical High before swimming for the University of Iowa and winning double gold medals in London, the second for the 4 x 200 free relay. Ris was adamant that he had watched the race closely and was certain Kirk did not make an illegal turn. On the word of Wally Ris, the official's decision was overruled and Kirk went on to win the final and record an All-American time that also broke the state record.
Mike Pepe had offered him a scholarship to Ohio State University, but, Kirk said he felt more comfortable with a scholarship offer form the Tennessee Agricultural and Industrial State University, located in Nashville. It was a decision he said he later regretted as he felt he never reached this full potential. Nevertheless he enjoyed swimming with the Tennessee State "Tiger Sharks," who were the perennial Central Intercollegiate Athletic Association Champions — a league consisting of the Historically Black Schools that fielded varsity swimming teams. The schools were Howard University, Hampton Institute and West Virginia State College.  Years later, he said he regretted not going to Ohio State, but at the time he just didn't feel comfortable. Of the HBCUs today, only Howard continues to field a team.
After graduating from Tennessee State, Kirk joined the Air Force and was selected as one of four swimmers to represent the U.S. Armed forces at the 28th International Military Swimming Championships in Namur Belgium, in 1957. One of his teammates was Shiergu Pabila, of Hawaii's famous 3 Year Swim Club.
Kirk finished second in a 3.1 km race in the Meuse River and then won the 100 m freestyle.
Returning home after the service, Kirk joined the Chicago Parks Department as an aquatics instructor, and also worked for the U.S. Postal Service.  But he never stopped swimming. In 1962 he qualified for the Jim Moran "the Car man" Lake Michigan swim. It was a 50 mile swim from Chicago to Kenosha, Wisconsin. (Jim Moran was a Gold Medallion Recipient of the ISHOF.)  Kirk covered 25 miles in 16 hours before his arms gave out. Hall of Famer Greta Andersen won the race and collected the $10,000 prize money.
Before moving to Florida, he retired from the Postal Service and Chicago Park District where he supervised swimming pools, taught swimming and coached swimming and water polo, put on water shows, and taught lifeguarding
In Florida he coached at Brandon Swim and Tennis Club, now BSAC; Athletic Club of Temple Terrace; River Hills; and for two high school teams, Brandon and Armwood.
In 2011, Ed Kirk and his DuSable teammates were honored by the International Swimming Hall of Fame with the inaugural presentation of the Sankofa Award — an original artwork commemorating the contributions of persons of African descent to the sport of swimming.
Edward Roscoe Kirk is survived by his wife of 44 years, Esther; children, Edward Jr., Alden, Loana, Ivan, Catherine, and Erin; sisters, Beatrice (Turner), Annabelle (Candis); six grandchildren; four great-grandchildren; a host of nieces and nephews and cousins as well as many swimmers, fellow coaches, and friends in the Tampa area and in Chicago. Ed was preceded in death by his son, Wyatt; brother, Wyatt; sister, Clarice (Jones). In lieu of flowers, contributions are welcome to the Brandon Sports and Aquatics Center, a 501c3 organization, where Ed taught and coached many people www.mybsac.org/
A celebration of life will be held 7 p.m., Friday, April 27, at Brandon Sports and Aquatic Center, 405 Beverly Blvd, Brandon, FL 33511. Casual Dress is encouraged. Please sign Edward's guestbook at: www.HillsboroMemorial.com.