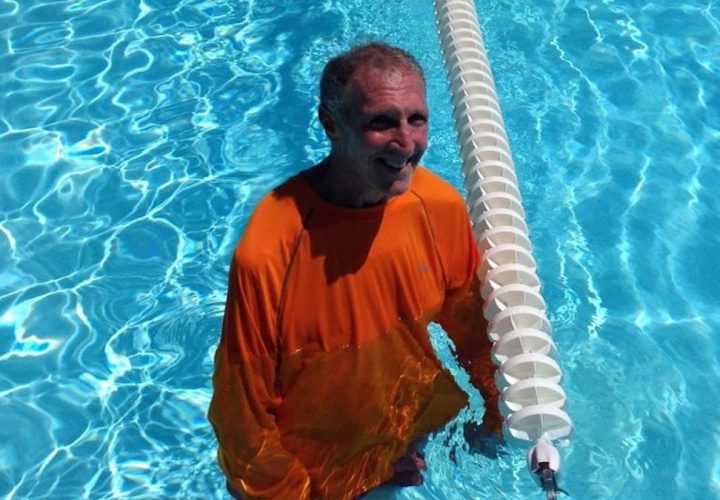 Photo Courtesy: Andy Coan
Andy Coan, a former world record-holder in the 100 free, has passed away, according to a report from the Knoxville News Sentinel. He was 60 years old.
Coan, according to the report, had for two years suffered from Guillian-Barre syndrome, damaging his nervous and immune systems, and he was later diagnosed with liver cancer, which ended up being the cause of his death.
Coan set his world record on Aug. 3, 1975, touching in 51.11 in a local meet in Ft. Lauderdale, to break Jim Montgomery's previous mark by one hundredth of a second. But he ended up holding the mark for less than three weeks before Montgomery took it back and became the first man ever under 51.
Coan won three gold medals at the 1975 World Championships in Cali, Columbia, including the 100 free, and he then swam at Tennessee from 1976 until 1980.
In 1978, he won both the 50 and 100 free at the NCAA championships and was a key cog in helping the Volunteers win the program's first NCAA championship and, to that point, the first won by any school from the SEC. Over the next two seasons, he split the NCAA titles in the 50, 100 and 200 free with Auburn's Rowdy Gaines.
Coan chose not to participate in the 1980 U.S. Olympic Trials after the U.S. boycott of the Moscow Games was announced. He is a member of the Tennessee and Pine Crest Hall of Fames.
Read more from the Knoxville News Sentinel here.
Press release from International Swimming Hall of Fame:
The International Swimming Hall of Fame (ISHOF) sadly reports that Andy Coan has passed away after a long illness in a Hospice facility in Boca Raton. He was 60 years old. In 1975, at 17 years of age, while representing the Pine Crest High School and swimming for ISHOF Honor Coach Jack Nelson, he broke Jim Montgomery's 12-day old world-record in the 100 meter freestyle.

Later that year, Coan won three gold medals representing the USA at the 1975 FINA World Aquatics Championships in Cali, Colombia, as a member of the 400 freestyle, the 400 medley relays and an individual gold in the 100 freestyle. He continued his winning run at the 1975 United States National Swimming Championships, where he won the 100 free.

After graduation from Pine Crest in 1976, Coan attended the University of Tennessee on a swimming scholarship. At UT he won seven NCAA Championships, including the 50 and the 100 freestyle twice.

Andy missed two opportunities to compete in the Olympic Games. He came up short in 1976, and when the Carter Olympic boycott was announced, he chose not to participate in the post Olympic Trials.

Until health issues prevented him from doing so, Andy could be found on the pool deck helping Sid Cassidy and Jay Fitzgerald coach their teams at the Saint Andrews School and at his alma mater, Pine Crest.

He was diagnosed withe Guillian-Barre disease several years ago and had gone from total paralysis to a point were he was able to travel to Santa Clara, Calif., for a reunion of the USA's 1975 World Championship team, organized by the ISHOF. But then came a battle against liver cancer that ultimately took his life.

"Andy was a great friend of swimming and the Pine Crest School," said the schools coach, Jay Fitzgerald.  "He was always generous with his time and always positive – even through all his health issues. He will be missed."

Coan still holds the Pine Crest School records for the 50 and 100 freestyle at 20.19 and 43.99, respectively, dating to 1975.  Amazingly, those times would have won the 2016 state titles, without a tech suit or underwater starts and turns.

Andy leaves behind his 13 year-old son Richard and his girlfriend, Karen Britton, who faithfully stood by him through all of his health problems.

A memorial service is being planned to take place at the ISHOF, in Fort Lauderdale in late April.