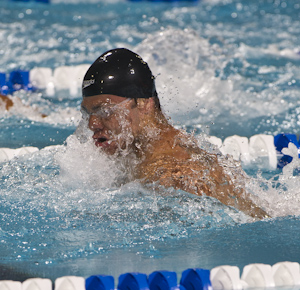 For the most comprehensive coverage on the Internet provided by Swimming World, check out the Event Landing Page for recaps, results, photos and videos from Irvine!
IRVINE, California, August 20. BRAZIL's Felipe Silva captured the sprint breast crown, and the top ranking in the world en route, at the Pan Pacific Championships.
Silva checked in with a winning effort of 27.26 to clear Kosuke Kitajima's previously top-ranked time of 27.30 set in April. USA's Mark Gangloff finished second overall in 27.52 to move to 10th in the world rankings, while Canada's Scott Dickens took third in 27.63.
Australia's Brenton Rickard placed fourth in 27.65, while Japan's Ryo Tateishi tied Kitajima for fifth with matching 27.67s. Brazil's Joao Gomes Jr. placed seventh in 27.69, while USA's Mike Alexandrov finished eighth in 27.70.
New Zealand's Glenn Snyder claimed the B final with a time of 27.83, just missing his personal best time of 27.73.
Coverage Sponsored by TYR