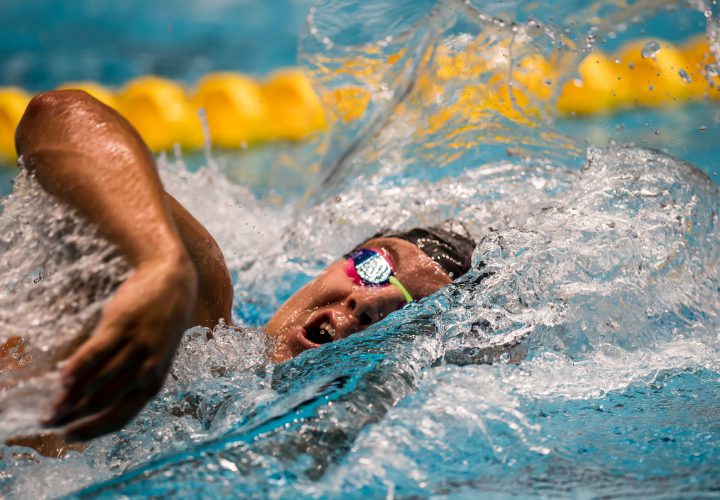 Grant Shoults.
Photo Courtesy: Peter H. Bick
The No. 4 Stanford men finished the regular season unbeaten with a dramatic 151-149 win over No. 1 Cal on Senior Day at the Avery Aquatic Center on Saturday.
Sophomore Grant Shoults set a pool record and junior Abrahm DeVine won three events for Stanford (6-0, 4-0), which led by seven points heading into the final event. Cal (5-1, 4-1) won the event with a pool record time in the 200-yard freestyle relay, but the Cardinal took second and third to win the meet by two.
Prior to the meet, the Cardinal honored six seniors. It would be a memorable finale for Ted Miclau, Tarek Abdelghany, Liam Egan, Andrew Liang, Sam Perry and Curtis Ogren, who have combined for 30 All-America honors and led Stanford to back-to-back Pac-12 championships.
Stanford won just five of the 14 swimming events, but received some big points from its senior divers. In their final meet at Avery, Miclau and Abdelghany took the top two spots on the 3-meter. Miclau won with a score of 366.83 to edge out his teammate's score of 342.30. Abdelghany won on the lower board with a score of 349.05, and Miclau earned a third-place finish at 306.68. The duo combined for 25 of a possible 26 points.
DeVine swept the backstroke, and was tops in the 200 individual medley. DeVine (46.89) and Ryan Dudzinski (47.89) finished 1-2 in the 100 back, and DeVine was dominant in the 200 back as he won by nearly two full seconds at 1:42.25.
DeVine then capped the day with a clutch victory in the 200 IM. He touched the wall at 1:45.81 and freshman teammate Alex Liang was second at 1:47.95 — that combination gave Stanford its seven-point lead heading into the final relay.
Not long before that, Shoults hit the wall at 4:17.69 in the 500 free. It broke his own pool record of 4:18.40, which was also nearly topped by senior teammate Liam Egan (4:18.48) as the runner-up.
For Cal in the 1,000 free, freshman Johannes Colloni went sub-nine as the first to touch the wall at 8:59.20.
Michael Jensen followed with a time of 1:35.13 and a win in the 200 free and Cal went 1-2 in the 100 breast with Andrew Seliskar swimming to a season-best time of 53.81 and Carson Sand taking second.
The Bears continued their momentum with Zheng Wen Quah swimming to a time of 1:43.94 to win the 200 fly. Pawel Sendyk and Justin Lynch went 1-2 in the 50 free as Sendyk's time of 19.61 sent the Bears to the first break with a lead in the team standings.
Jensen earned his second win of the day with a time of 43.78 in the 100 free.
Utah tops short-handed USC
The Utah men had a stunning senior day at Ute Natatorium with a 141-121 victory over No. 8 USC on Saturday.
The upperclassmen set the tone as Jack Burton, Ben Scott and Paul Ungur teamed with Rodolfo Moreira to win the 200 medley relay in 1:28.81, a new pool record.
In the process, Ungur swam the leadoff leg, a 50 back, in 21.37 seconds to set a new pool record. He would also take runner-up in the 100 back and 100 fly.
Two more pool records were set this afternoon as Rahiti De Vos captured the 500 free in 4:26.14 and Cole Avery won the 200 IM in 1:50.01
USC junior Alex Valente and freshman Robert Glinta each won twice among seven Trojan race wins, but USC was with four key swimmers back in L.A. to train.
USC raced without seniors Dylan Carter, Santo Condorelli and Ralf Tribuntsov as well as junior Patrick Mulcare.
Valente won the 200y fly in 1:45.35 and claimed the 100y fly in 47.25, both pool record times. Glinta won the 100y back in 46.35 and came back to take the 200y back in 1:45.74.
Freshman Jake Sannem also broke a pool record en route to his win in the 200y free in 1:38.36, just ahead of Utah's Austin Phillips (1:38.45). He was later second in the 500y free.
Junior Carsten Vissering won the 100y breast in 55.03 while freshman Justin Nguyen touched first in the 100y free in 44.68, 0.03 ahead of Utah's Liam O'Haimhirgin.