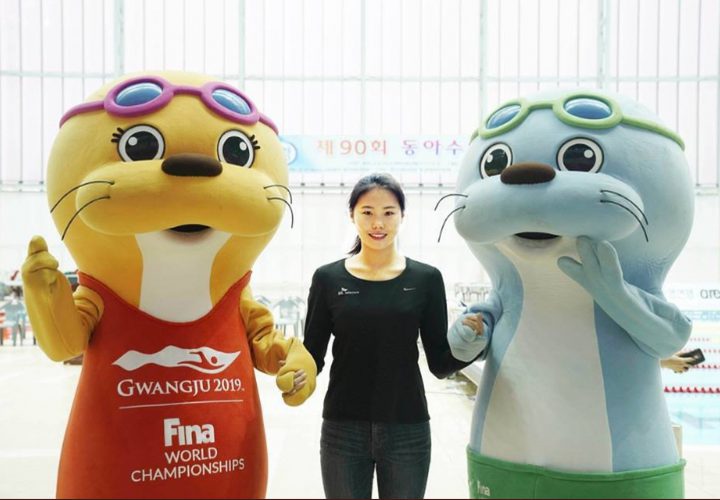 Photo Courtesy: Twitter, @Gwangju2019_
The 18th FINA World Aquatics Championships will take place in Gwangju, South Korea July 12-28, 2019. On May 4, the Gwangju 2019 committee announced the mascot for the games via their Twitter account:
We chose to have otters as #symbol for the #Championships! Why? The otter swims freely in the water and symbolizes swimmers' passion for #challenge. #Gwangju2019 #Diveintopeace pic.twitter.com/LltCtBjpHd

— Gwangju2019 (@Gwangju2019_) May 4, 2018
The otter swims right on track with the slogan of the games, "Dive Into Peace." According to the event website, the saying was developed in hopes of enhancing human peace in the city. The website also further explained the choice of otters as mascots:
"The mascot of the 2019 Gwangju FINA World Championships is the otter, a flagship species of Mt. Mudeungsan that has returned to the Yeongsangang River of Gwangju. The otter swimming freely in the water symbolizes the swimmers' passion for challenge and promotes the "spirits of peace" to the citizens of the world enjoying the harmonious festival."
The theme of peace is consistent throughout all elements of the Championships. The Strategy and Goals of the event are outlined as follows:
People – Peaceful coexistence of humanity
Environment – Green Championships, Best athlete experience
Advance – Advancing toward a dream
Culture – Building an inclusive culture
Economy – Boosting local economy and sustainable Championships legacy
The Championships will represent the challenge and process of reaching these goals.
FINA contributed to this report.