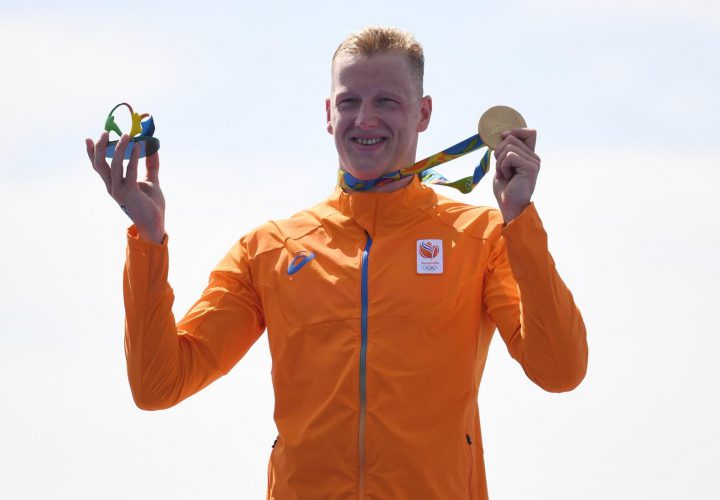 Photo Courtesy: Kyle Terada-USA TODAY Sports
Day two of competition at the Eindhoven Swim Cup was highlighted by a win in the men's 200 free by open water Olympic gold medalist Ferry Weertman, a quick performance by Tennessee-trained Dutchwoman Kira Toussaint in the women's 100 back and a new meet record in the men's 50 breast.
The session began with a German sweep in the men's 200 fly as David Thomasberger finished first in 1:59.42, just ahead of countrymen Patrick Staber (1:59.56) and Ramon Klenz (1:59.77). Germans again posted the top three times in the men's 100 back. Christian Diener won in 54.13, followed by Marek Ulrich (54.70) and Bernhard Reitshammer (56.21).
Toussaint blasted a quick time of 1:00.28 in the women's 100 back, good for ninth in the world this year and a spot at this summer's World Championships. The Czech Republic's Simona Baumrtova finished second 1:00.47, and Germany's Lisa Graf completed a quick top-three with her 1:00.69.
The Netherlands' Amo Kamminga set a meet record of 27.47 to win the men's 50 breast. The 21-year-old now ranks sixth in the world this year. The Netherlands' Timon Evenhuis (28.45) edged Reitshammer (28.50) for second place. The Czech Republic's Barbora Zavadova was dominant in the women's 400 IM, winning in 4:45.27 to easily out-pace Germany's Marlene Huther (4:51.13) and the Czech Republic's Martina Elhenicka (4:54.86).
The Netherlands' Marrit Steenbergen set a new Dutch Junior record in the women's 100 fly, coming in at 59.30. Fellow Dutchwoman Kinge Zendringa finished second in 1:00.02, just ahead of the Czech Republic's Lucie Svecena (1:00.14).
Weertman went head-to-head in the 200 free final with Dutch countryman Kyle Stolk, and it was the open water specialist getting the better of Stolk on the last 50. Weertman touched in 1:48.16, while Stolk finished in 1:48.21. Those times rank 11th and 12th, respectively, in the world this year. Another Dutchman, Maarten Brzoskowski, took third in 1:49.41.
The Czech Republic's Jan Micka moved into eighth in the world in the men's 800 when he pulled off a dominant victory. He took over the lead at the 150 and never looked back, finishing in 7:58.37. Germany finished 2-3 with Poul Zellmann (8:04.01) and Henning Muhlleitner (8:10.67).
In para events, Marc Evers (S14) won the 100 back in 1:01.20, followed by Dutch countrymen Bas Takken (S10, 1:04.44) and Thijs van den End (S9, 1:07.16). The top three in the women's 100 fly were again three Dutch swimmers: Ilona Venema (S10, 1:11.38), Chantalle Zijderveld (S10, 1:11.81) and Manon Vermarien (S9, 1:19.06).
Taken won the para men's 200 free in 2:00.31. Michael Schoenmaker (S4) finished second in 3:06.71, and third went to Sebastiaan Broere (S14, 2:07.18). Lisette Teunissen (S3, 1:51.28) took first in the women's 100 fly over Lisa Kruger (S10, 1:10.09), while Cleo Keijzer set a new Dutch S8 record with her third-place time of 1:20.72.
In the day's final para event, Duncan van Haaren (S9) won the men's 50 breast in 31.42. Evers took second in 31.44, and Thijs van Hofweegen (S6, 40.80) was third.