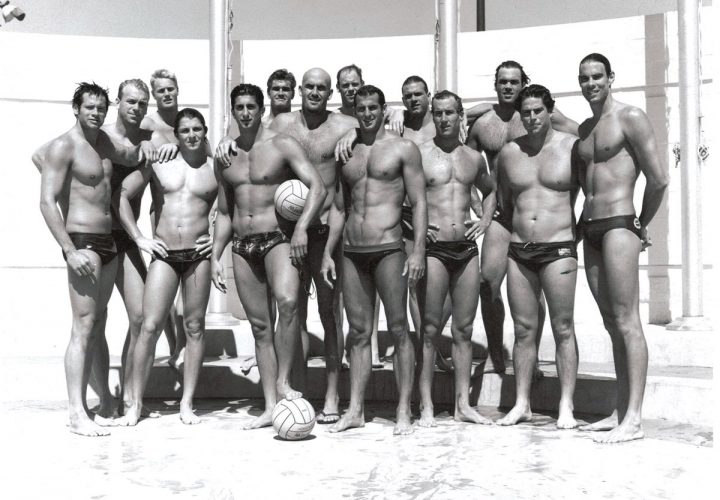 2000 U.S. Men's Water Polo Squad. Photo Courtesy: USA Water Polo
By Michael Randazzo, Swimming World Contributor
It's possible that Brad Schumacher never slows down. Once one of the fastest swimmers in the world, the 43-year-old now races around the globe as president of Kap7, one of the world's largest suppliers of water polo equipment.
His life is a far cry from his youth in Bowie, Maryland, 20 miles west of Annapolis where Schumacher grew up swimming and playing water polo under the watchful eyes of coaches Carol Chidester and Mike Schofield. Their guidance led him to an All-American career in both sports at University of the Pacific where John Tanner—now head coach for the Stanford women's water polo team—helped prepare him for one of the most challenging double plays in the Olympic Games. In 1996 he qualified for the Olympics in Atlanta as a member of USA Swimming Men's National Team, where he won gold in both the 4 x 100-meter and 4 x 200-meter freestyle relays. Schumacher again qualified to swim in 2000, but also made the U.S. Men's Senior National Water Polo Team. Sticking to polo, he helped Team USA to 6th place at the Sydney Games.
Now retired from competition, Schumacher spends much of his time overseeing the increasingly complex operations of Kap7, the company that he and Wolf Wigo started out of their garages 13 years ago. But he also keeps a hand in the sport as the director of the SET Water Polo Club in California's South Orange County, and by offering youth clinics whenever his schedule allows. His goal? Continue to inspire boys and girls to follow a path to success.
"I want to help them understand that if they put their minds to something, it doesn't matter where you come from—and Wolf and I being two East Coast guys who ended up on the Olympic team—it about your commitment to working hard."
"A Natural Synergy Between the Two Sports"
What is most significant about Schumacher's experience is that he is one of the few Americans to ever qualify for Olympic aquatic events in both individual and team categories. This rare accomplishment—among Americans only Duke Kahanamoku, Tim Shaw and Johnny Weissmuller both swam and played water polo in the Olympics—was a byproduct of an early devotion to both sports: Schumacher swam for Chidester and played water polo for Schofield at the Navy Juniors club in Annapolis.
It not only helped him to be better in both sports but it broke down the divide the two.
"There's a natural synergy between the two sports but it's important to understand what your focus is," he said. "Swimming and water polo are uniquely positioned to benefit one another. Unfortunately, with coaches in general, when you get an athlete who's thriving in a certain sport and happens to be thriving in another sport, sometimes the mantra is: if you focused all your time on this one sport, whether it be water polo or swimming, you'll be better at that sport."
Swimming is essentially a solitary activity, which explains why Schumacher was drawn to a team sport like polo. "On the water polo side of things, I loved the team atmosphere and it gave me a real edge on the swim side," he said. "Even though I wasn't spending so much time in the swim lanes I was still in the pool."
John Tanner and University of the Pacific
High school success at Junior Nationals for swimming and Junior Olympics for water polo—in 1990 he was a member of the only East Coast team in history to win the under-18 crown at JOs—resulted in a scholarship offer to swim and play polo under John Tanner at University of the Pacific.
"I trained under one coach for both sports, which was unique—I don't know if that's even happening anymore," Schumacher explained. That unique relationship between athlete and coach was to yield tremendous dividends for a young Schumacher in the 1996 Olympic Games in Atlanta. After receiving the news that he would not make the men's water polo roster, Schumacher huddled with his coach and came up with a new plan: qualify for the Atlanta Olympics as a swimmer.
"In 1994 I was solely focused on water polo. I was swimming at the NCAA level and doing well but my goal was going to the '96 Olympics for water polo," he said. "It wasn't until I was training down in L.A. with Rich Corso, the Olympic water polo coach, and I asked him: 'Are you going to take me to [FINA] world championships in Rome [1994]?' He said: "Brad, we have you slated for '98. You're going to be part of the next generation.'"
"Right then and there I knew I wasn't in the mix; I was in the top training group but I wasn't going [to Atlanta] for water polo."
The silver lining was a two-and-a-half-year plan devised by Tanner to get his protege in shape for Atlanta—one that paid off spectacularly with two gold medals. At Olympic Trials, he placed sixth in the 4 x 200-meter freestyle relay by 1/100th of a second and tied for third in the 4 x 100-meter freestyle relay, qualifying him for both events.
"I had a great swim in the morning and got to swim at night," Schumacher said of his races in Georgia Tech's Aquatic Center. "JT had me prepared mentally and physically—the preparation was so spot-on that I never felt nervous. I got to swim in both relays at night and won both."
Enter A New Coach and A New Career
When Ratko Rudic signed on to be the U.S. men's water polo coach in 2001, he agreed to a long-term deal that would extend through two Olympics. Schumacher said the Croatian native, who had already won gold as a coach for Yugoslavia and Italy, "Came in and worked harder than anyone. He was a great fit at the time for the program."
But Schumacher was now looking to life after the Olympics. "At that time in 2001 I was 27, 28 and had been a professional swimmer and water polo player for nine years." he said. "My focus had changed. I knew there was just no way—as much as it sounds great to compete in four Olympic games,"
He may have left the team but Schumacher remained in contact with teammates, including good friend and fellow Easterner Wigo. Their coach imposed a grueling training regimen; though the U.S. did not make the medal round in 2004—and Rudic left to coach the Croatian national team—the effort paid off in 2008 with a silver medal in Beijing.
"The reason the team had a successful result in 2008 was all the work that core group of guys put in from 2000 to 2004," Schumacher explained. "When you train as hard as he trained us, you feel like you can do anything. It doesn't matter who you play. There's nobody in better shape than you because he made sure you were seriously fit."
Creating Kap7 and Worldwide Exposure for the Sport
What would a double Olympian do as a follow-up act? In Schumacher's case, it was to co-found one of the world's most successful manufacturers of water polo gear. While finishing an MBA at Pacific, he and Wigo did what they knew best: taught polo. It was wildly successful; they would do three-hour clinics at high schools all over California and—because they weren't affiliated with a club—Schumacher and Wigo became known as the "Olympic Guys."
Soon a part-time opportunity to pick up some extra cash morphed into a full-time business. And the newly-minted MBA saw the possibilities in a country that had little understanding of polo but an appetite for new athletic options.
"We started to see the trend," Schumacher explained. "We were driving back from a clinic in San Diego and I asked: 'What are we going to call this think?!' Wolf said: 'Cap 7! Everyone's always fighting over number seven.'"
A designer changed the "C" to "K" and their joint venture grew exponentially. Kap7 now has contracts with approximately 50 water polo organizations all over the world; LEN, which covers all professional play in Europe, the Greek Federation, the Hungarian Federation and soon the most prestigious of all, the Serbian Federation. In America, the company's reach extends from the NCAA, junior college, seven sections of CIF to Florida, Oregon, Pennsylvania, Texas and Washington.
"If you're playing under a sanctioned, governing body, [Kap7 has] the contracts," their president said.
Challenges Faced by Team USA
Given his past as a player and present as a global representative for Kap7, Schumacher remains deeply committed to the success of the U.S. Men's Senior National Team. Like many, he was disappointed by recent Team USA performances, including program-worst showings in the 2016 Olympics (10th) and 2017 FINA World Championships (13th).
Still, he maintains faith in head coach Dejan Udovicic, who Schumacher believes has a difficult obstacle to success: cooperation from powerful U.S. college coaches.
"I think he's got some things working against him," he said. "In the college ranks, some of the major coaches aren't 100% supportive of him. That's obvious based on this world championship, getting guys released five days before the tournament."
"If the college coaches don't support the national team, then it's a failing prophecy."
One thing he will not accept is lower expectations. Despite almost a decade of diminished results, the competitor in Schumacher refuses to let the ultimate Olympic expectation die.
"If the hockey team in 1980 can win the gold medal, then we can win a gold medal," he said. "We have the athletes, we have the greatest pipeline, we have all the tools in the world. We have to take a step back and think about the model of how we're getting this kids prepared. And, we can for sure have a result in Tokyo."
For his sake—and for all Americans who love the sport—let's hope he's right.
Editor's Note: The following article is drawn from an in-depth interview double-Olympian Brad Schumacher gave recently. Schumacher will be holding a youth water polo clinic prior to the Mid-Atlantic Water Polo Conference Championships on Saturday, November 18 at the U.S. Naval Academy. Information on this clinic may be found here.