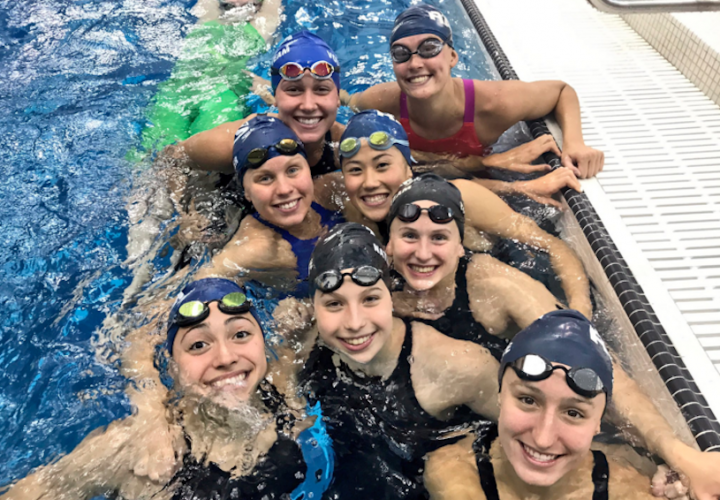 Photo Courtesy: Mason Manta Rays (Twitter)
The Columbus stop of the 2017 summer Speedo Sectionals series came to a close this evening. The final session was highlighted by a number of close races- from the 100 freestyles the whole way up to the 800.
Mid-Michigan's 14 year old Lola Mull chopped nearly 40 seconds off her seed time to win the women's mile. She touched in 16:51.30. Just over 17 minutes was Emma Bradley in 17:01.50. Touching third was Club Wolverine's Georgia Mosher with a 17:09.97.
In the final 100 meters Bearcat Aquatics' Christopher Bready pulled away from Dayton Raiders' Eric Knowles to win the men's 800 8:14.78 to 8:16.19. Skyler Cook-Weeks of MI Lakeshore grabbed bronze (8:24.64).
Ohio State's Meg Bailey dominated the 200 IM in 2:15.05. MI Lakeshore's Kathryn Ackerman placed second in 2:18.02 while Ohio State Swim Club's Molly Kowal (2:19.57) secured third.
Ackerman's teammate Kyle Maas stopped the clock in 2:02.45 to win the men's event. He was followed by the Mason Manta Ray's National Age Group record setting relay member Carson Foster with a 2:03.65. Arizona State commit Grant House placed third (2:05.08).
The women's 100 freestyle was a close one. Olivia Schmelzer got to the wall first. The Lancaster YMCA 17 year old posted a 56.96 to win the event. Ohio State Swim Club teammates Macie McNichols and Maria Coy finished just .01 apart in times of 57.10 and 57.11.
Upper Arlington's Parker Neri clocked a 50.63 to grab gold in the men's 100 freestyle. This event also featured a close finish. House edged Cincinnati Marlins' Justin Grender 51.51 to 51.52 for second place.
In this morning's relays the Mason Manta Rays team of Cora Dupre, Lauren Olson, Hannah Foster, and Ashley Volpenhein posted a 1:45.39 to win the 200 freestyle relay. Behind them was Ohio State Swim Club's Coy, Marianne Kahmann, Kathleen Cook, and McNichols in 1:45.84.
The Manta Ray's teammates then followed them with a second place, 15-16 National Age Group record. The quartet of Carson Foster (23.68), Jake Foster (23.61), Tyler Babinec (24.36) and Adam Chaney (22.44) touched in 1:34.09. Ohio State's Clark Jackman, Mark Belanger, Nathan Christian, and Justin Dunn (1:32.16) won the event.
Kahmann, Coy, Bailey, and McNichols swam together to touch in 4:14.85 to win the women's 400 medley relay by nearly three seconds. It was once again Ohio State Swim Club- this time with the team of Brad Shannon, Michael Eaton, Henrique Painhas, and Andrew Loy– taking gold in the men's 400 medley relay (3:48.16).