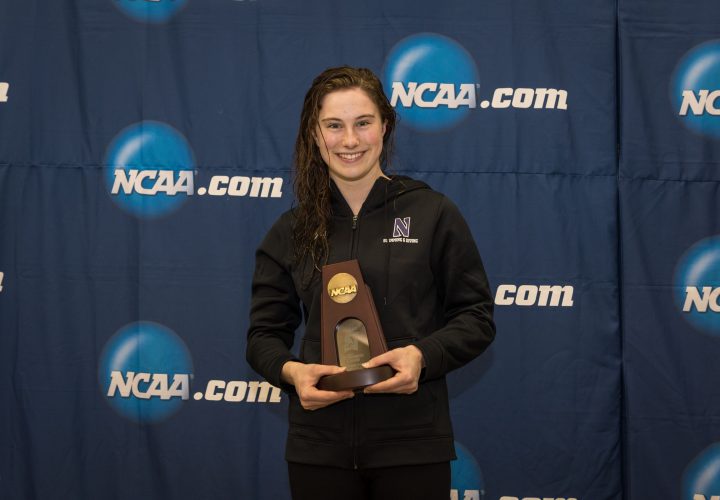 Photo Courtesy: Peter Bick
NCAA DI editorial coverage is proudly sponsored by Adidas. Visit adidasswimming.com for more information on our sponsor. For all the latest coverage, check out our event coverage page.

CLICK FOR FULL RESULTS
Northwestern men's basketball may have made history this year by making its first appearance in the NCAA tournament, but its swim team also made history this March with its first national champion on the women's side. Sophomore Olivia Rosendahl won the platform diving title Saturday night with a score of 335.30 to beat out Indiana's Jessica Paratto at 314.45. What is even more impressive? Northwestern doesn't even have a platform. Rosendahl said in her on deck interview that she has to commute to a different pool once a week to train platform.
Rebecca Quesnel of Florida International placed third in the event at 302.35. Nebraska's Abigail Knapton, Purdue's Lexi Vincent, Iowa's Calli Head, Purdue's Emily Meaney and Minnesota's Lexi Tenenbaum also competed in the final tonight.
There was little change to the team scores, but Minnesota did move into 8th place going into the last relay.
 Event 20  Women Platform Diving
=========================================================================
         Meet: C 396.75  3/23/2013 Haley Ishimatsu, Southern Cal
    Name           Year School            Prelims     Finals NISCA Points
=========================================================================
                            === A - Final ===                            
 
  1 Olivia Rosendah  SO Northwestern       339.00     335.30         20  
  2 Jessica Parrato  SO Indiana            333.40     314.45         17  
  3 Rebecca Quesnel  JR Florida Internat   290.95     302.35         16  
  4 Abigail Knapton  FR Nebraska           286.55     297.30         15  
  5 Alexis Vincent   SO Purdue             266.95     289.75         14  
  6 Calli Head       SR Iowa               289.30     280.45         13  
  7 Emily Meaney     FR Purdue             308.95     271.90         12  
  8 Lexi Tenenbaum   SR Minnesota          269.00     235.95         11


Combined Team Scores - Through Event 20                 
 
  1. Stanford                        486.5   2. California                        334
  3. Texas A&M                       270.5   4. Texas                             234
  5. Georgia                         218.5   6. Indiana                           185
  7. Louisville                      168.5   8. Minnesota                         168
  9. NC State                          166  10. Southern Cali                     146
 11. Michigan                          145  12. Virginia                          139
 13. Missouri                          135  14. Kentucky                          106
 15. Arizona                          84.5  16. Wisconsin                          74
 17. UNC                                61  18. Ohio St                            52
 19. Auburn                             50  20. UCLA                               46
 21. Northwestern                       40  22. Purdue                             33
 23. Umbc (W)                           30  24. Miami (Oh)                         29
 25. Tennessee                          27  26. Iowa                               26
 27. Nevada                             25  28. Florida St                         24
 29. Arizona St                         22  30. Denver                             20
 31. Virginia Tech                      18  32. Florida Int'l                      16
 33. Nebraska                           15  34. Lsu                                14
 35. Cincinnati                         12  36. Boise St                           10
 36. Penn St                            10  38. South Carolina                      8
 39. Air Force (W)                       5  39. Miami (Fl)                          5
 41. Pittsburgh                          4  41. Florida Gulf                        4
 43. Alabama                           3.5  44. Massachusetts                       2
 44. San Diego State University          2  44. Notre Dame                          2
 47. Duke                                1  47. Rutgers                             1
 47. Drexel                              1