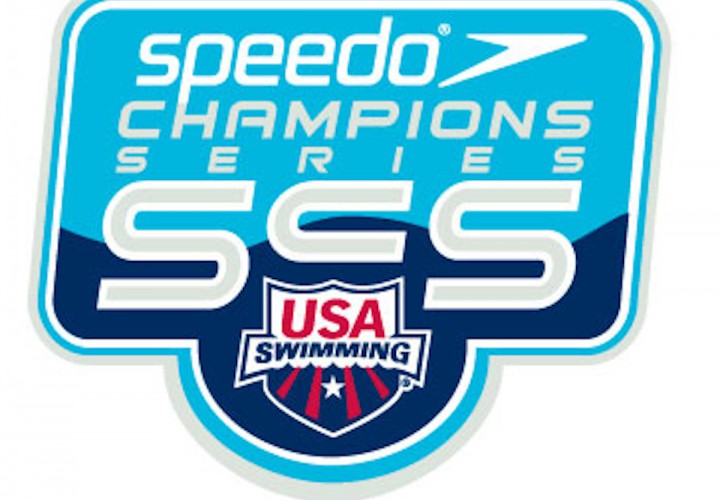 OXFORD, Ohio, July 24. WITH victories from the women's and men's 200 free relay, Christopher Depietro, Aliena Schmidtke, Steffen Hillmer, Lindsey Clary and the women's 400 medley relay tonight, Ohio State Swim Club sealed the deal on the combined, men's and women's team titles at the Speedo Champions Series Central Zone Section 3 meet at Miami University.
Ohio State picked up right where they left off last night by winning the opening women's and men's 200 free relays on the final night of racing. Annelise Jongekrijg, Aliena Schmidtke, Rachael Dzierzak and Annelise Sprau topped the women's race in 1:45.71, just nipping Club Wolverine's Madeline Frost, Julia Fiks Salem, Molly Schaefer and Mary Maclean (1:45.95). Redhawk Aquatics' Sara Krueger, Natalie Rohr, Stephanie Lemire and Andrea Marquiss teamed up to take third in 1:47.10.
In the men's relay, Ohio State went 1-2, as Steffen Hillmer, Mason Miller, Vladislav Komarov and Joshua Fleagle topped Daniel Disalle, Alexander Hutchinson, Alex Rosen and Conrad Wuorinen, 1:34.63 to 1:35.98. SwimStrong's Justin Hill, David Madej, Michael Pichette and Derek Hren placed third in 1:36.41.
Club Wolverine's Anna Demonte picked up her first win of the meet after multiple podium finishes, winning the 200 IM in 2:19.73. Ohio State's Ashley Vance, the top qualifier this morning, dropped two tenths to finish second in 2:20.68, whileLydia Pocisk of the Dayton Raiders took third in 2:22.45. Christopher Depietro of Ohio State swept the men's individual medley events, adding a win in the 200 IM (2:05.94) to his win in the 400 IM earlier in the meet. Ross Palazzo of the Hudson Explorers posted a 2:07.83 to take second ahead of Ohio's Ian Reardon (2:08.18).
Aliena Schmidtke of Ohio State took home the women's 100 free title tonight with the only sub-57 swim, a 56.92. Alexandra Wooden of Club Wolverine touched second in 57.25, while Ashley Volpenheim of the Mason Manta Rays rounded out the top three in 57.64. Meanwhile, Schmidtke's teammate at Ohio State, Steffen Hillmer, claimed the men's sprint victory in 50.73. Joshua Fleagle made it a 1-2 punch with his 51.02, while Redhawk Aquatics' Joseph Baumgartner touched third in 51.21.
Ohio State's Lindsey Clary won her third individual event of the meet with a 16:55.83 in the women's 1500 free, adding to her titles in the 400 free and 400 IM. Jessica Wolf (17:00.73) and Sarah Dombkowski (17:30.36) finished second and third. Club Wolverine swept the top three spots in the men's 800 free, led by Paul Soley in 8:21.52. Arthur Conover (8:27.36) and Nicholas Killeen (8:33.49) rounded out the podium finishers.
Ohio State closed out the meet with a win in the women's 400 medley relay, as Halime Zulal Zeren, Amy Bopp, Aliena Schmidtke and Annelise Jongekrijg combined to touch first in 4:16.98, just over two seconds better than Club Wolverine's Anna Demonte, Monica Dorszewski, Emma Cleason and Mary Maclean (4:19.14). Ludwika Szynal, Amanda Lawson, Erin Seiler and Madison Myers gave Firestone Akron a third place finish with their 4:20.39. Club Wolverine's foursome of Robert Zofchak, Ryan Fisher, Adam Whitener and Andrew Henry took the men's relay victory in 3:49.87, comfortably ahead of Ohio State's Rowan Williams, Christopher Cowley, Mason Miller and Andrew Appleby (3:52.05). Nathiel Weeks, Ian Bernardo Rodriguez, Jacob Moore and Adam Marsh led Spartan Swim Club to a third place finish in 3:56.72.
Ohio State ran away with the combined team title, scoring 2,334 points. Club Wolverine (1,931 points) and Redhawk Aquatics (835 points) finished second and third.