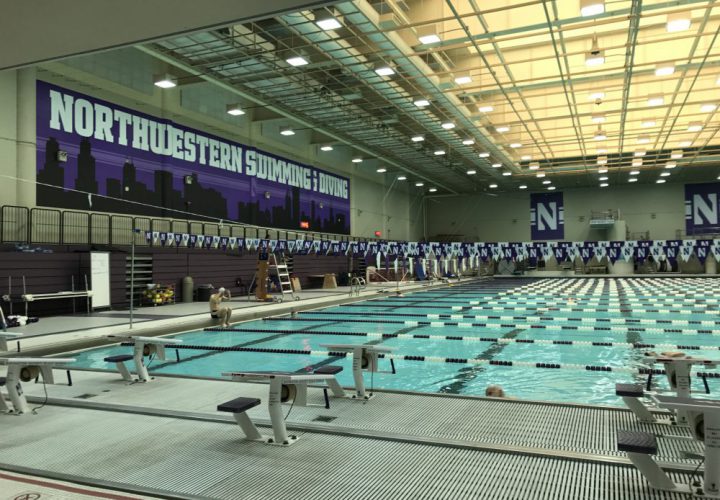 Photo Courtesy: Ailish Dougherty
Northwestern men's swimming and diving head coach Jarod Schroeder has announced the hiring of former Wildcat swimmer Alec Hayden as the program's assistant coach.
Hayden, who was a two-time team captain for Northwestern during his undergraduate career, returns to the Norris Aquatics Center after spending three seasons as the assistant coach for the Illinois women's swimming and diving program. Hayden graduated Northwestern in 2008 with dual degrees in mathematical methods in the social sciences and economics.
"I am excited to bring Alec back to Northwestern because I know he is going to put everything into his job and this program," said Schroeder. "He truly believes in the Northwestern student-athlete experience and what our program stands for. He bleeds purple and has an unwavering passion for his alma mater. It's great to have him back home in Evanston."
During his time in Champaign, Hayden worked primarily with the sprint group, while also having responsibilities with distance/IM swimmers, film analysis and general program operations.
Hayden assisted Illini swimmers to 28 school records in three seasons, in addition to helping the program capture its first Big Ten Freshman of the Week honor and first Big Ten Swimmer of the Week nod since 2006. He coached one swimmer to the 2016 Canadian Olympic Trials A finals.
The Wilmette, Illinois, native went to Illinois from William & Mary, where he spent one season as an assistant coach.
In just one season at William & Mary, Hayden was the primary coach for swimmers who accomplished four conference records, 32 school records, 20 freshman records and 10 NCAA B cuts. His only recruiting class with the Tribe was the best in program history and included the first top-100 recruit in program history.
At the 2013 Colonial Athletic Association Championships, he coached seven individual conference champions and three relay championship teams. Tribe swimmers took home co-Swimmer of the Meet, Rookie of the Year and Scholar-Athlete of the Year.
Prior to joining the staff at William & Mary, Hayden served as the head senior coach for the Nasa Wildcat Aquatics team, which was comprised of 40 high school and eighth-grade swimmers. Under his tutelage, Wildcat swimmers set one national age group record and eight state records. He coached three swimmers who qualified for the 2012 U.S. Olympic Trials.
He coached four swimmers to a combined 14 state championships and also coached the 2011 50 freestyle USA Swimming Junior National runner-up. At the 2012 National Club Swimming Association Junior Nationals, he coached the Wildcat boys to an eighth-place national finish and the combined team to a 10th-place finish.
While working with the Nasa Wildcat Aquatics team, Hayden simultaneously worked as a volunteer assistant for Northwestern University. At Northwestern, Hayden worked with both the men's and women's programs, including work with an NCAA Championships finalist, two NCAA consolation finalists and five NCAA qualifiers.
Hayden started his coaching career as an assistant senior coach with Nasa Wildcat Aquatics in April of 2008. Working primarily with the sprint groups, Hayden coached athletes who set one national age group record and 11 state records. He coached three individual state champions and the U.S. Open 100 butterfly runner-up.
As an athlete, Hayden was a four-year letter winner and two-year captain as a member of the Northwestern Wildcats swimming team from 2004-2008. Hayden was an All-American at New Trier High School, and he was also a team captain and four-year All-Conference honoree.
Northwestern begins its 2017-18 campaign on Oct.11 in a dual meet at Eastern Michigan at 2 p.m. CT.
The above press release courtesy of Northwestern University