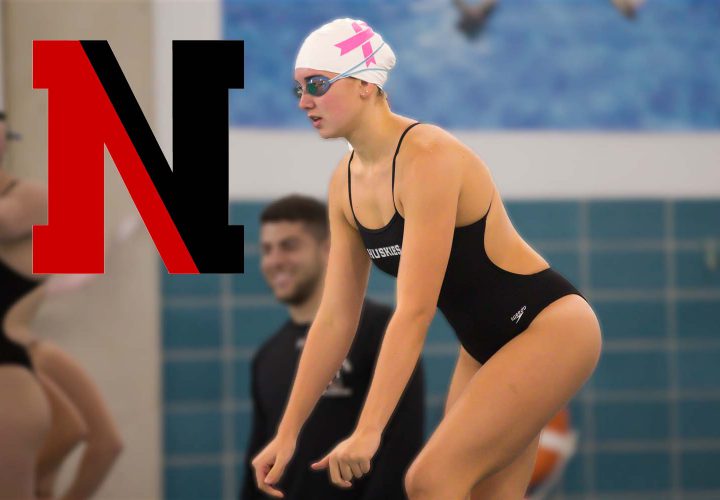 Photo Courtesy: Jim Pierce/Northeastern Athletics
Editorial content for the 2018 NCAA DI Championship coverage is sponsored by TritonWear. Visit TritonWear.com for more information on our sponsor. For full Swimming World coverage, check event coverage page.
By David Rieder.
Fifty-eight teams will send swimmers to this week's women's NCAA championships in Columbus, Ohio, and 19 of those teams, almost one-third, will have just one representative swimmer. Of those solo swimmers, only two are seeded to score individual points, and just two others are seeded in the top 25 in their events.
The rest had to fight to qualify, to ensure that their school would have a seat at the table during the country's most exclusive women's meet. Only 281 individual slots are available at the women's meet, with 36 to 40 swimmers selected per event. Since most of the qualifying times get faster each year, no one on the bubble is ever really safe.
Northeastern University's Megan Clark was one of those who squeezed her way into the meet as the 34th-ranked swimmer in the country in the 100 free and No. 35 in the 50 free. For the Huskies' program, Clark's achievement was a coup: She was the program's first swimmer to ever qualify for the NCAA championships.
Northeastern divers have previously qualified for NCAAs, most recently Adela Gadozeda in 2004, but never a swimmer. And one year earlier, Clark seemed like the longest of shots to take Northeastern to the promised land, with her lifetime best times coming out of freshman season sitting at 23.06 in the 50 free and 50.07 in the 100 free.
Clark actually dealt with the flu at the 2017 Colonial Athletic Association championships, so both she and Northeastern head coach Roy Coates, in his 25th year leading the Huskies program, knew that she would have much more to give in year two.
During her sophomore year, Clark began to feel comfortable with weight training for the first time and with the sprint training program new assistant coach Jeff Rapp had put in place. But Coates saw even bigger changes.
"I have to say, she is a different person this year," Coates said. "Last year, she only trained with the sprint group and did a good job with that. I wouldn't say she was the best trainer in the sprint group. This year, she was one of the best trainers on our team, and she often trained with the middle-distance freestylers and not only the sprinters. She would lead her lane. She was a much more focused, dedicated, determined athlete than she was last year."
At Clark's second CAA championships, she was the star of the meet. She took individual wins in the 50, 100 and 200 free, and she recorded times of 22.38 in the 50 and 48.88 in the 100. Coates and Rapp saw those times and realized, "My god, she's got a chance to make it." Clark, on the other hand, was unaware of the situation she had swum herself into.
"I didn't really know what the cutoff was because NCAA qualifying, it's so hazy until the last moment," Clark said. "I did no research. All I knew was the A-cut and the B-cut—I didn't know what actually qualified."
Clark was thrilled to have swum herself onto the bubble, but her coaches doubted that either of those times from the CAA meet would be good enough to qualify for NCAAs. So one week later, the small contingent of Huskies flew to Columbus for Ohio State's last chance meet.
"We flew out to Ohio State and walked into this magnificent natatorium thinking, 'This is a great place and environment to do it,'" Coates said. "You walk in and find out that there are 30 people in the meet."
One week after an intense conference championship meet, Clark and her coaches arrived to a sleepy atmosphere at the Ohio State pool. Coates noted that there were about 20 people in the stands (in a venue that seats almost 2000) before correcting himself that it was probably more like 15. Clark had no teammates in Columbus to support her.
As he watched Clark warm up, he figured they had wasted their time making the trip. Improving on those already-stellar times from CAAs was a highly unlikely proposition, he figured.
Clark admitted that it was weird being at a meet with no teammates, but she had confidence in herself. Not having to swim the 100 free on the last day of a conference meet—after several days of prelims and finals plus relays—was a big bonus.
"I was trying not to think about (what was at stake) because I was just happy to come close to qualifying," she said. "I was trying not to put too much pressure on myself. I obviously wanted to drop time because we flew all the way to Ohio, and I didn't want it to be for nothing."
Indeed, the trip would not go for naught. Clark got on the blocks and dropped nine hundredths in the 50 free, lowering her lifetime best to 22.29. Shortly after that, she swam a time of 48.47 in the 100 free, four tenths quicker than her time from the CAA meet.
That made the difference: When the official psych sheet for NCAAs came out a few days later, Clark was on the right side of the cutline. After the breakthrough at her conference championships, it was the little chunks of time Clark dropped at the last chance meet that got her into the meet.
===
Clark, a native of Fairfax Station, Va., could have chosen to swim at a school with more swimming prestige than Northeastern, but she wanted a place where, as she put it, it was not "all swimming, all the time, because I didn't want that type of pressure."
Clark knew that she didn't want a situation where she would be racing the country's best swimmers meet after meet and finish near the back of the pack in dual meet races. Why? Because she didn't think swimming under those circumstances would be very fun.
"Coming into college, I wasn't a really confident swimmer," Clark said.
So she picked Northeastern. She started winning races, and she enjoyed herself. Her confidence soared.
"When you're not going against incredible swimmers all the time, it's easier to focus on the fun parts of swimming," Clark said. "You don't get lost in all the pressure and the bad parts."
Of course, she will be racing the best of the best this week at the NCAA championships, and Clark is cognizant of the fact that it would take another massive breakthrough to score a point or earn a second swim. In high school, a situation like that would have intimidated Clark—but now, she's okay with that.
"I'll definitely be able to handle it better because I'm going to go in with the attitude of, 'I don't know what I'm doing, but at least I'm here,' whereas two years ago, I would have been really nervous," Clark said. "I didn't even know I would make it this far, so at this point I'm just going to ride it out."
Clark is setting the path forward on a team totally unfamiliar with the national stage. That's a weird feeling for someone who's not used to drawing much attention to herself for her swimming.
But because of Megan Clark, recruiting at Northeastern figures to perk up—after all, girls now know that the school can send swimmers to the national championships. Clark still has two more years to continue her upward trajectory, and perhaps it won't be long until more swimmers follow her to NCAAs.
And for Coates, watching one of his swimmers make the cut after a quarter-century of trying was immensely satisfying.
"We've been growing the program over the past few years, and we've had a lot of ups and downs, but I think right now our program is certainly on the upswing," he said. "I'm excited to be with that caliber of athlete and have one of my swimmers with that group. She's a sophomore, so we're hoping she continues on her way each year."