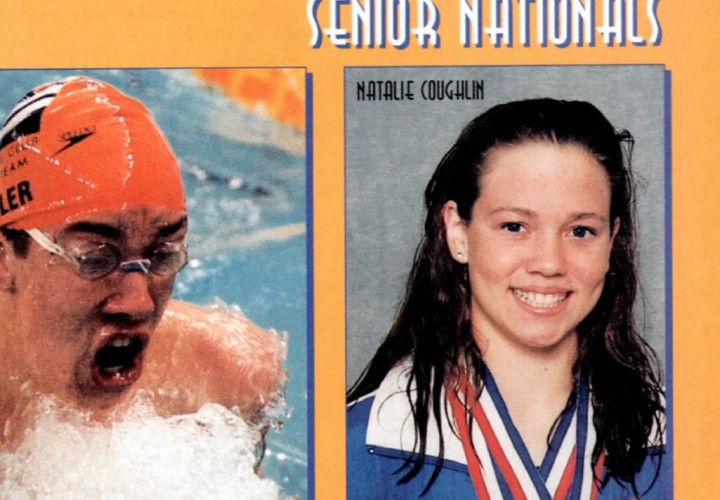 PHOENIX, Arizona, July 16. AS part of our 11-day series highlighting the National Interscholastic Swim Coaches Association's release of the 2013-14 All-America lists, Swimming World will also be looking at the history of each event that is part of the high school schedule. Today, we're looking at the 100-yard back. Woodbridge's Derya Buyukuncu and Carondelet's Natalie Coughlin had some amazing times in the 90s.
A Turkish immigrant who moved to America in 1991, Derya Buyukuncu became a big-time name in swimming in the U.S. In 1991, he had already become the first Turkish swimmer to win a continental championship with wins in the 100-meter and 200-meter backstroke at the European Junior Championships.
Shortly thereafter, Buyukuncu relocated to Irvine and began training with Novaquatics head coach Dave Salo. By 1993, Buyukuncu had become the top high school backstroker in the country with a 47.84 before putting up a strong 47.50 in 1994 for Woodbridge High. That time would remain at the top of the heap until Alex Lim of Bolles came along and led the nation in three straight years including a 46.82 in 2000.
Buyukuncu's time from 1994 would have ranked seventh this year in the NISCA All-American lists.
BOYS 100 BACK TOP TIMES PER YEAR
1974, 51.7, Peter Rocca, Campolindo
1975, 51.19, Jim Ballard, Santa Clara
1976, 52.83, Curt LaCount, Mercersburg Academy
1977, 52.17, James Fowler, San Marino
1978, 51.37, David Wilson, Anderson
1979, 51.14, David Wilson, Anderson
1980, 50.68, Steve Barnicoat, Mission Viejo
1981, 50.115, Dave Bottom, San Ramon
1982, 49.76, Mark Rhodenbaugh, Cincinnati Oak Hills
1983, 51.97, Powell Hamilton, Mission Viejo
1984, 50.71, Chris Davis, Bolles School
1985, 50.67, Glenn Houck, Mercersburg Academy
1986, 51.30, Michael Kanner, San Marino
1987, 50.18, Melvin Stewart, Mercersburg Academy
1988, 50.12, Gordy Woolbert, Hoover
1989, 48.93, Derek Weatherford, Fort Myers
1990, 50.67, Royce Sharp, Peddie School
1991, 49.07, Ricardo Busquets, Pine Crest
1992, 49.19, Wyatt Russo, Plano
1993, 47.84, Derya Buyukuncu, Woodbridge
1994, 47.50, Derya Buyukuncu, Woodbridge
1995, 48.29, Tom Klement, Lubbock
1996, 48.67, Justin Thornton, Graham
1997, 48.07, Nate Dusing, Covington Catholic
1998, 48.67, Alex Lim, Bolles School
1999, 46.97, Alex Lim, Bolles School
2000, 46.82, Alex Lim, Bolles School
2001, 47.65, Jayme Cramer, Saint Xavier
2002, 47.55, Michael Cavic, Tustin
2003, 48.77, Matt Grevers, Lake Forest
2004, 48.42, David Plummer, Westmoore
2005, 48.00, Alex Righi, Brophy Prep
2006, 48.78, Eugene Godsoe, Southeast Guilford
2007, 48.60, Cory Chitwood, Larry A. Ryle
2008, 48.63, Cole Cragin, Friendswood
2009, 46.75, Cole Cragin, Friendswood
2010, 47.55, Vlad Morozov, Torrance
2011, 45.49, David Nolan, Hershey
2012, 47.17, Shane Ryan, Haverford
2013, 45.34, Ryan Murphy, Bolles School
2014, 46.65, Michael Thomas, Hatboro Horsham
One of the best backstrokers of all time, Natalie Coughlin had an epic career at Carondelet High School in California. In 1998, she posted the first sub-53 second time in high school history with a 52.86. She clocked the time as a sophomore a the CIF North Coast Section Championships, and just missed the American record of 52.71 set by Stanford's Catherine Fox that year. Coughlin also had an incredible 200 IM that season with a national high school record 1:58.84.
"It was a really fun swim, but I have some mixed emotions about it," Coughlin told Swimming World about the swim in the August 1998 issue. "I really jammed my third turn and came too close to the wall. which cost me a lot of time. I was hoping for the American record."
The following year, Coughlin would reign supreme again in the 100 back with a 54.08 as a junior. Coughlin's 1998 time of 52.86 is so fast that she would have ranked fourth in the nation this year on the NISCA All-American lists. Only Ally Howe (51.54), Janet Hu (52.35) and Clara Smiddy (52.46) were faster.
GIRLS 100 BACK TOP TIMES PER YEAR
1974, 1:00.0, Brenda Straughan, Pine Crest
1975, 59.46, Pam Lowenhaupt, Seabreeze
1976, 58.94, Rene Magee, Clear Lake
1977, 58.40, Chris Breedy, Marple Newtown
1978, 57.117, Kim Carlisle, Finneytown
1979, 57.111, Kim Carlisle, Finneytown
1980, 57.32, Theresa Andrews, Archbishop Keough
1981, 58.02, Jane Esselstyn, Hawken
1982, 57.698, Darci Bodner, Norwin
1983, 56.69, Debbie Risen, Shawnee Mission
1984, 57.23, Amy White, University
1985, 56.69, Melissa Frost, Henry Foss
1986, 57.05, Andrea Hayes, BT Washington
1987, 56.54, Beth Barr, Woodham
1988, 56.03, Sheri White, Worthington
1989, 56.00, Sheri White, Worthington
1990, 55.63, BJ Bedford, Peddie School
1991, 55.81, Tammy Shannon, Lincoln
1992, 54.81, Stacy Potter, Americus
1993, 55.40, Claudia Stanescu, Ontario
1994, 53.98, Denali Knapp, Davis
1995, 54.57, Denali Knapp, Davis
1996, 53.85, Denali Knapp, Davis
1997, 53.68, Misty Hyman, Shadow Mountain
1998, 52.86, Natalie Coughlin, Carondelet
1999, 54.08, Natalie Coughlin, Carondelet
2000, 55.54, Jenni Anderson, Chesterton
2001, 54.65, Haley McGregory, Lamar
2002, 54.42, Diana MacManus, Irvine
2003, 54.19, Diana MacManus, Irvine
2004, 53.84, Margo McCawley, St Mary's Episcopal
2005, 54.66, Lauren Rogers, Carondelet
2006, 54.97, Lauren English, Montville
2006, 54.97, Melissa Marik, Neuqua Valley
2007, 54.39, Lauren English, Montville
2008, 53.03, Mary Beck, Westlake
2009, 53.33, Deborah Roth, Redwood
2010, 51.85, Cindy Tran, Edison
2011, 51.53, Rachel Bootsma, Eden Prairie
2012, 51.99, Courtney Bartholomew, Holland
2013, 51.43, Olivia Smoliga, Glenbrook South
2014, 51.54, Ally Howe, Sacred Heart Prep
2013-14 NISCA Girls High School All-Americans

2013-14 NISCA Boys High School All-Americans

NOTE: All America times have to be submitted to NISCA by a certain deadline in order to make the 2014 All-American list. Coaches can submit times here: http://www.niscaonline.org/aaswimming/. Corrections can also be submitted to NISCA via three emails: Boys Swimming contact: boysswaa@niscaonline.org; Girls Swimming contact: girlsswaa@niscaonline.org; Boys and Girls Diving contact: aadiving@niscaonline.org
This is the ninth day of what will be an 11-day showcase of the NISCA All-American program. Swimming World is proud to partner with NISCA to provided a global spotlight on high school swimming in the U.S., and will be talking to some of the top movers and shakers in high school swimming this week as part of the Morning Swim Show. Additionally, we'll be taking a look back at some of the best of the best high school swimmers historically.
To access high school All-Americans all the way back through 1974, purchase back issues of Swimming World Magazine!
For more incredible high school content, make sure to subscribe to Swimming World TODAY to make sure you get our High School Swimmers of the Year (August) and High School National Champions of the Year (September) issues.