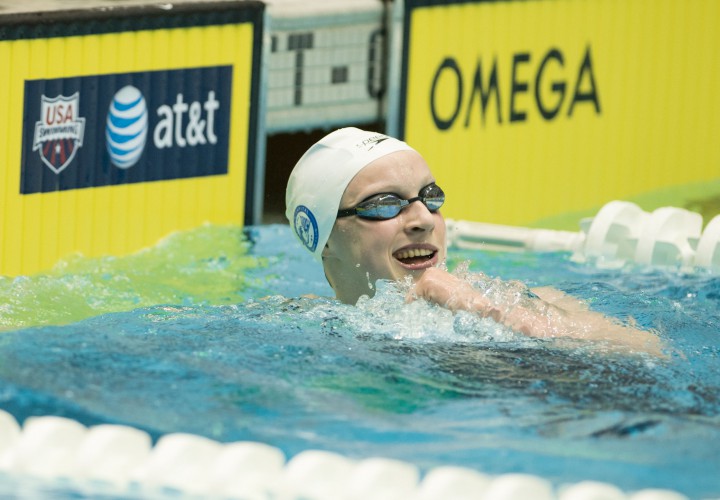 PHOENIX, Arizona, July 14. IT may be a very long time before anyone touches Katie Ledecky's world and American records. This year, she finished atop the National Interscholastic Swim Coaches Association All-American list in the 500-yard free with an American record, more than 11 seconds faster than the second-place finisher. Meanwhile, Baylor's Sam McHugh clocked the third-fastest 500-yard free for a high schooler.
During prelims of the D.C. Metro High School Championships, Ledecky brought the crowd to its feet with a blistering time of 4:28.71. That performance beat her previous national high school record of 4:31.38, and shattered Katie Hoff's American mark of 4:30.47 from 2007.
That was just the tip of the iceberg for Ledecky's year as the reigning Swimming World World and High School Swimmer of the Year blasted the world records in the 800-meter and 1500-meter freestyle events while swimming in Texas in June. She clocked an 8:11.00 and a 15:34.23 during that tune-up meet, much to the shock of the rest of the swimming community.
As a junior at Stone Ridge who already committed to swim at Stanford, the only remaining question at the high school level is just how far she can push those records.
Video of the end of Ledecky's American record swim:

At the Tennessee State Championships, McHugh blasted the 500-yard free with a 4:16.76. That's the third-fastest swim by a high schooler in the event. It took everything he had to make it to the top of the NISCA list with Southlake Carroll's Jonathan Roberts having a strong swim of his own with a 4:16.90 for second.
McHugh had an epic sendoff as a senior at the TISCA State Championships, as he was part of the national high school record in the 200-yard medley, and also posted a strong 1:46.29 in the 200-yard IM at the meet.
Here is video from McHugh's 500-yard free.

Although Ledecky is not likely to lose the top spot in the 500 free as a senior next year, a pair of rising freshmen have been impressive as Courtney Harnish and Isabella Rongione ranked second and third this year. For the boys, the top of the ladder looks wide open for rising sophomore Maxime Rooney. He ranked third, and the rest of the top eight in the 500 free are all graduating.
Nathan Mueller, who finished fifth this year in the boys 500 free, appeared on the Morning Swim Show today.
Boys 500 free Top 8
1, 4:16.76, Sam McHugh (12), The Baylor School
2, 4:16.90, Jonathan Roberts (12), Southlake Carroll High School
3, 4:20.16, Maxime Rooney (10), Granada High School
4, 4:21.06, Patrick Ransford (12), Pittsford Central Schools
5, 4:21.93, Nathan Mueller (12), Highlands Ranch High School
6, 4:22.09, Grant Schenk (12), Mt. Carmel High School
7, 4:22.70, Jason O'Brien (12), Point Loma High School
8, 4:22.72, Jack Boyd (12), Canisius High School
Girls 500 free Top 8
1, 4:28.71, Katie Ledecky (11), Stone Ridge School
2, 4:40.04, Courtney Harnish (9), West York Area High School
3, 4:44.06, Isabella Rongione (9), Langley High School
4, 4:44.53, Ally Howe (12), Sacred Heart Preparatory
5, 4:44.92, Megan Byrnes (10), Oakton High School
6, 4:45.16, Amanda Richey (12), Boulder High School
7, 4:45.67, Cecelia Williams (12), Lawton Chiles High School
8, 4:45.82, Leah Stevens (11), Sacred Heart Academy
2013-14 NISCA Girls High School All-Americans

2013-14 NISCA Boys High School All-Americans

NOTE: All America times have to be submitted to NISCA by a certain deadline in order to make the 2014 All-American list. Coaches can submit times here: http://www.niscaonline.org/aaswimming/. Corrections can also be submitted to NISCA via three emails: Boys Swimming contact: boysswaa@niscaonline.org; Girls Swimming contact: girlsswaa@niscaonline.org; Boys and Girls Diving contact: aadiving@niscaonline.org
This is the seventh day of what will be an 11-day showcase of the NISCA All-American program. Swimming World is proud to partner with NISCA to provided a global spotlight on high school swimming in the U.S., and will be talking to some of the top movers and shakers in high school swimming this week as part of the Morning Swim Show. Additionally, we'll be taking a look back at some of the best of the best high school swimmers historically.
To access high school All-Americans all the way back through 1974, purchase back issues of Swimming World Magazine!
For more incredible high school content, make sure to subscribe to Swimming World TODAY to make sure you get our High School Swimmers of the Year (August) and High School National Champions of the Year (September) issues.