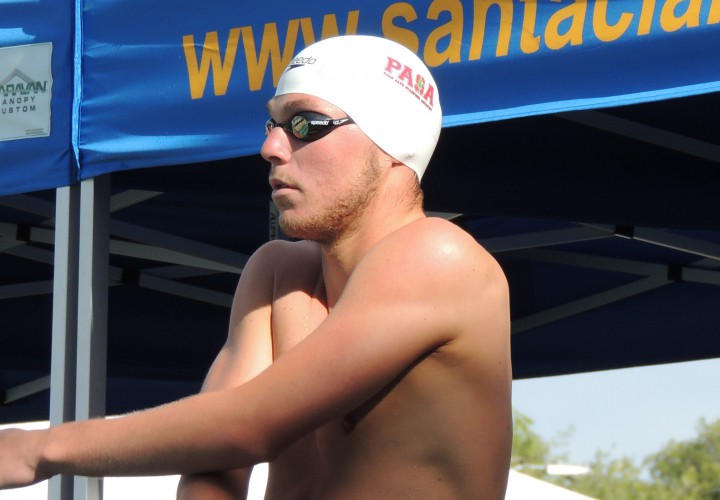 PHOENIX, Arizona, July 10. THE 200 IM featured a pair of national independent high school record holders this year standing atop the National Interscholastic Swim Coaches Association All-American lists. St. Francis Prep's Curtis Ogren lowered his record, while Crean Lutheran's Ella Eastin came up short of her 2013 mark.
Ogren took down his national independent school record in the boys 200-yard IM with a 1:44.90. The swim occurred at the Central Coast Section Championships as the St. Francis Prep senior undercut his previous record of 1:45.01 set at the same meet a year ago. He will be joining the other fastest 200 IMer in high school history as Ogren is headed to train with David Nolan at Stanford in the fall. Nolan still holds the overall record with an incredible performance of 1:41.39 from 2011 while swimming for Hershey in Pennsylvania.
Here is footage of Ogren's record-breaking swim:

Crean Lutheran's Ella Eastin had a strong performance at the CIF Southern Section Division 3 Championships in the girls 200-yard IM with a victorious effort of 1:56.54. It was her highlight swim of a meet that led Crean Lutheran to the divisional title as the team demolished second-place Laguna Beach by a 409-188 point margin.
Eastin has been faster as she currently holds the national independent record with a 1:55.01 from a year ago. That swim beat Missy Franklin's previous record of 1:56.86. Dagny Knutson, however, still holds the overall mark with a 1:53.82 while swimming for public Minot High.
Here's a look back at Eastin's national independent school record from 2013:

Ogren and Eastin might have been at the top of the 200 IM in high school competition, but compared to some of the events this year on the NISCA list, the rest of the top eight swimmers were pretty close to the leaders. The youngest to make the top eight this year was sophomore Asia Seidt of Sacred Heart Academy, who checked in sixth in the country with a 1:58.53. The men's top eight proved to be senior-laden with Michael Thomas (junior) the only non-senior in the bunch.
Boys 200 IM Top 8
1, 1:44.90, Curtis Ogren (12), Saint Francis High School
2, 1:45.21, Joseph Schooling (12), The Bolles School
3, 1:45.42, Corey Okubo (12), University High School
4, 1:45.50, Jacob Molacek (12), Creighton Preparatory School
5, 1:45.55, Gunnar Bentz (12), St. Pius X Catholic High School
6, 1:45.64, Zachary Buerger (12), North Allegheny Senior High School
7, 1:46.18, Michael Thomas (11), Hatboro Horsham High School
8, 1:46.29, Sam McHugh (12), The Baylor School
Girls 200 IM Top 8
1, 1:56.54, Ella Eastin (11), Crean Lutheran High School
2, 1:57.13, Meaghan Raab (12), Hershey High School
3, 1:57.52, Bethany Galat (12), Penn High School
4, 1:57.75, Ally Howe (12), Sacred Heart Preparatory
5, 1:58.39, Clara Smiddy (12), South Florida Heat
6, 1:58.53, Asia Seidt (10), Sacred Heart Academy
7, 1:58.94, Janet Hu (12), Oakton High School
8, 1:59.44, Lisa Bratton (12), Richland High School
2013-14 NISCA Girls High School All-Americans

2013-14 NISCA Boys High School All-Americans

NOTE: All America times have to be submitted to NISCA by a certain deadline in order to make the 2014 All-American list. Coaches can submit times here: http://www.niscaonline.org/aaswimming/. Corrections can also be submitted to NISCA via three emails: Boys Swimming contact: boysswaa@niscaonline.org; Girls Swimming contact: girlsswaa@niscaonline.org; Boys and Girls Diving contact: aadiving@niscaonline.org
This is the third day of what will be an 11-day showcase of the NISCA All-American program. Swimming World is proud to partner with NISCA to provided a global spotlight on high school swimming in the U.S., and will be talking to some of the top movers and shakers in high school swimming this week as part of the Morning Swim Show. Additionally, we'll be taking a look back at some of the best of the best high school swimmers historically.
To access high school All-Americans all the way back through 1974, purchase back issues of Swimming World Magazine!
For more incredible high school content, make sure to subscribe to Swimming World TODAY to make sure you get our High School Swimmers of the Year (August) and High School National Champions of the Year (September) issues.