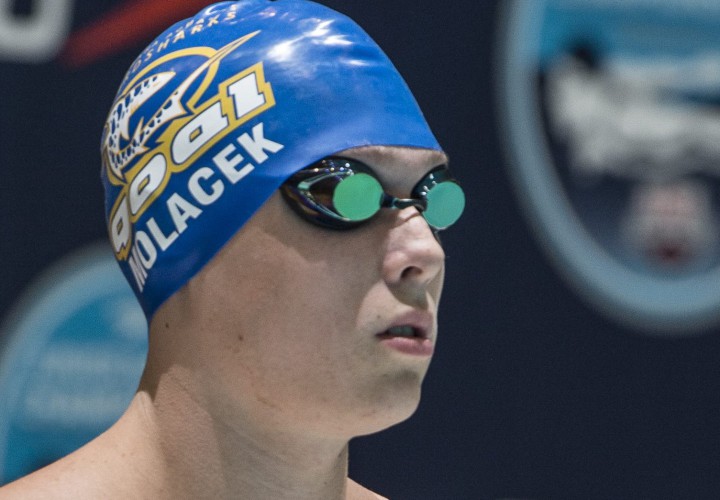 PHOENIX, Arizona, July 17. THE first sub-53 swimmer ever, and one of the top swimmers out of Indiana, paced the 100-yard breaststroke on the National Interscholastic Swim Coaches Association All-American lists this season. Creighton Prep's Jacob Molacek broke a major barrier in the 100-yard breast for the boys, while Penn High's Bethany Galat charged her way to the top of the heap in the 100-yard breast for the girls.
During prelims of the Nebraska State High School Championships, Molacek demolished the national high school record of 53.24 set by Andrew Seliskar as Molacek threw down a 52.92 for the top seed. He didn't better the time in finals as he focused more on helping Creighton Prep to the top time in the 200-yard free relay this year. Molacek is headed to Auburn University this fall.
Here's video from Molcek's epic 100-yard breast swim:

Galat had a lot more competition at the Indiana High School State Championships compared to Molacek running away with his title in Nebraska. Two of the top three swims in the nation happened in Indiana with Galat winning the 100-yard breast state title in 59.66. F.J. Reitz's Lilly King earned second in the race, and third in the nation, with a 59.99. Galat chose to swim at Texas A&M in the fall.
Here's a look at Galat's swim:

Molacek and Galat might both be moving on, but there's still plenty of talent leftover to move the needle next year. Seliskar, who held the high school record for a bit of time this year, is back for Thomas Jefferson as the third-fastest swimmer this last year. Meanwhile, King, who already broke 1:00 in Indiana, will be back against a host of youngster that includes rising freshman Nikol Popov on the girls side.
Boys 100 breast Top 8
1, :52.92, Jacob Molacek (12), Creighton Preparatory School
2, :53.06, Connor Hoppe (12), Golden Valley High School
3, :53.24, Andrew Seliskar (11), Thomas Jefferson High School for Science and Tech
4, :53.49, Carsten Vissering (11), Georgetown Preparatory School
5, :53.81, Curtis Ogren (12), Saint Francis High School
6, :54.24, Cody Taylor (12), Columbus North High School
7, :54.31, Nick Silverthorn (12), Granada High School
8, :54.54, Carson Sand (11), Castro Valley High School
Girls 100 breast Top 8
1, :59.66, Bethany Galat (12), Penn High School
2, :59.85, Heidi Poppe (12), San Ramon Valley High School
3, :59.99, Lillia King (11), F. J. Reitz High School
4, 1:00.24, Lindsey Horejsi (10), Albert Lea High School
5, 1:00.52, Riley Scott (11), Petaluma High School
6, 1:01.17, Nikol Popov (9), Valencia High School
7, 1:01.29, Kennedy Lohman (10), Sacred Heart Academy
8, 1:01.33, Carolyn McCann (12), Gig Harbor High School
2013-14 NISCA Girls High School All-Americans

2013-14 NISCA Boys High School All-Americans

NOTE: All America times have to be submitted to NISCA by a certain deadline in order to make the 2014 All-American list. Coaches can submit times here: http://www.niscaonline.org/aaswimming/. Corrections can also be submitted to NISCA via three emails: Boys Swimming contact: boysswaa@niscaonline.org; Girls Swimming contact: girlsswaa@niscaonline.org; Boys and Girls Diving contact: aadiving@niscaonline.org
This is the 10th day of what will be an 11-day showcase of the NISCA All-American program. Swimming World is proud to partner with NISCA to provided a global spotlight on high school swimming in the U.S., and will be talking to some of the top movers and shakers in high school swimming this week as part of the Morning Swim Show. Additionally, we'll be taking a look back at some of the best of the best high school swimmers historically.
To access high school All-Americans all the way back through 1974, purchase back issues of Swimming World Magazine!
For more incredible high school content, make sure to subscribe to Swimming World TODAY to make sure you get our High School Swimmers of the Year (August) and High School National Champions of the Year (September) issues.