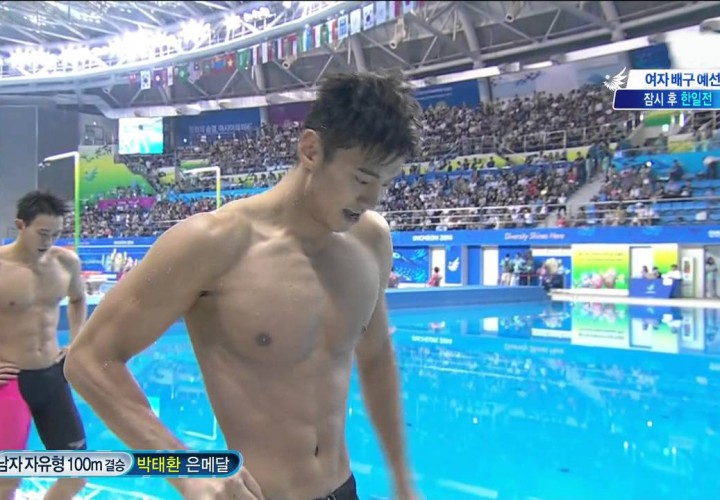 HUANGSHAN, China, October 17. The first night of truly fast swimming occurred at the Chinese Nationals tonight with Ning Zetao upending his Asian record in the 100-meter free, while Sun Yang led a handful of other swimmers with world-class times.
Ning lowered his own Asian record in the men's 100-meter freestyle with a sizzling time of 47.65.  That performance cleared his 47.70 from the Asian Games last month, and moved him into a tie with Cameron McEvoy for second in the world this year behind James Magnussen's 47.59.   What's more amazing about the swim is that he did it nearly by himself with his closest competition being Lin Yongqing with a 49.23 for second.  Zhang Qibin earned third-place honors in 50.15.
Sun added to his victories in the 200 and 1500 freestyle events with a 3:43.65 in the men's 400-meter free.  That's just a bit off his second-ranked season best of 3:43.23 from the Asian Games.  Wang Kechang took second in 3:51.09 with Zhang Jie earning third in 3:51.52.
Shi Jinglin just missed her season-best fifth-ranked 2:22.90 from Chinese Nationals with a 2:22.99 to win the women's 200-meter breast tonight.  She dominated the finale with He Yun placing a distant second in 2:29.33. Zhang Winyu picked up third in 2:29.57.
Xu Jiayu, who stands second in the world with a season-best 52.34, threw down a 53.50 to win the men's 100-meter back by a wide margin.  Li Guangyuan touched second in 55.26 with Yang Zhixian placing third in 55.82.
Fu Yuanhui, who is sixth in the world in the 100 back with a 59.59 from Chinese Nationals earlier this year, cruised tonight with a 1:00.17 for the win.  Chen Jie hit the wall second in 1:00.76 with Wang Xueer placing third in 1:00.92.
Zhang Yufei clocked a 4:07.11 to win the women's 400-meter freestyle with Shao Yiwen taking second in 4:08.39.  Cao Yue rounded out the podium in 4:08.60.
Shi Weijjia of Shanghai topped the men's 50-meter breaststroke in 28.02 with Wang Shuai earning second in 28.34.  Chen Cheng wound up third in 28.48.
Li Zhuhao topped the men's 100 fly in 52.45 with Hao Yun earning second in 53.54.  Wang Yuxin placed third in 53.85.
Beijing closed the night with a 3:41.30 to win the women's 400-meter free relay.