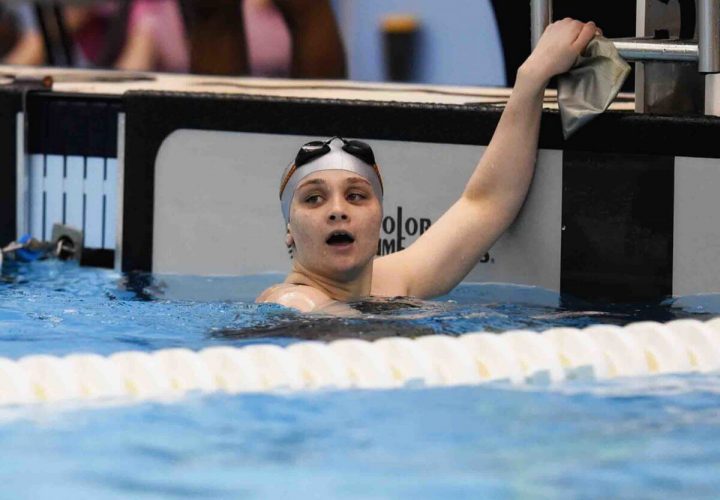 Photo Courtesy: Aaron Wyche
Speedo Sectional Series is proudly sponsored by Speedo. Visit SpeedoUsa.com for more information on our sponsor.
After the third night of long-course finals competition at the Burt Flickinger Athletic Center for 2017 Buffalo Speedo Sectionals, Cape Cod Swim Club leads overall point totals with 716 points. The FISH's strong relay performance puts them in second place with 655 points, and Cougar Aquatic Team is not far behind with 636 points.
Ohio State-bound Nicole Fye of The FISH took the win in the women's 200-meter fly by a large margin, after finishing third in the 100 yesterday. Her time of 2:18.70 was almost three seconds ahead of second-place Sydnie Sovinsky of Liverpool Jets Swim Club, who touched in 2:21.66. Cougar Aquatic Team's Carlee Sanchez-Hegarty took third with her time of 2:24.84.
Cougar Aquatic Team's Joseph Scerbo notched another first-place finish in the men's 200-meter butterfly with his time of 2:09.70, after winning the 100-meter breaststroke yesterday. The FISH's Reese Fye showed that it runs in the family with his second-place time of 2:11.69, and Scerbo's teammate Matthew Michaels rounded out the top three in 2:12.56.
Town Wrecker's Swim Team's Olivia Sapio took the win in the women's 50-meter freestyle, sprinting to a time of 27.35. 14-year-old Emma Schulman of Executive Swim Club finished in second place with her time of 27.45, while Taylor Patnode of Clifton Park Halfmoon Piranhas stopped the clock in 27.56 for third. Patnode's teammate Olivia Jack, stuck in the B-final with her prelims time of 28.20, dropped over a second to finish with the fastest time of the event, 27.14.
First-seed Alex Hernandez Medina of University of Puerto Rico Mayaguez dropped down to third place with his finals time of 24.52, overtaken by Brandon Amthor of Sharks and Eagles Swim Club (24.04) and Mark Zoda of Executive Swim Club (24.51).
Peddie Aquatic Association's Alexandra McDaid completed her sweep of the breaststroke events with her winning time of 2:41.90 in the women's 200-meter breaststroke. Palma Foschi Walko of Cape Cod Swim Club was close behind in 2:42.27, and Sanchez-Hegarty's time of 2:44.67 was good for third.
Big prelims to finals time drops were plentiful in the men's 200-meter breaststroke. Zachary Valenzuela of Cougar Aquatic Team dropped almost four seconds from his prelims time to finish in 2:24.71 for first place, UPRM's Morgan Toro Marrero dropped 5 and a half to touch second in 2:28.12, and Scerbo dropped three and a half to finish in third with a 2:28.38.
Sapio garnered another first-place honor in the women's 100-meter backstroke, finishing in 1:06.01. 13-year-old Layne Peterson of Peddie went the exact same time as her prelims time, 1:07.34, for second place. Third place went to Cape Cod Swim Club's Madeline King in 1:07.43.
Peddie scored another handful of points in the men's 100 back, as Rc Ike took first place with his time of 59.13. Cape Cod Swim Club's Joseph Perry sprinted to a time of 59.77 for second place, and Medina rounded out the podium with his swim of 1:00.22.
Clifton Park Halfmoon Piranhas team of Kamryn Paige, Jack, Shauna Killane, and Patnode won the women's 200 meter medley relay in their time of 2:03.93, with Patnode splitting a 26.94 on the freestyle leg. Madelyn Donohoe, Claire Wolff, Fye, and Grace Cutrell combined for a time of 2:04.76 for a second-place finish for The FISH. Peddie Aquatic Association grabbed third place with Layne Peterson, McDaid, Skye Howes, and Brynn Peterson's time of 2:05.03. Cape Cod Swim Club placed fourth.
Medina, Juan Arellano Uribe, Andres Solivan Rivera, and Sebastian Rivera Rivera of University of Puerto Rico Mayaguez proved their sprinting abilities in the men's 200 meter medley relay, placing first over Clifton Park Halfmoon Piranhas with their time of 1:48.16. Neil Horne, Tanner Damino, Clayton Bennice, and Joshua Tsai combined for a second-place time of 1:49.85 for Clifton Park. Third place went to Valenzuela, Scerbo, Matthew Michaels, and Owen Breslin of Cougar Aquatic Team in 1:50.01.
200-freestyle winner Donohoe won the women's 400-meter free by a landslide nine seconds, touching in 4:18.50 to second-place Michelle Guo of Cape Cod Swim Club's 4:27.26. Third place went to Fye in 4:30.63.
Abel Sapirstein of Cardinal and Gold Aquatics placed first in the men's event with a 4:14.84. Cougar Aquatic Team's Evan Custance grabbed second-place honors with a 4:16.02, and Executive Swim Club's Jack Januario was close behind in 4:16.08, good for third place.
To finish an evening of fast swimming, The FISH's team of Donohoe, Keely Hemminger, Cutrell, and Fye won the women's 400-meter freestyle relay in 3:57.55, Fye splitting 58.36 on the anchor leg. Second place went to Cape Cod Swim Club's A-team of King, Guo, Bridget Birmingham, and Walko in 3:58.06. Rounding out the podium in the relay was The FISH's B-squad of Natalie Rongione, Wolff, Hanna Sun, and Flavia Carcani with a time of 4:08.68.
On the men's side, Cougar Aquatic Team's Valenzuela, Scerbo, Owen Breslin, and Custance combined for a winning time of 3:35.96. Close behind was Peddie Aquatic Association's Nathan Stern, Andrew Garcia, David Nicholson, and Ike in 3:37.90. Finally, third place went to Zachariah Reid, Matthew Clark, Graham Lindner, and Theodore Turrall with their time of 3:43.34.