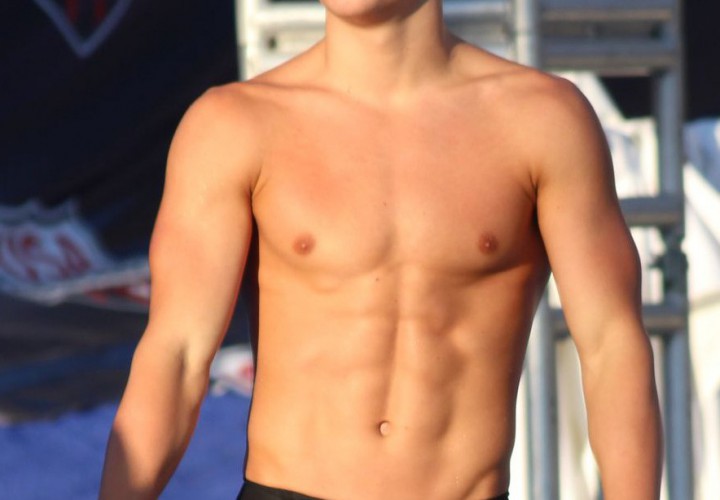 Arena Pro Swim Series editorial coverage is proudly sponsored by Arena USA. Visit ArenaUSA.com for more information on our sponsor. For all the latest coverage, check out our event coverage page.
AUSTIN – The third day of the Arena Pro Swim Series featured a strong double from NCAP's Andrew Seliskar.
Seliskar produced the only sub-2:00 time of the morning in the men's 200-meter fly with a 1:59.49.  He could be looking at an in-season best tonight, which would require a time faster than the 1:57.40 he clocked at the Charlotte Grand Prix last year.
Andrew Torres finished second overall in 2:00.12 with Mission Viejo's Grant Shoults placing third in 2:00.94.
NBAC's Tom Luchsinger (4th/2:01.59) and SwimMAC's Tyler Clary (6th/2:03.01) were two other high-profile swimmers to make the A final.
Seliskar then picked up his second top seed of the day with a 2:02.42 in the men's 200-meter IM.  He has the ability to dip under 2:00, and will need some serious speed against the top swimmers in the finale.
California's Josh Prenot qualified second in 2:02.82 with Trojan's Conor Dwyer finishing third in 2:03.11.  Michael Weiss (2:03.99) and SwimMAC's Tyler Clary (2:04.19) are also among the top finishers.
Mission Viejo's Katie McLaughlin led the women's 200-meter fly field by more than a second with a 2:10.98. That's nearly an in-season best for the 17-year-old as she went a 2:10.37 at the 2013 edition of the Austin Grand Prix.
NCAP's Cassidy Bayer, 15, finished second overall in 2:12.03, which is an in-season best for Bayer.  It cleared the 2:13.14 she set at the 2013 PV State Championships en route to that summer's Nationals.
SwimMAC's Cammile Adams cruised into third with a 2:12.37, and has the pedigree to pick up the win tonight as the reigning 200 fly Pan Pacific Champion.
A day after spending plenty of time signing autographs for fans on behalf of Arena, Aggie's Breeja Larson turned in the top seed in the women's 100-meter breast.  She clocked a time of 1:08.50, which puts her within striking distance of her in-season best of 1:07.32 from the Mesa stop of the 2013 Arena Grand Prix.
Alabama's Kaylin Burchill finished second in 1:09.08, while California's Marina Urzainqui hit the wall third in 1:09.17.
15-year-old pro Michael Andrew crushed his lifetime best in the 100 breast to lead the field with a 1:02.18.  That swim blasted his previous top time of 1:03.49 from last summer's Junior Nationals.
The swim also put the 15-16 U.S. National Age Group record on notice. Carsten Vissering set that mark with a 1:01.94 in 2013.  Andrew, who obliterated the NAG record books in the 11-12 and 13-14 age groups, has been looking for his first long course mark in the 15-16 division.
Trojan's Glenn Snyders finished second in 1:02.30 with Tennessee's Brad Craig claiming third in 1:02.36.  Texas' Austin Temple (1:02.97) and NYAC's Eric Friedland (1:02.99) are also in the mix.
The women's 100-meter back championship final is certainly star-studded.  California's Natalie Coughlin, one of the most decorated swimmers in the history of the sport, led the way with a 1:01.15.
Coughlin has been focusing more on her sprint freestyle lately, but has decided to get back to her backstroke roots.
Oakville's Dominique Bouchard, the 200 back victor, took second in 1:01.50 with 16-year-old Canadian Danielle Hanus placing third in 1:01.79.
Nearly the rest of the A final is filled with big names like NYAC's Megan Romano (1:01.94), Hungary's Katinka Hosszu (1:01.97) and SwimMAC's Kirsty Coventry (1:02.29).
Scottsdale 14-year-old phenom Taylor Ruck qualified seventh in 1:02.37 with Alabama's Emma Saunders joining the ridiculous final with a 1:02.57.
Club Wolverine's Junya Koga hit the wall in 54.57 to lead the way in the men's 100-meter back, while Tucson Ford's Matt Grevers placed just behind with a 55.12.  California's Ryan Murphy, the 200 back winner last night, checked in with a third-place 55.49.
Hungary's Katinka Hosszu, still looking to shake off some jet lag after two rough days here in Austin, put up the top time of the women's 200-meter IM in 2:14.92.
NCAP's Katie Ledecky, already a winner of three freestyle events this week, checked in with a lifetime best 2:16.04 for second.  That's a bit better than the 2:16.27 she clocked here last year.
California's Caitlin Leverenz wound up third overall in the morning with a 2:16.09, while Texas A&M's Sarah Henry posted a fourth-place 2:16.18.
ARENA PRO SWIM SERIES MONEY LIST