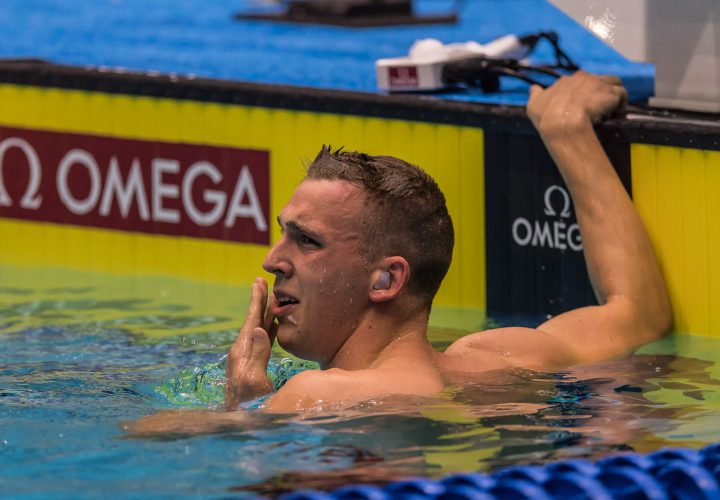 Photo Courtesy: Peter H. Bick
NCAA DI editorial coverage is proudly sponsored by Adidas. Visit adidasswimming.com for more information on our sponsor. For all the latest coverage, check out our event coverage page.

CLICK HERE FOR LIVE RESULTS
By Michael J. Stott.
Meet announcer Sam Kendrick said he'd been looking forward to the 1650 final all week long. The race did not disappoint.
Four swimmers went under the NCAA, meet, American and U.S. Open records. Leading the way was Texas senior Clark Smith in 14.22.41, followed by Michigan's Felix Auboeck (14.22.88), South Carolina's Akaram Mahmoud (14:22.99) and Olympian and Northwestern senior Jordan Wilimovsky in 14:23.45.
The race began almost immediately under record pace with Smith out front and Wilimovsky in close pursuit. Smith entered the race with a slight groin pull sustained Thursday night when he jammed the wall on the final 50 of his record setting 500 free swim (4:08.42).
Charging through the first 500 yards the swimmers were metronomic with their stroke counts. The 6' 10" Smith took 13 pulls per 25,  Wilimovsky 16 and Michigan junior PJ Ransford 15. Smith led through the first 500 before Ransford, as he has done the last two years, began asserting himself from lane 1. Upping his tempo and accelerating his kick, Ransford he led Smith at the 800 by 1.67 and Auboeck by 1.70.
At the 1000, Ransford held a 1.03 lead over Auboeck and 1.13 over Smith.  By the 1350, Wilimovsky had edged in front holding a .26 lead on Smith. At the 1450 it was still the Northwestern Wildcat in 12.15.08, followed by Auboeck in 12:15.52, Mahmoud in 12:15.68 and Smith in 12:15.93  and Ransford at 12:16.15. At the 1550,It was Auboeck in 13:08.20, Smith in 13:07.58, Wilimovsky in 13:07.82. Totally spent, Ransford was four seconds back.
"Coming from SECs, my time was 14:38 and I just wanted to have a spot in the final heat. We had our strategy that we were going to imagine there was nobody in the pool and just me swimming. I was really slow in the first 500-600 and I started to make my move," Mahmoud said. "I saw that I was really close and then I was coming. It was an awesome race. My goal was to go 14:27 and I ended up 14:22, the third-fastest time in history."
Outlier Mahmoud, in lane 8, as he did in 2016, began a concerted move at about the 1100 and forced the pace to the end challenging Smith over the final 200 before being bested by the final 50s of Smith (23.75), Auboeck (23.29) and Wilmovsky (24.16) to his 24.29. Over the final 100 Smith powered home in 51.05 while Auboeck and Mahmoud clocked respective 51.39 and 51.17.
"I've never been in a race that close and that long," Smith said. " I usually just use my arms. I am a better puller than kicker. I figured if I could do a lazy two beat kick and just hang on."
As if Smith did not have enough to deal with in his three tough competitors, his groin started bothering him midway through.
"The pushoffs really hurt. Around the 800 it started to get pretty bad. Jordan and Felix started to pull away and PJ on the outside was just kicking our asses. It still hurt at the 1200 and my ego kind of finished the race for me.  The last 10 lengths I just sucked it up because I knew no one would feel bad for me."
When the cheering stopped an exhausted and pained Smith lay beside the starting block clearly spent. Kendricks, the NCAA's most recognizable voice, pronounced it the greatest race he'd ever seen. No one in attendance would disagree.