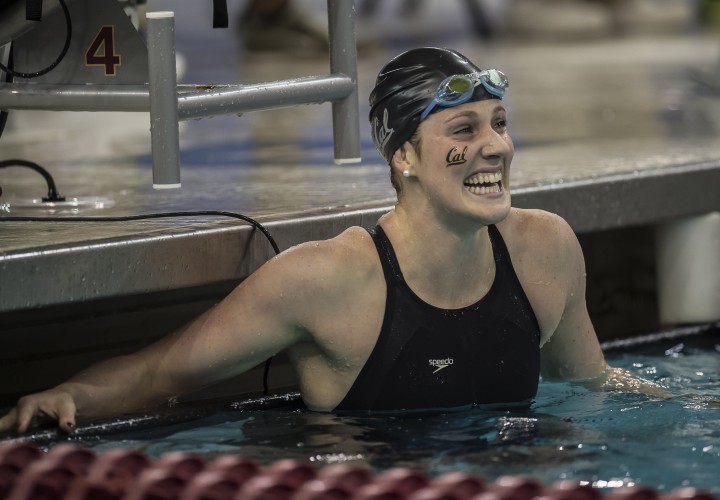 Photo Courtesy: Peter H. Bick
Editorial content for the NCAA Division I Championships is sponsored by Nike Swim. For full Swimming World coverage, check out our coverage page. 
California ended the night with a bang as the Golden Bears defending the 800-yard free relay with an NCAA meet record at the NCAA Division I Women's Championships.
Cal's Cierra Runge (1:44.56), Camille Cheng (1:43.69), Elizabeth Pelton (1:42.69) and Missy Franklin (1:40.05) put up a time of 6:50.99 for the win.
That swim crushed the meet record of 6:52.69 set by California back in 2009, but came up a bit short of Cal's NCAA record of 6:50.18 from the Pacific 12 Championships last month.
That's the fifth time that the Golden Bears have hoisted the 800-yard free relay trophy.
Previous California wins:
2004 California (Natalie Coughlin, Erin Reilly, Ashley Chandler, Lauren Medina), 7:50.94*
2007 California (Dana Vollmer, Emily Silver, Blake Hayter, Erin Reilly), 7:00.89
2009 California (Sara Isakovic, Hannah Wilson, Liv Jensen, Dana Vollmer), 6:52.69
2014 California (Rachael Acker, Caroline Piehl, Elizabeth Pelton, Missy Franklin) 6:54.94
Stanford's Lia Neal, Grace Carlson, Simone Manuel and Nicole Stafford took second overall in 6:54.68.
That's a 3.69-second victory for California, but that's not even close to the largest margin of victory in the 800-yard free relay at NCAAs.
Florida owns that record with a 7:06.98-7:14.94 (7.96-seconds) victory against Southern California back in 1984.
Georgia's Jordan Mattern, Amber McDermott, Brittany MacLean and Hali Flickinger placed third in 7:00.39.
  1 California-PC  'A'            6:50.18    6:50.99CD1-A    40  
     1) Runge, Cierra FR              2) r:0.34 Cheng, Camille SR     
     3) r:0.44 Pelton, Elizabeth JR   4) r:0.43 Franklin, Missy SO    
    r:+0.82  24.56        50.78 (50.78)
      1:17.74 (1:17.74)   1:44.56 (1:44.56)
        2:08.30 (23.74)     2:34.35 (49.79)
      3:01.13 (1:16.57)   3:28.25 (1:43.69)
        3:52.05 (23.80)     4:18.06 (49.81)
      4:44.36 (1:16.11)   5:10.94 (1:42.69)
        5:33.46 (22.52)     5:58.55 (47.61)
      6:24.60 (1:13.66)   6:50.99 (1:40.05)
  2 Stanford-PC  'A'              6:56.94    6:54.68PD1-A    34  
     1) Neal, Lia SO                  2) r:0.54 Carlson, Grace SO     
     3) r:0.39 Manuel, Simone FR      4) r:0.34 Stafford, Nicole SO   
    r:+3.75  23.97        50.03 (50.03)
      1:16.52 (1:16.52)   1:42.89 (1:42.89)
        2:07.30 (24.41)     2:34.28 (51.39)
      3:01.40 (1:18.51)   3:28.89 (1:46.00)
        3:52.11 (23.22)     4:17.65 (48.76)
      4:43.70 (1:14.81)   5:10.50 (1:41.61)
        5:34.48 (23.98)     6:00.52 (50.02)
      6:27.30 (1:16.80)   6:54.68 (1:44.18)
  3 Georgia-GA  'A'               6:55.69    7:00.39PD1-A    32  
     1) Mattern, Jordan SR            2) r:0.57 McDermott, Amber SR   
     3) r:0.38 MacLean, Brittany JR   4) r:0.35 Flickinger, Hali JR   
    r:+0.72  25.10        51.80 (51.80)
      1:18.42 (1:18.42)   1:44.85 (1:44.85)
        2:09.11 (24.26)     2:35.72 (50.87)
      3:03.08 (1:18.23)   3:30.58 (1:45.73)
        3:55.35 (24.77)     4:22.30 (51.72)
      4:49.61 (1:19.03)   5:16.42 (1:45.84)
        5:40.56 (24.14)     6:07.05 (50.63)
      6:33.91 (1:17.49)   7:00.39 (1:43.97)
                     Women - Team Rankings - Through Event 14                     
 
  1. California                      383.5   2. Georgia                         299.5
  3. Stanford                          264   4. Virginia                          168
  5. Texas A&M                       153.5   6. Louisville                        151
  7. Southern California               128   8. Texas                             115
  9. Tennessee                         110  10. Missouri                           90
 11. Indiana                            82  12. Arizona                            81
 13. Florida                            66  13. Minnesota                          66
 15. Wisconsin                          59  16. NC State                           51
 17. Penn State                         50  18. UNC                              45.5
 19. Kentucky                           44  20. Notre Dame                         40
 21. Florida Gulf Coast               37.5  22. Auburn                             34
 23. Florida State                      30  24. University of Miami (Florida)      26
 25. So. Methodist                    25.5  26. Miami University (Ohio)            24
 26. Purdue                             24  28. UCLA                               22
 29. Alabama                            17  29. Denver                             17
 31. Nevada                             16  32. Michigan                           13
 32. Virginia Tech                      13  34. Illinois State University          12
 35. Lsu                                 8  36. Ohio State                          5
 37. Hawaii (W)                          4  37. Kansas                              4
 37. Iowa                                4  37. San Diego State                     4
 41. Arkansas                            2  42. Cincinnati                          1
2015 NCAA Division I Women's Swimming & Diving Championships, Day Two Results – Results