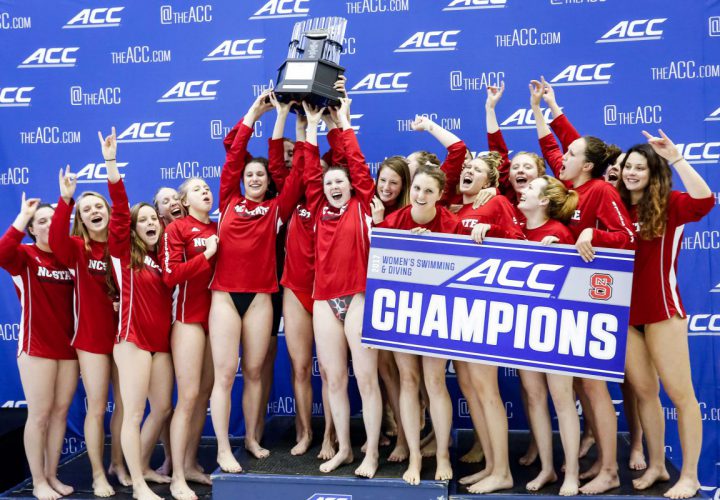 Photo Courtesy: NC State Athletics
Agon is the proud sponsor of all high school coverage (recruiting, results, state championships, etc.) on SwimmingWorld.com. For more information about Agon, visit their website AgonSwim.com.
To report a college commitment, email HS@swimmingworld.com. Join Swimming World's Watch List
NEW COMMITS: The verbal commitments continue to roll in for the Wolfpack, this time with the addition of Swedish Olympian Sophie Hansson and divers Sami Nickerson and Taylor Bennett to the NC State Class of 2022.
They join a Wolfpack Class of 2022 that also includes Emma Muzzy and Shannon Kearney.
Sophie Hansson
Hansson swam the 100 breaststroke in Rio last summer, representing Sweden in her Olympic debut. She has continued to acquire international experience racing at Short Course Worlds last winter and Long Course Worlds in Budapest this summer.
Hansson wrote,
"The environment, coaches and swimmers made me feel at home and I am looking forward to be part of the wolf pack family next fall."
Her best times include (SCM/LCM):
50 Breast 30.11/30.90
100 Breast 1:05.26/1:07.59
200 Breast 2:23.16/2:28.09
In short course yards those convert to the 27-low, 58-high, and the 2:09 range. With those times, she'll be a crucial addition to the Wolfpack. The team graduated top breaststroker and World University Games swimmer Kayla Brunbaum.
Sami Nickerson
Nickerson is a senior at Homestead High School in Thiensville, Wisconsin. She dives for Schroeder Diving Team.
As a junior at last year's Wisconsin high school state championship, Nickerson finished second. Nickerson qualified for her first USA Diving National Championships in 2011 after only a year of diving.
Taylor Bennett
Bennett will head to Raleigh from Quakertown, Pennsylvania. She dives for TNT Diving and is a senior at Quakertown Community High School.
A two time NISCA All-American, at the Pennsylvania High School state championships Bennett has twice been a top eight finisher.