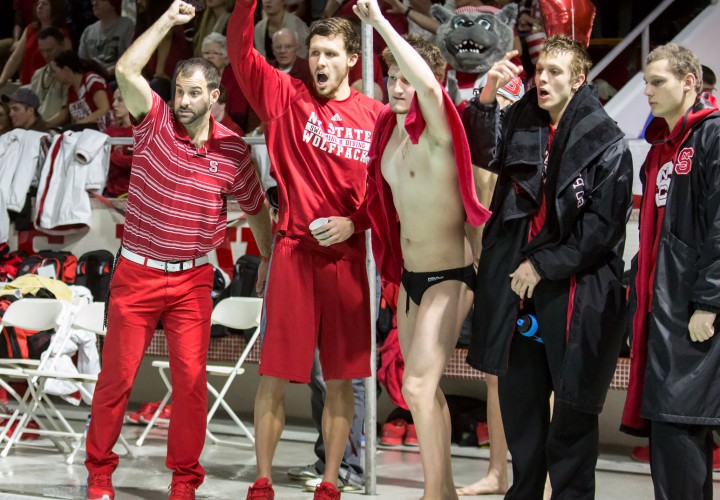 Photo Courtesy: Kenneth Martin
RALEIGH, N.C. – NC State and five-time ACC Swimming and Diving Coach of the Year Braden Holloway have agreed to a new contract, Director of Athletics Debbie Yow announced on Monday.
Holloway is in his seventh year leading the NC State men's and women's swimming and diving programs, and his new deal will extend him through the 2021-22.
"Braden Holloway is in my view the best swimming and diving coach in the country, and this new deal reflects our commitment," said Yow. "This new contract helps ensure that Braden will be leading NC State swimming and diving for a long time."
Additional provisions in Holloway's new contract can trigger three one-year extensions that could extend through 2025.
"My family and I are grateful for the commitment from NC State and Debbie Yow," said Holloway. "NC State is home. I swam here, it's a privilege to coach here, and I look forward to many great years ahead with the Wolfpack."
NC State has soared to incredible heights under Holloway's leadership after inheriting programs that each finished 8th in the ACC prior to his arrival in 2011. His men's team has won the last three ACC Championships, while he guided the women's program to its first ACC crown in 37 years this past February.
For his efforts he has been honored as ACC Men's Coach of the Year four times (2013, 2015, 2016 and 2017) while earning ACC Women's Coach of the Year once (2017).
His teams have excelled on the biggest stage, as both teams have finished in the Top 10 in the nation each of the last two years. In both 2016 and 2017 his men's teams finished fourth in the nation, matching the highest finish ever by an ACC program. The men's team also finished eighth in 2015.
The NC State women's team has finished in the Top 20 in the nation each of the last four years, including a No. 9 finish in 2016 before finishing seventh nationally in 2017, the highest finish in program history.
With the 2017-18 season underway, his teams find themselves in familiar territory, ranked No. 5 on the men's side and No. 12 in women's. NC State is bracing for the USA Swimming Winter National Championships in Columbus, Ohio, from Nov. 30-Dec. 3.
Press release courtesy of NC State Athletics.