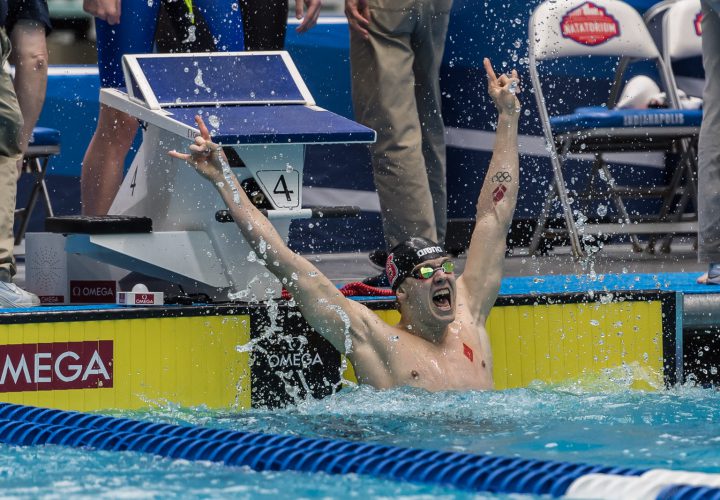 Photo Courtesy: Peter H. Bick
NCAA DI editorial coverage is proudly sponsored by Adidas. Visit adidasswimming.com for more information on our sponsor. For all the latest coverage, check out our event coverage page.
CLICK HERE FOR LIVE RESULTS
The North Carolina State Wolfpack opened up the men's NCAA championships with a dominant win in the 800 free relay, the only event on the opening night program.
Ryan Held led off in 1:31.37, improving to sixth all-time in the event. The Wolfpack were in second place at that point, but Andreas Vazaios took the lead with his split of 1:32.23. Justin Ress extended the lead with a 1:32.26, and Soren Dahl did not allow anyone, including Texas' Townley Haas, to get close, finishing with a 1:30.67 split.
NC State finished in 6:06.53, demolishing Texas' NCAA and U.S. Open record of 6:08.03.
Texas finished second in 6:08.61, a time which will stand as a new American record as NC State's Dahl originates from Denmark. Jack Conger led off in 1:31.54, tied for seventh all-time in the event, and he was followed by Jeff Newkirk (1:33.23), Clark Smith (1:33.40) and Townley Haas, who anchored in 1:30.54, the fastest split in history.
Florida's Jan Switkowski (1:32.44), Maxime Rooney (1:32.67), Mitch D'Arrigo (1:32.73) and Mark Szaranek (1:31.46) finished third in 6:09.30. Also getting under the 6:10-barrier was Cal, who finished in 6:09.56 with Long Gutierrez (1:33.31), Andrew Seliskar (1:31.58), Michael Jensen (1:32.59) and Ryan Murphy (1:32.08).
Southern California finished fifth in 6:10.97 after Dylan Carter led off in 1:30.95. At the time, that swim ranked second all-time in the 200 free, but it was surpassed one heat later by Blake Pieroni, who led off in 1:30.87. Only Haas has been faster at 1:30.46. Indiana ended up finishing ninth in 6:13.45.
Also finishing in the top eight were Georgia (6:12.54), Stanford (6:12.66) and Louisville (6:12.81).
  1 NC State                            6:09.82    6:06.53N  40  
     1) Held, Ryan JR                 2) r:0.44 Vazaios, Andreas JR   
     3) r:0.21 Ress, Justin SO        4) r:0.37 Dahl, Soeren SR       
    r:+0.63  20.73        43.97 (43.97)
      1:07.46 (1:07.46)   1:31.37 (1:31.37)
        1:52.49 (21.12)     2:15.92 (44.55)
      2:39.79 (1:08.42)   3:03.60 (1:32.23)
        3:24.43 (20.83)     3:48.20 (44.60)
      4:12.18 (1:08.58)   4:35.86 (1:32.26)
        4:56.59 (20.73)     5:19.83 (43.97)
      5:42.95 (1:07.09)   6:06.53 (1:30.67)
  2 Texas                               6:12.59    6:08.61A  34  
     1) Conger, Jack SR               2) r:0.21 Newkirk, Jeff SO      
     3) r:0.27 Smith, Clark SR        4) r:0.16 Haas, Townley SO      
    r:+0.66  20.83        43.74 (43.74)
      1:07.29 (1:07.29)   1:31.54 (1:31.54)
        1:52.72 (21.18)     2:16.02 (44.48)
      2:40.03 (1:08.49)   3:04.79 (1:33.25)
        3:25.99 (21.20)     3:49.65 (44.86)
      4:13.88 (1:09.09)   4:38.19 (1:33.40)
        4:58.39 (20.20)     5:21.20 (43.01)
      5:44.77 (1:06.58)   6:08.61 (1:30.42)
  3 Florida                             6:12.18    6:09.30   32  
     1) Switkowski, Jan JR            2) r:0.16 Rooney, Maxime FR     
     3) r:0.19 D'Arrigo, Mitch SR     4) r:0.40 Szaranek, Mark JR     
    r:+0.63  21.20        44.27 (44.27)
      1:07.90 (1:07.90)   1:32.44 (1:32.44)
        1:53.33 (20.89)     2:16.89 (44.45)
      2:40.68 (1:08.24)   3:05.11 (1:32.67)
        3:26.61 (21.50)     3:50.18 (45.07)
      4:13.97 (1:08.86)   4:37.84 (1:32.73)
        4:58.75 (20.91)     5:21.88 (44.04)
      5:45.41 (1:07.57)   6:09.30 (1:31.46)
  4 California                          6:12.07    6:09.56   30  
     1) Gutierrez, Long SR            2) r:0.32 Seliskar, Andrew SO   
     3) r:0.27 Jensen, Michael FR     4) r:0.21 Murphy, Ryan SR       
    r:+0.64  21.23        44.12 (44.12)
      1:08.27 (1:08.27)   1:33.31 (1:33.31)
        1:53.68 (20.37)     2:16.78 (43.47)
      2:40.33 (1:07.02)   3:04.89 (1:31.58)
        3:25.72 (20.83)     3:49.16 (44.27)
      4:12.92 (1:08.03)   4:37.48 (1:32.59)
        4:58.16 (20.68)     5:21.23 (43.75)
      5:44.76 (1:07.28)   6:09.56 (1:32.08)
  5 Southern Cali                       6:15.34    6:10.97   28  
     1) Carter, Dylan JR              2) r:0.25 Mulcare, Patrick SO   
     3) r:0.18 Malone, Reed SR        4) r:0.41 Condorelli, Santo JR  
    r:+0.59  21.00        43.79 (43.79)
      1:07.14 (1:07.14)   1:30.95 (1:30.95)
        1:52.14 (21.19)     2:15.30 (44.35)
      2:38.79 (1:07.84)   3:04.09 (1:33.14)
        3:25.50 (21.41)     3:49.55 (45.46)
      4:13.24 (1:09.15)   4:36.84 (1:32.75)
        4:57.86 (21.02)     5:21.87 (45.03)
      5:46.42 (1:09.58)   6:10.97 (1:34.13)
  6 Georgia                             6:17.17    6:12.54   26  
     1) Litherland, Jay JR            2) r:0.24 Kalisz, Chase SR      
     3) r:0.19 Clark, Pace SR         4) r:0.15 Bentz, Gunnar JR      
    r:+0.71  21.59        45.36 (45.36)
      1:09.39 (1:09.39)   1:34.19 (1:34.19)
        1:55.50 (21.31)     2:19.02 (44.83)
      2:43.14 (1:08.95)   3:07.30 (1:33.11)
        3:28.62 (21.32)     3:52.28 (44.98)
      4:16.36 (1:09.06)   4:40.52 (1:33.22)
        5:01.32 (20.80)     5:24.33 (43.81)
      5:48.56 (1:08.04)   6:12.54 (1:32.02)
  7 Stanford                            6:15.09    6:12.66   24  
     1) Shoults, Grant FR             2) r:0.08 Kremer, Tom SR        
     3) r:0.15 DeVine, Abrahm SO      4) r:0.24 Egan, Liam JR         
    r:+0.62  21.37        45.01 (45.01)
      1:09.15 (1:09.15)   1:33.65 (1:33.65)
        1:54.39 (20.74)     2:17.91 (44.26)
      2:41.59 (1:07.94)   3:05.40 (1:31.75)
        3:26.49 (21.09)     3:49.69 (44.29)
      4:14.11 (1:08.71)   4:38.89 (1:33.49)
        5:00.70 (21.81)     5:24.53 (45.64)
      5:48.72 (1:09.83)   6:12.66 (1:33.77)
  8 Louisville                          6:12.30    6:12.81   22  
     1) Lindenbauer, Matthias SR      2) r:0.28 Carroll, Trevor SR    
     3) r:0.20 Tarasevich, Grigory SR 4) r:0.10 Harting, Zach SO      
    r:+0.64  21.87        45.33 (45.33)
      1:09.19 (1:09.19)   1:34.06 (1:34.06)
        1:55.55 (21.49)     2:19.32 (45.26)
      2:43.33 (1:09.27)   3:07.52 (1:33.46)
        3:28.75 (21.23)     3:52.34 (44.82)
      4:16.27 (1:08.75)   4:40.19 (1:32.67)
        5:01.11 (20.92)     5:25.07 (44.88)
      5:48.91 (1:08.72)   6:12.81 (1:32.62)
2017 NCAA Division I Men's Championships, Day 1 Results – Results