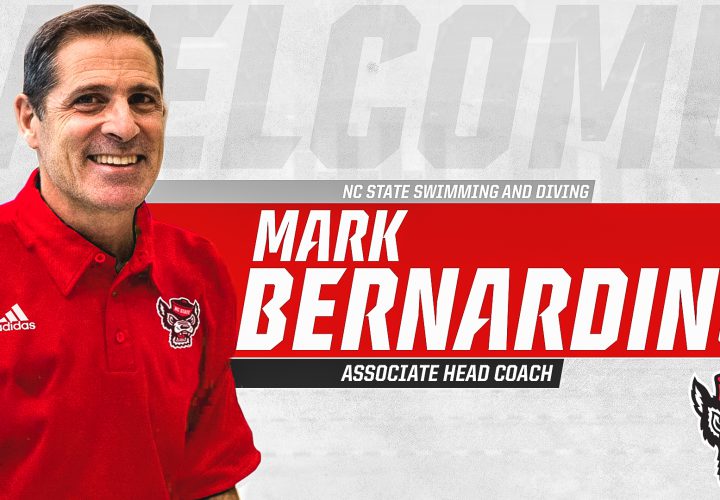 Photo Courtesy: NC State Swimming and Diving
NC State swimming & diving head coach Braden Holloway bolstered his staff on Monday with the addition of 31-time ACC Coach of the Year and 2018 International Swim Coach's Association Hall of Fame inductee Mark Bernardino.
"I am excited that Mark will be joining the Wolfpack," said head coach Braden Holloway. "He brings passion, energy and knowledge that can not only elevate our current student-athletes, but also our staff as well. Mark is one of the best coaches to walk the pool deck, both in college and for USA swimming. His desire to develop and teach is constant, contagious and runs deeper than ever. As we continue our drive to win NCAA titles, Mark can help us reach that next level we are looking to attain."
A longtime member of the USA National Team staff, most recently from 2010-2014, Bernardino comes to NC State following four seasons as associate head coach at South Carolina. Prior to that he served as head coach at Virginia from 1978-2013.
During his tenure at UVA the Cavaliers captured 27 ACC Championships; the men's program became the first in ACC history to win the ACC Championship 16 times while its women became the first program in ACC history to win it 11 times. His 510 career victories rank fifth all-time in NCAA swimming while he coached four NCAA individual champion swimmers, six NCAA relay titles, three NCAA record performances, one NCAA Swimmer of the Championship meet and 13 Olympians.
"I am honored and excited to join the NC State University Swimming and Diving Family," said Bernardino. "I would like to thank Coach Braden Holloway, his staff and swimmers, Athletic Director Dr. Debbie Yow and Associate Athletic Director Michelle Lee for their trust in me, and for this opportunity.
"Coach Holloway and his staff have overseen the most remarkable turn-around ever witnessed in the sport of swimming. They are primed and ready to contend for national championships and I am energized and enthused at the prospect of helping them attain their goals. I am keenly aware of the storied history of this Swimming and Diving program and I will work to my fullest capacity to help the Wolfpack reach higher milestones in the years ahead. There is something very special that fuels the minds, hearts and bodies of these swimmers and this staff and I look forward to pursuing their goals beside them."
Bernardino has coached one Olympic silver medalist, one world and American holder, 102 First-Team NCAA All-American swimmers, 127 All-American relays, 26 ACC Swimmer of the Year Awards (18 swimmers) including 11 men and seven women, 16 ACC Freshman of the Year Awards (nine men, seven women), 164 male individual ACC titles, 118 female individual ACC titles, 50 male ACC relay titles and 52 female ACC relay titles and six male individual SEC titles.
Bernardino's 31 ACC Swimming Coach of the Year awards, including 18 on the men's side and 13 on the women's, are the most earned in ACC Swimming history. The Cavaliers were also among the best performing programs at the NCAA Championships under his tutelage as they earned the second-most top-ten finishes at the NCAA Championships of any program in ACC history. The men and women each earned four top-ten finishes, highlighting a combined 46 finishes inside the top-25.
Throughout his time at South Carolina the Gamecocks became a mainstay at the NCAA Championships. The Gamecock men finished 15thin 2018 while the men and women earned three and one 16th-20thplaces finishes respectively.
Along with his success at the college level, Bernardino also has extensive experience at the international level. He served as head coach of the USA World University Games team in 2009 and 2011, assistant coach of the USA Pan-American Games team in 2011, assistant coach of the USA National Junior Team in 2000 and head coach of the East Team at the USA Olympic Festival in 1993. He also served as head coach of the Ecuadorian National Team from 2015-17.
His impact went beyond the pool as at Virginia the women's teams was a CSCAA All-Scholastic Academic for 19 consecutive years while the men's team earned the honor 13 years in a 19 year span. He coached four CoSIDA Academic All-Americans, 19 ACC Post-Graduate Scholarship winners and 13 ACC Scholar Athlete of the year winners.
Bernardino also served as president of the CSCAA from 2010-2012 and on the CSCAA executive board from 2010-2014.
He joins an NC State program in the midst of a remarkable stretch of success, and in search of more with his addition. After winning its fourth straight ACC Championship on the men's side and finishing third at the ACC Championships on the women's, NC State wrapped up the 2017-18 season with a fourth-place finish nationally and five NCAA titles on the men's side and an 18th-place finish on the women's, the fifth-straight year it has finished inside the top-20.
The above press release was posted by Swimming World in conjunction with NC State Swimming and Diving. For press releases and advertising inquiries please contact Advertising@SwimmingWorld.com.