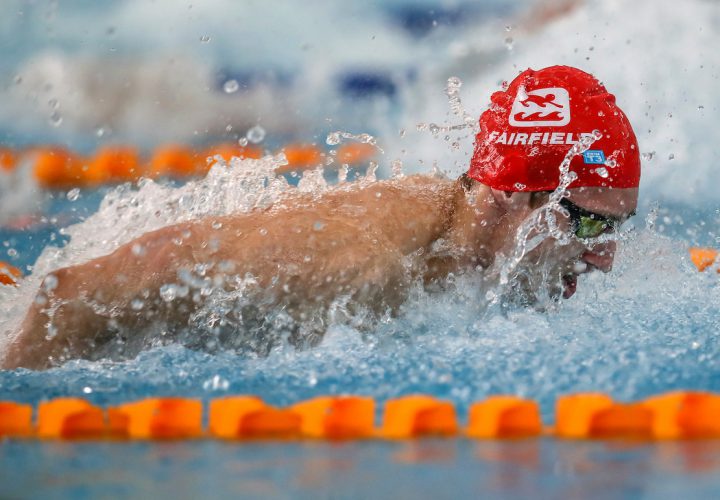 Photo Courtesy: Simon Watts, BW Media Photography
Commentary by Dave Crampton, Swimming World Contributor. 
World, national and age group records fell on the second day of the New Zealand Short Course championships in Auckland – and they were all in the 200m individual medley.
Olympian Bradlee Ashby started the evening session off with a national open record in the medley, clocking 1:55.30, lowering the mark of 1:56.34 set by Dean Kent at the 2008 world short course championships in Manchester.  
It is the sixth fastest time in the world this year, and the second fastest of swimmers in Commonwealth countries, meaning Ashby could be a medal prospect at next year's Commonwealth Games in Australia.
"It would have been disappointing if I had not got the record," Ashby said. "I was targeting it – I haven't done a short course (championships) properly since 2013."
Ashby has already qualified for the Commonwealth Games, having set the 200m individual medley long course record, clocking 1:59.24 for 13th at the world championships in July. However he will still attend trials later this year.
Para-swimmer Sophie Pascoe followed, clocking 2:21.45, after breaking her own SM10 world record in the morning session. It was her fourth world record for the meet in three events.   
"I loved racing my favourite event (the 200 IM) and breaking my previous world record. Racing is feeling oh so good this week," Pascoe said.
Also in the morning session, Brearna Crawford, 14, set a 200m individual medley national age group record, clocking 2:16.15 – the fourth fastest of all ages going into evening finals – more than a second faster than the previous mark.
Former world junior 50m backstroke record-holder Gabrielle Fa'amausili, 17, lowered the record twice, clocking 59.69 in the morning and 59.66  to win the open final with a quick last length, ahead of Bobbi Gichard, and  Kyla Alexander,  who both swam under that pre-meet mark.   
"Three laps into the race I didn't think I was going to win because I saw Bobbi and Kyla so close next to me but thankfully I just pulled away at the end," Fa'amausili said.
Tarquin Magner, 13, clocked 59:37 in 100m backstroke for a national age group record, to remain unbeaten in all four strokes, beating the 59.86 record held by Olympic finalist Corey Main.  Magner is used to travel to training from a small town via hovercraft each morning, but likes the Sir Owen Glenn National Aquatic centre.
"It's a good fast pool with proper blocks – I`m very happy."
The championships conclude on Saturday.