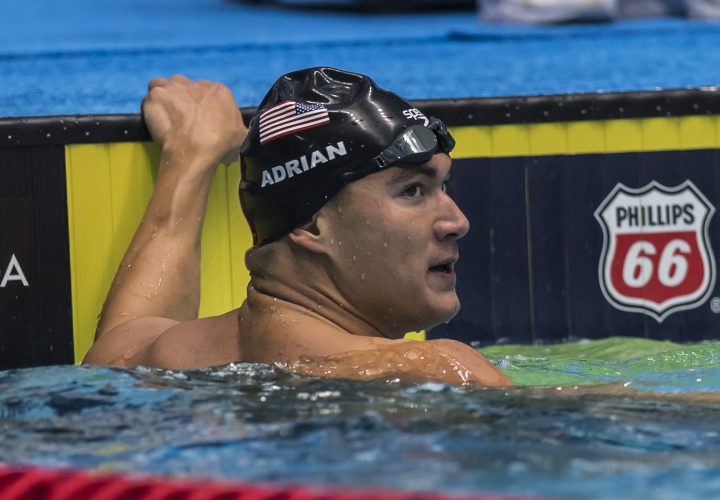 Photo Courtesy: Peter H. Bick
Editorial content for the 2017 USA Swimming Nationals is sponsored by TritonWear. Visit TritonWear.com for more information on our sponsor. For full Swimming World coverage, check event coverage page.
With all of the hype around Auburn's Zach Apple this morning, we almost forgot about the 2012 Olympic gold medalist Nathan Adrian in the race. The 28-year-old veteran got the job done Tuesday night for his eighth national title in the 100 free with a 47.96, good for third in the world behind Great Britain's Duncan Scott (47.90) and Australia's Cameron McEvoy (47.91). Adrian makes his fifth World Championship team dating back to 2009.
Florida's Caeleb Dressel (47.97), Texas' Townley Haas (48.20) and Auburn's Apple (48.23) automatically make the team for the relay in Budapest. All three of those guys make their first World Championship team. Dressel is now fourth in the world behind Scott, McEvoy and Adrian.
Missouri's Michael Chadwick (48.48) and Indiana's Blake Pieroni (48.49) pick up consideration for Budapest. NC State's Ryan Held (48.53) and Cal's Ryan Murphy (49.21) rounded out the top eight.
The US is now the clear favorite moving towards Budapest in the 4×100 free relay as they look to defend the title they won last year in Rio. They have not won a World title since 2009 when they won in Rome.