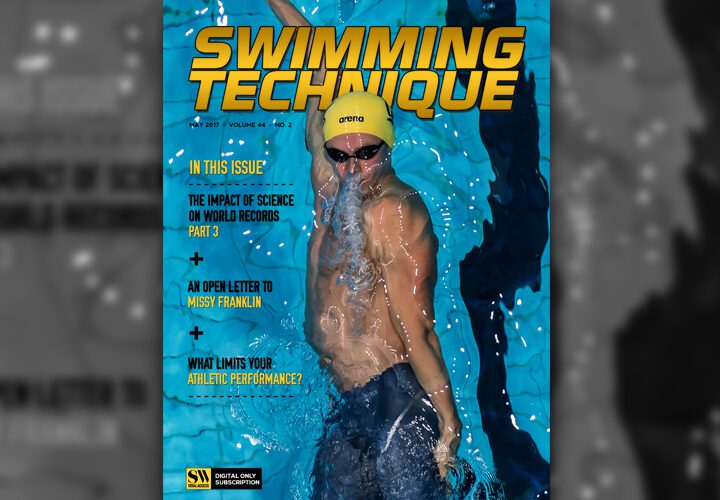 Read About Impact on World Records, Limits On Athletic Performance, Biomechanics, Technique and More...
The latest issue of Swimming Technique Magazine is now available for download in the Swimming World Vault!  Non-Subscribers can click here to download for $5.95.
Featured within the second installment is Part III in Dr. Rod Havriluk and Tyler Gambril's "The Impact of Science on World Records in Swimming," as well as a visual guide to breaking down your start.
Technique Time Machine brings back "The Aquazoids," a cartoon series featured in Swimming Technique back in the day.
Also present in this issue are "Lessons with Wayne," Swimming Technique's editor, and "An Open Letter to Missy Franklin (…and all swimmers with shoulder injuries)" by Dr. Havriluk.
In Swimming Technique Magazine, we are dedicated to bringing you the best information in the areas vital to better swimming and coaching. We've broken down our content into seven categories: mental preparedness, technical, nutrition/recovery, training, environment, strategy/tactics, and science and innovation.
This issue is FREE to Total Access Subscribers.  Not a Total Access Subscriber? Click Here To Learn More.   Non-Subscribers can click here to download for $5.95.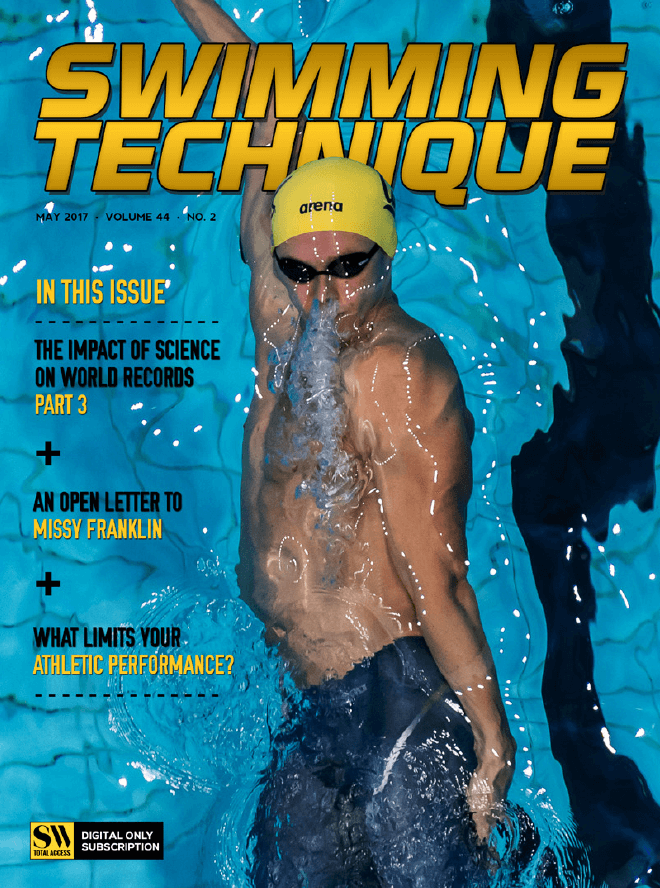 Not a subscriber? Swimming World Magazine gives you unlimited access to all online content on SwimmingWorldMagazine.com and access to all of the back issues of Swimming World Magazine dating back to 1960! To Access everything in the Swimming World Magazine Vault, Subscribe With This Special 3-Year Offer!
FEATURES
08 | LESSONS  WITH WAYNE
by Wayne Goldsmith
Good science or bad science—what's the difference?
10 |THE HIGH-PERFORMANCE SWIMMING COACH AS A LEADER: MOTIVATING ATHLETES
by Paul Robbins
It goes without saying that a High-Performance Swimming Coach is a leader and, hence, a primary source of motivational influence for his/her athletes…
12 |THE IMPACT OF SCIENCE ON WORLD RECORDS IN SWIMMING: Part III—When Will the Second Scientific Revolution Begin?
by Rod Havriluk and Tyler Gambill
This article (Part III and the final part of this series) presents recent efforts to reinvigorate the application of science and existing barriers, and offers suggestions for the future…
18 | WHAT LIMITS ATHLETIC PERFORMANCE?
by Joe Zemaitis
It's a simple question that speaks to every coach in every sport. If a coach is trying to develop athletes to a previously unattained level of performance, what must happen?
24 | AN OPEN LETTER TO MISSY FRANKLIN (…and all swimmers with shoulder injury)
by Rod Havriluk
Dear Missy,
I'm writing this letter to you for three reasons. First, to commend you for publicizing your recent double shoulder surgery. As a high-profile elite athlete, many swimmers can benefit from your story. Shoulder injuries are extremely common in swimmers…
28 | CONCEPTS IN CARDIAC OUTPUT DEVELOPMENT AND PERFORMANCE DEVELOPMENT
by Emma Swanwick and Martyn Matthews
The swimming coaches' "holy grail" is to optimize training and development activities by individualizing their program for each athlete on their team. However, it is difficult at best to design and deliver individualized training programs…
36 | A PRACTICAL GUIDE FOR SWIMMING COACHES TO INCORPORATE BIOMECHANICS INTO THEIR TRAINING AND PROGRAMMING
by Jodi Cossor
When you watch any swimming race, it is clear to see the difference between the good and the great—the best move with the water, while the rest fight the dense and unnatural environment…
40 | TAKE YOUR MARK…
by Joe Johnson
A visual guide to the art of the race start.
42 | TECHNIQUE TIME MACHINE: The AquaZoids 
by Brent Rutemiller
Technique Tips
16 | BREASTSTROKE RECOVERY
17 | FREESTYLE BODY ROTATION
22 |  BACKSTROKE BREAKOUT
23 |  BACKSTROKE HEAD POSITION
34 | BUTTERFLY HEAD POSITION
35 | BE A GOOD TEAMMATE