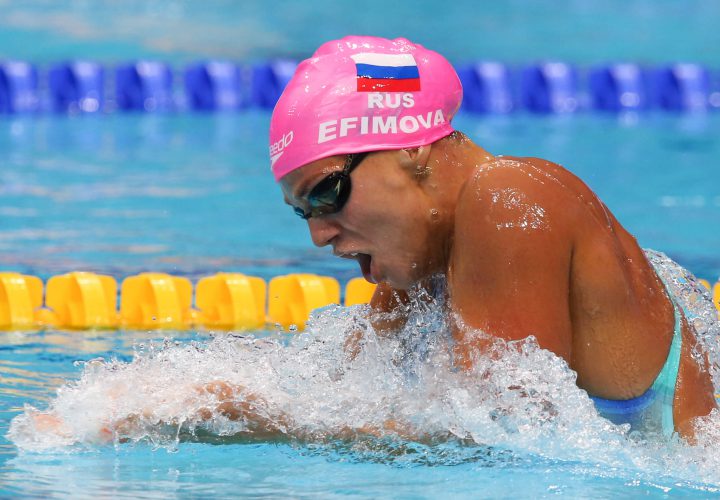 Yulia Efimova.
Photo Courtesy: SIPA USA
Day three of the 2018 Russian Swimming Championships was another fast one.
The meet in Moscow will serve as the selection meet for this year's European Championships which will be held August 3-12 in Glasgow, Scotland.
Men's 100 Free
Vladimir Morozov continued to impress, winning the 100 free in 47.75.
Daniel Isotov took second in 48.31, followed by Vladislav Grinev (46.86).
Women's 100 Breast
There was no surprise in the 100 breast either with Yulia Efimova winning in 1:06.48, nearly a second ahead of Daria Chikunova (1:07.62) and Vitalina Simonov (1:07.69).
Women's 50 Back
Maria Kameneva won titles on back-to-back days as she followed up her 50 free title by winning the 50 back in 27.84.
Anastasia Fesikova took second in27.91, followed by 16-year-old Daria Vaskina (28.08), setting an age-group mark.
Men's 200 Fly
Alexander Kudashev won the 200 fly in 1:57.54, holding off Daniel Pakhomov (1:57.63) and Alexander Arrival (1:57.59) in an close finish to conclude the night's individual finals.
Men's 4×200 Free Relay
Moscow's Mikhail Dovhalyuk, Nikolay Snegirev, Peter Zhyharev and Artem Lobozov won't he 4×200 free relay in 7:15.45.
Monday's finals will include the men's 100 back, 200 breast and 200 IM as well as the women's 200 fly and 200 free.