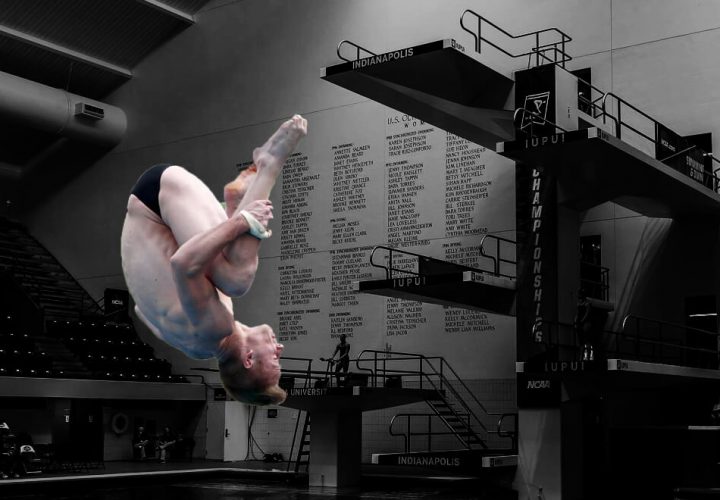 Photo Courtesy: Andrew P. Scott-USA TODAY Sports
Morning Splash by David Rieder.
By Matthew Barnard, Swimming World College Intern.
The field of divers at the 2017 men's NCAA Championships is no doubt one of the strongest in recent history, with the return of a number of Olympic redshirts and every NCAA champion from 2016.
Indiana's James Connor and Michael Hixon both are expected to score highly and make a significant impact towards Indiana's team total. Both divers return from Olympic redshirt with Hixon leaving Rio with a silver medal in the 3-meter synchronized event. Texas diving will not make quite the impact it is used to, having graduated 2016 3-meter bronze medalist Cory Bowersox, but senior Mark Anderson will still likely score in three events for for the Longhorns.
Purdue looks to make a bold statement on the boards with four qualified divers all capable of scoring in multiple events led by 2016 Olympic silver medalist and two time NCAA national champion Steele Johnson, who returns from his redshirt year.
1-Meter
1-meter, like all diving events this year, is loaded with talent and credentials. Three former NCAA champions in this event will be in contention once again with Hixon (2014), Johnson (2015) and Tennessee's Liam Stone (2016) all returning in 2017. All three of these divers look to be in great form heading into the NCAA championships having performed well at their conference and zone meets.
The three returning national champions are only the start when talking about depth in this event. Connor, Anderson, Zhipeng Zeng (OSU) and Briadam Herrera (Miami) have all proven track recorders in the NCAA and will all be pushing for medals. LSU freshman Juan Hernandez comes into the meet with one of the highest degree of difficulties of the field. If Hernandez can execute his dives well, he will no doubt find himself walking away from Indianapolis as an All-American.
Others to look out for include Hector Garcia (Penn State), Henry Fusaro (USC), Bradley Christensen (Stanford), Dominic Giordano (Pittsburg), Joseph Cifelli (Purdue) and Brandon Loschiavo (Purdue)
Prediction:
Michael Hixon (Indiana)
Steele Johnson (Purdue)
Liam Stone (Tennessee)
3-Meter
Consistency will be key in 3-meter with such a deep field of contestants. Hixon and Connor should do the most damage for Indiana in this event, with Connor looking strong having won his zone qualification event. Like Indiana, Texas A&M also beings a strong pair to Indianapolis with Tyler Henschel and Sam Thornton who both performed well in their zone meet.
Purdue will likely score three divers with Johnson, Cifelli and Loschiavo. The reining champion Dominic Giordano also returns having claimed the first national championship for Pittsburgh in 2016. Herrera will also have his sights set atop the podium after finishing as runner-up last year.
Others to look out for include Hernandez, Anderson, Stone and Jack Nyquist (North Carolina)ns
Prediction:
Michael Hixon (Indiana)
James Conner (Indiana)
Steele Johnson (Purdue
Platform
This years 2017 NCAA Championships will see the rematch from the Rio Olympic Trials between Johnson and Miami's David Dinsmore. At Trialsm Johnson edged out Dinsmore to claim the second individual ticket to Rio behind 2012 Olympic Gold Medalist David Boudia. Dinsmore, who missed out on making Team USA after a disappointing fourth round dive, will look for redemption in the same pool that held Trials in June of last year..
Although most eyes will be on Johnson and Dinsmore there is a number of high quality divers vying for the national championship. Tyler Henschel has come into his own as a tower diver in 2017 posting constantly strong scores in both prelim and finals at his zone championship. The 2016 NCAA champion Zhipeng Zeng returns with bronze medalist Scott Lazeroff of Auburn.
Others to look out for include Loschiavo, Hernandez and Christo Law (OSU).
Predictions
Steele Johnson (Purdue)
David Dinsmore (Miami)
Zhipeng Zeng (OSU)
All commentaries are the opinion of the author and do not necessarily reflect the views of Swimming World Magazine nor its staff.