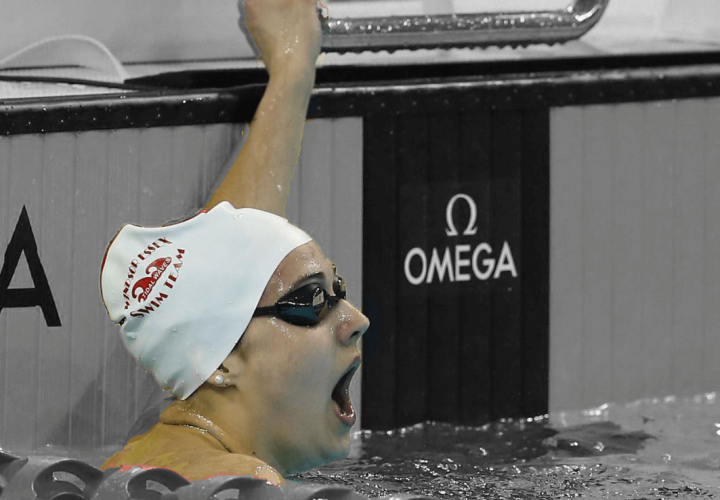 Photo Courtesy: Scott Grant/Swimming Canada
Morning Splash by David Rieder.
By David Rieder.
It's 2017. Pretty crazy to think about, right?
While you are enjoying your New Years' Day and preparing for the inevitable challenge of writing the date correctly, how about some swimming tidbits to ponder?
2016 was a pretty awesome year in swimming—if you already forgot about the highlights, watch The Year That Was, the Off Deck year-in-review episode and our Performance of the Year videos. So what's next? Well, glad you asked.
A lot, actually. There's the World Championships coming up in July in Budapest, and before that, all of the top swimming countries will have selection meets, the NCAA championships figure to be among the fastest in years, and then there's plenty of great regional and junior action on top of that.
If you wanted to know what swimmers you should be watching out for this year, you came to the right place. Just the ladies this week—the men will get their own list next week.
Oh yeah, and this list has 17 entries, just in case you need to drill that number into your head for date-writing purposes. Here goes.
1. Katie Ledecky
Yeah, I would definitely recommend keeping an eye on Ledecky this year. Can she repeat her 200-400-800-1500 free sweep from last year's World Championships? Can she take her already-ridiculous world records even lower? What is the limit for her first NCAA championships this March?
Can anyone beat Ledecky in a distance race? Okay, we'll go ahead and answer that here—probably not. But good luck trying.
2. Sarah Sjostrom
Ledecky looks unbeatable in the 400 and 800 free, but there's one person on her level in the 200 free. Sarah Sjostrom almost did beat Ledecky in the event at the Olympics in Rio and could pose a similar challenge in Budapest. The 23-year-old Swede will also be going for her fourth World title in the women's 100 fly this year in Budapest, and it was evidently clear in Rio that she's almost as good at freestyle as she is butterfly.
As she's been for a half-decade now, Sjostrom remains the most versatile female sprinter in the world.
3. Penny Oleksiak
She turns 17 in June. The first Olympic champion ever to be born in the 21st century and Lou Marsh Trophy winner has a chance to back up her Olympic gold in the 100 free with a World title, possibly give Sjostrom a run in the 100 fly and then contribute to Canada's suddenly-potent relays.
And oh yeah, Budapest would mark her first long course World Championships.
4. Lilly King
She has already won Olympic gold in the 100 breast, and she's yet to turn 20. Can she drop the six tenths she needs to get closer to Ruta Meilutyte's world record of 1:04.35? How low can she take the short course yards' breaststroke records? Can her 200 breast become competitive internationally?
Can I stop asking questions no one will be able to answer for many months?
5. Katinka Hosszu
In terms of all-around versatility, Hosszu is your headliner. She has a home World Championships coming up in Budapest, and after winning Olympic gold in both IMs as well as the 100 back, along with a silver in the 200 back, she figures to have a good year ahead.
We'll get to some potential IM challengers further down the list, but the backstrokes could be especially interesting with Emily Seebohm and Missy Franklin looking to bounce back from rough meets in Rio.
Watch out for this in the 100 back—the World Championships schedule places the 100 back semis right before the 200 IM final. In Kazan in 2015, Hosszu scratched the 100 back after prelims to ensure she would be fully rested for the 200 IM. The 200 IM will be no gimme (again, more below), so what is the choice here?
You might have noticed a pattern about the aforementioned five women—all won individual Olympic gold in 2016.
Well, okay. New rule: no one else on this list can have stood alone atop the podium in Rio. Get it? Good. Moving on…
6. Siobhan-Marie O'Connor
Before there was Maya DiRado, there was Siobhan-Marie O'Connor. As in, O'Connor was the first person to really poise a challenge to Hosszu in Rio. O'Connor charged home in the 200 IM final and finished just three tenths behind the gold medalist from Hungary, 2:06.58 to 2:06.88.
O'Connor's time ranks her third all-time in the event, behind just Hosszu and Ariana Kukors. She just turned 21 in November.
So by now, it should make sense why, in Budapest, Hosszu might want to be fresh for the 200 IM final.
7. Leah Smith
If it were not for Ledecky, Smith would be considered among the top distance swimmers in the world by now. After a breakout summer when she became the third-fastest swimmer of all-time in the 400 free and won a bronze medal in that event in Rio, Smith took advantage of Ledecky's absence and won both events at the Short Course World Championships in Windsor.
She will go for her third-straight NCAA titles in both the 500 and 1650 free this coming March, with the only person in her way some freshman named Ledecky, who has already taken away both of Smith's NCAA records.
Regardless, Smith has plenty more to be encouraged about in 2017—namely, the beginning of her professional career, along with a real chance at World Championship medals and maybe even cracking the 4:00-barrier in the 400 free.
8. Kylie Masse
By the standards of Canada's young women's team, Masse is pretty old—she will be all of 21 years old later this month. She dropped under 59 seconds for the first time in the 100 back in Rio, tying for bronze in 58.76, and then she led off Canada's 400 medley relay team that just missed out on a medal by three tenths of a second.
And then, to finish the year out, she got to swim at a Short Course World Championships in her hometown of Windsor—and she won two silver medals there, to boot.
9. Madeline Groves
Groves has been Australia's National champion in the 200 fly each of the last four years. She got her first taste of international success in 2014, winning the bronze at the Commonwealth Games, but she finished ninth in the event at the World Championships, three tenths out of a spot in the final.
Her top time in 2015 (2:05.41) ranked her second in the world and would have won gold in Kazan.
But at the Olympics in Rio, a meet that Australia entered with some much positivity and hype, Groves proved to be a rare bright spot, taking the silver in the 200 fly (2:04.88). Just 21 years old (sensing a theme here?), a World title will be on her mind this time around.
10. Cate Campbell
Speaking of things not going as well as expected for Australia in Rio…
Cate Campbell set a world record in the women's 100 free just a month before the Olympic Games kicked off. But once she got to Brazil, Campbell stunningly faded to sixth in the 100 free and fifth in the 50 free. Younger sister Bronte Campbell, the reigning World Champion in both the 50 and 100 free, also missed the podium in both events.
Cate did win two relay medals in Brazil, but it was far from the haul she hoped for or even the one she would have realistically expected. How she bounces back in 2017 will be the key storyline in the sprint events.
11. Molly Renshaw
None of the remaining entries on this list won individual medals of any color in Rio. First up in that category is Molly Renshaw, who took sixth in the 200 breast in Rio in 2:22.72, less than a half-second away from winning a medal, and then went on to win her first career World title at Short Course Worlds in Windsor in December.
After narrowly missing out on selection for the Olympic team four years ago when she was just 16, Renshaw appears to be arriving in her prime in one of the events that figures to be wide open come Budapest.
12. Taylor Ruck
Ruck is the third Canadian to make the list and the second 16-year-old. Based out of Arizona, she almost missed out on Canada's Olympic team this summer but ended up being selected anyway to swim on the free relays. Which, coincidentally, turned out to be a good decision when Ruck helped both the 400 and 800-meter squads win bronze medals.
Ruck then made her individual debut at a major meet in December, swimming the 200 free at Short Course Worlds and winning a bronze medal. She then provided the fastest split in the field as Canada won gold in the 800 free relay.
Oleksiak gets more attention, and Masse also won an individual medal in Rio, but Ruck is growing into a key component of this young Canadian core.
13. Abbey Weitzeil
Heading into the Olympics, Weitzeil probably figured to be the more likely of the two Americans to end up winning individual medals. Not that Weitzeil did not swim well in Rio, as she made the final of the 100 free, where she finished seventh, and split a quick 52.56 on the silver medal-winning 400 free relay.
Still, Simone Manuel overshadowed Weitzeil all summer as she won gold in the 100 free and silver in the 50, and Manuel will again be considered the one-to-watch heading into the NCAA championships and World Championship Trials.
Can Weitzeil lay down some top-notch swims of her own and make a push to reclaim U.S. sprint supremacy? Future races between the two might get even better now that Weitzeil is a Cal Bear and Manuel has returned to Stanford.
14. Missy Franklin
Missy Franklin was likely as glad as anyone to see the calendar turn from 2016 to 2017. She got a gold medal to take home from Rio by virtue of her prelims leg of the U.S. 800 free relay, but the Olympics proved bitterly disappointing as she did not qualify for a single international final.
This year, Franklin will be back at Cal, taking classes and training with Dave Durden, hoping to recapture some of her old form. And even if she can't get to the level that helped her win four Olympic golds in London or six World titles in 2013, she can still be an international force.
Remember, it was less than two years ago when Franklin won a silver in the 200 back and bronze in the 200 free at the World Championships in Kazan, and her times from the 2016 Olympic Trials in both the 200 free (1:56.18) and 200 back (2:07.89) would have put her into the finals in Rio. It's highly unlikely that we've seen the last of Franklin.
15. Kanako Watanabe
At the 2015 World Championships, Kanako Watanabe won one medal of each color: gold in the 200 breast, silver in the 200 IM and bronze in the 100 breast. At the Olympics in Rio, she finished 13th in the 200 breast and 15th in the 100 breast. She did not qualify to represent Japan in the 200 IM.
What happened? We don't know, and any speculating would be unfair. What we do know is that she just turned 20 in November, and there's plenty of time for a big turnaround here. She's flying under the radar but still dangerous in 2017.
16. Minna Atherton
Minna Atherton was not at the Olympics in Rio. She finished third in the 100 back at Australia's Olympic Trials behind training partner Emily Seebohm and another eventual Olympic finalist in Madison Wilson. But at just 16 years old and already with some international experience behind her, Atherton could be making her way to her first long course global championships soon enough.
Atherton qualified for the semifinals of the 100 back at the Short Course World Championships last month, and she holds Junior World Records in both the 50 (27.49) and 100 back (59.34). She previously won gold in both backstrokes at the 2015 World Junior Championships.
Atherton might not be topping the podiums quite yet, but her time will come. Watch her development in 2017.
17. Alex Walsh
Walsh appears to be even further away than Atherton from making an impact internationally, but she's worth noting here, regardless. Walsh made a name for herself as a 14-year-old at the 2015 Winter Junior Nationals when she posted times of 51.62 in the 100 back and 1:52.07 in the 200 back.
At Olympic Trials, Walsh qualified for the semifinals in both the 100 back (1:00.95) and 200 back (2:10.76), but by the time the 2016 Winter Juniors meet rolled around, it was in the 200 IM (1:54.48) and 100 breast (58.80) that Walsh impressed.
So what is her best event? Who knows? But generally, 15-year-olds with that amount of versatility and speed don't fade away. Check back in on how she stacks up at World Championship Trials this summer.
All commentaries are the opinion of the author and do not necessarily reflect the views of Swimming World Magazine nor its staff.