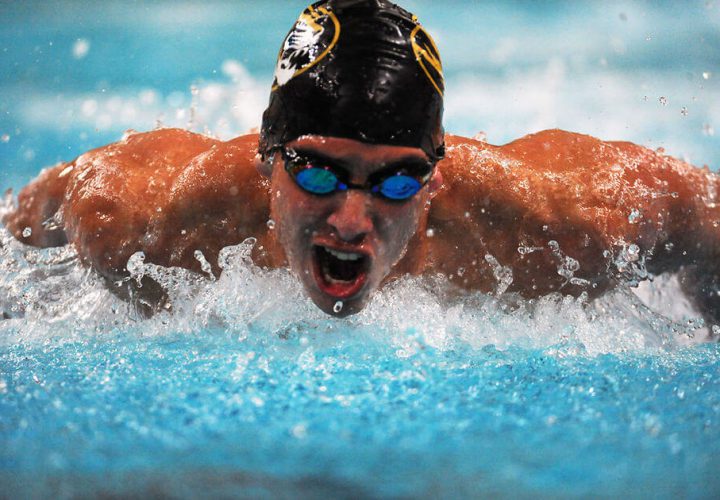 Photo Courtesy: Columbia Missourian
Friday night of the 2017 Lincoln Speedo Sectionals saw the finals of the 400-meter freestyle, 100-meter breaststroke, 200-meter butterfly, 100-meter backstroke, and 800-meter freestyle relay. College swimmers from the University of Missouri dominated the individual events, winning seven out of eight during the course of the evening. Highlights include Mizzou men going 1-2 in both the 100-meter breaststroke and 200-meter butterfly, and 14-year-old Kate McCarville's silver medal in the women's 200-meter butterfly.
Missouri State University commit Liberty Howell of SwimTulsa held off incoming Cal freshman Dannie Dilsaver of Greater Nebraska Swim Team for the title in the women's 400-meter freestyle, touching in 4:23.50 to Dilsaver's 4:24.86. Her last 50 split of 30.68 gave her the win, just as it did in the 800. Third place went to Club Huskers' Katarina Sickle, who finished in 4:25 flat.
Mizzou's Jacob Wielinksi won the event for the men with his time of 4:06.77, with Jackson Allmon of Council Bluffs Swim Club close behind in 4:07.13 for the silver. Wielinksi's Missouri teammate Gustavo Gutierrez Lozano grabbed the bronze with a 4:09.33.
University of Missouri notched another first-place finish with Katharine Ross's dominant performance in the women's 100-meter breaststroke – her time of 1:10.39 was just under three seconds ahead of second-place Jordan Ehly's time of 1:13.09. Ehly, with Nebraska University's Club Huskers team, was the winner of the 200-meter breaststroke. Third place went to teammate Victoria Beeler by just 0.05, with her time of 1:13.14.
Mizzou swimmers continued to dominate in the men's 100-meter breaststroke, with Caleb Hicks and Jordan O'Brien going 1-2, respectively. Hicks finished in 1:04.23, and O'Brien in 1:05.29. Lance Culjat of Omaha Swim Federation was close behind for the bronze medal with his time of 1:06.01. Notably, 46-year-old Siphiwe Baleka's prelims time of 1:08.55 in the event was just about a second off of the men's 45-49 national Masters record, but it still ranks as the second fastest time ever for his age group nationally.
Sharli Brady of the University of Missouri notched the team's fourth first-place finish of the evening with her winning time of 2:13.50 in the women's 200-meter butterfly. She was just about four seconds ahead of the rest of the field, with 14-year-old McCarville of Springfield Aquatics taking the silver medal in 2:17.34. Dana Posthuma of Club Huskers finished in third with her time of 2:18.23.
Gutierrez Lozano won for the men in a close race against teammate Nick Alexander in the men's 200-meter butterfly, touching in 2:04.60. Alexander finished second with a time of 2:05.36 after putting up a strong back half. The bronze medal went to River City Aquatics' Brogan Davis in 2:06.53, a win of the night for the high schoolers.
Mizzou's winning streak held in the women's 100-meter backstroke with Samantha Wilt's first-place swim of 1:03.72. Nebraska University's Club Huskers took silver and bronze, Lindsay Helferich with a 1:04.02 and Carla Gonzalez with a 1:04.38.
University of Missouri continued their domination as Alexander paid no heed to his quick turnaround and won the men's 100-meter backstroke in 57.95. Arkansas Dolphins Swim Team Thomas Heye was second in 59.30, and third place went to Davis in 59.86.
Club Huskers women's A and B teams went 1-2 in the women's 800-meter freestyle relay. The A-team of Kaylyn Flatt, Gonzalez, Beeler, and Sickle combined for the win in 8:40.38, while B-lay Anna McDonald, Helferich, Lindsey Stalheim, and Posthuma touched in 8:45.31. Third place went to Angelina Ke, Alyssa Bloser, Allie Rogers, and Olivia Johnson of Arkansas Dolphins Swim Team in 8:51.72.
The Arkansas Dolphins men put up a strong showing in the men's 800m freestyle relay event, as Levi Lewis, Heye, Alexander Ware, and Vincent Jaworski combined for a time of 8:08.48. Second place went to Jonathan Thomas, Lance Godard, Thomas Huffman, and Reece Stikeleather of Empire KC Swim Club's B-team in 8:12.68. River City Aquatics' Caleb Fell, Jacob Bening, Davis, and Daniel Seabaugh were close behind in 8:13.69 for third place.
Live results can be found here, or on Meet Mobile under 2017 Region VIII Summer Sectionals.