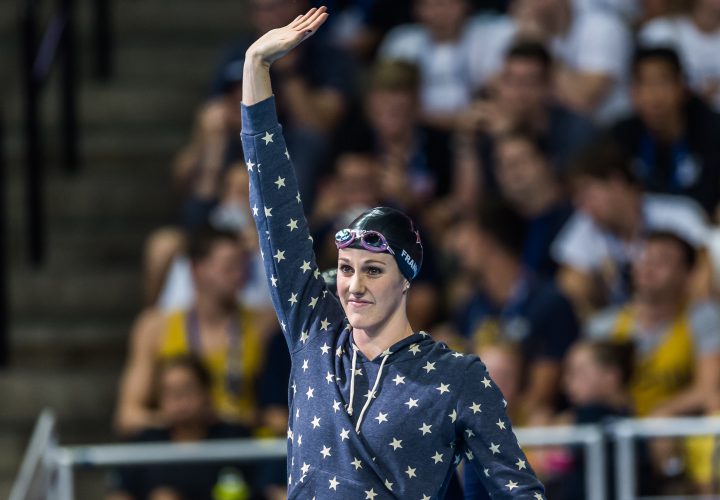 Photo Courtesy: Peter H. Bick
Editorial content for the 2017 USA Swimming Nationals is sponsored by TritonWear. Visit TritonWear.com for more information on our sponsor. For full Swimming World coverage, check event coverage page.
Five-time Olympic gold medalist Missy Franklin won't be among those competing later this month at the U.S. National Championships in Indianapolis, according to a report from NBC OlympicTalk.
She and Dave Durden, whose men's squad at Cal she joined shortly after the Olympics in Rio, made the decision that she was not ready to return to racing.
"If I had a deadline to try and get better by, we were really worried that that would rush things and that could really impact the quality of the therapy and the work that we were trying to do getting back," Franklin told NBC. "I think both of us were very concerned with quality and wanting to make sure that we're doing the best that we can right now."
Franklin had an extremely disappointing Olympic Games last summer in Rio, missing out on the finals of both the 200 free and 200 back. She announced this spring that she had surgery to deal with bursitis in both her shoulders, but according to the NBC report her shoulders currently feel "awesome."
Her timeline for returning to racing is still uncertain, with Franklin noting that it will be "when I feel like I can give my best effort," but she says she plans to enjoy her "average" summer after swimming on the top U.S. national team for seven straight years.
Read more from NBC OlympicTalk by clicking here.