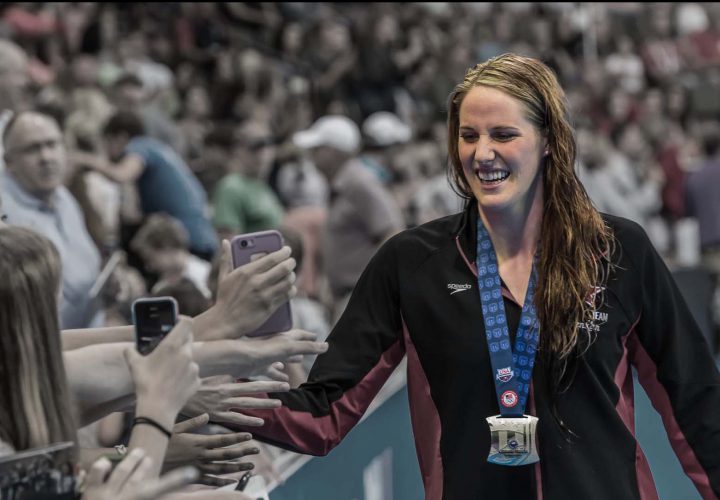 Photo Courtesy: Peter H. Bick
Morning Splash by David Rieder.
Since January, when Missy Franklin revealed that she had moved to Athens, Ga., to train and to finish her undergraduate degree, she has kept mostly quiet. She hasn't been seen at any meets, and she still hasn't raced since the Olympics in Rio, when she flamed out of both her individual races, the 200 free and 200 back, in the semi-finals and had no answers for what had gone so wrong.
So what exactly has Franklin been up to these past four months? Well, she has been in school, and she's been training.
Friday afternoon with the Georgia Bulldogs was just a normal practice, a "shut-up-and-swim" short course workout with kicking and pulling sets between a pair of tougher long course workouts, IM on Friday morning and racing Saturday morning.
One day after her 23rd birthday, Franklin was wearing a black "G" cap as she shared a lane with Georgia junior sprinter Veronica Burchill. One lane over were a pair of Franklin's U.S. Olympic teammates, Hali Flickinger and Chase Kalisz.
She warmed up with fins, and she wore paddles and a pull buoy on the pull set. During an underwater set at the end of the workout, she excitedly strapped her legs into a long strip of black plastic that she called her "mermaid fin." Georgia sprint coach Brian Smith explained that the device helps Franklin utilize her core while dolphin kicking, which has long been a weakness for her.
Jack Bauerle, the head coach of the Bulldogs, instructed Kalisz to swim 200 yards cool down and "not skip." Kalisz insisted that he would never do that, but Franklin rolled her eyes and mouthed, "He skips all the time!"
Just another day in what's become her new normal, the fresh start in a vibrant training group that she sought when she moved to Athens.
"School went absolutely great. She's enjoying the training right now," Bauerle said. "I love having her on a day-to-day basis in the program. This summer, it's been two years since she raced, so this is going to be a little unusual, her first time out."
Bauerle wouldn't reveal exactly when Franklin will return to racing, but that time is coming, and soon. Believing she was not ready to get back to competition last summer, Franklin missed her first U.S. National meet in eight years and took the entire summer away from serious training.
As a swimmer, the only real difference between Franklin and the 30 others at that Friday afternoon practice was that she hadn't been under the pressure of a real competitive race in so long. And, you know, the fact that she has won seven Olympic medals.
Bauerle chuckled as he thought back on Franklin's career, and he specifically remembered one trip to Manchester, England, when he first met the then-14-year-old.
"Her first big international meet was actually Duel in the Pool," Bauerle said. "I was head coach for that one. She led our relay off and set a short course American record."
That was the start of the first chapter of Franklin's international swimming career, on her way to superstardom at the Olympics in 2012 and World Championships in 2013. The next one included the up-and-down two years she spent at Cal-Berkeley, the debilitating back injury she suffered at the 2014 Pan Pacific championships and, eventually, the heartbreak of Rio.
Now, another chapter, and no one, including Bauerle and Franklin herself, know exactly how it's going to go. Will Franklin be close to world-class form? Can she get herself onto a U.S. international team as soon as this summer? Or could she never make it back to anywhere near that level? At this point, no one has seen nearly enough from her to know for sure.
But whatever happens in her comeback—and yes, after almost two years, we can call it a comeback—what's not going to change is Franklin herself: That overly-friendly personality that is, as anyone who knows her will attest, genuine.
"I think what people forget, a lot of times, people see Missy and she's so nice and so polite, they think sometimes it's over the top," Bauerle said. "It's exactly who she is."
She's going to handle any situation with class, just like in Rio when she answered reporters' questions through tears after her last race. And whatever happens in the pool, her return will be swimming's gain. With an autograph for a fan or a quick conversation with someone on deck, Franklin has a knack for lifting others up.