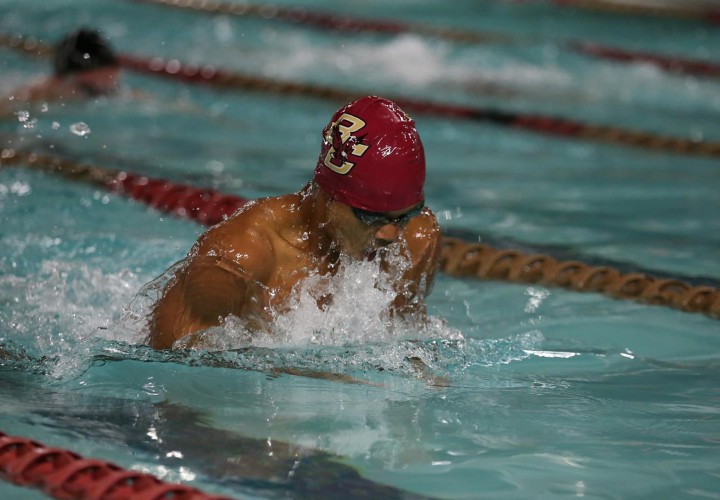 Photo Courtesy: Boston College Athletics
Michael Stephens was named the head men's and women's swimming and diving coach at Boston College, removing the interim title, as announced today by the William V. Campbell Director of Athletics Martin Jarmond.
"We are excited that Mike will be leading our young men and women," said Jarmond. "It is always special when you can hire an alum and Mike embodies everything we were looking for in a head coach.
"Mike will bring positive energy and passion as he guides the swimming program in the right direction,'' added Jarmond.
Stephens, who at 26 is the youngest Division 1 swimming and diving head coach in a Power Five conference, was promoted to the position of associate head coach in January 2016 and assumed the interim head coach title in December 2016. Prior to that, he served as an assistant coach and recruiting coordinator since joining the program in July 2013.
"I am incredibly grateful to Martin Jarmond, Tom Peters, and the athletic administration for their faith in me and our swimming and diving program," said Stephens. "After spending a combined eight years on The Heights as a student-athlete and a coach, I care deeply about this university and believe greatly in our swimming and diving teams. The opportunity in front of us as a program is extraordinary, and I am grateful to have such a passionate group of student-athletes to work with.''
A native of Olney, Md., Stephens graduated from BC with an MBA from the Carroll School of Management in May 2016. He earned an undergraduate degree from Boston College in 2012 with a degree in finance.
A four-time letterwinner, Stephens was the captain of team in 2011-12 and upon graduation he held the 200 medley relay school record and ranked in the top five all-time in the 100 breaststroke and 200 breaststroke. Stephens was a recipient of the Pawlak Award for Special Recognition in 2012 and the Conway Award for Outstanding Sophomore Swimmer in 2010. He also received the Leadership Award from the Athletic Department in 2011.
Prior to his return to The Heights, he spent a year working as a financial analyst in the Leadership Development Program for Textron Inc.