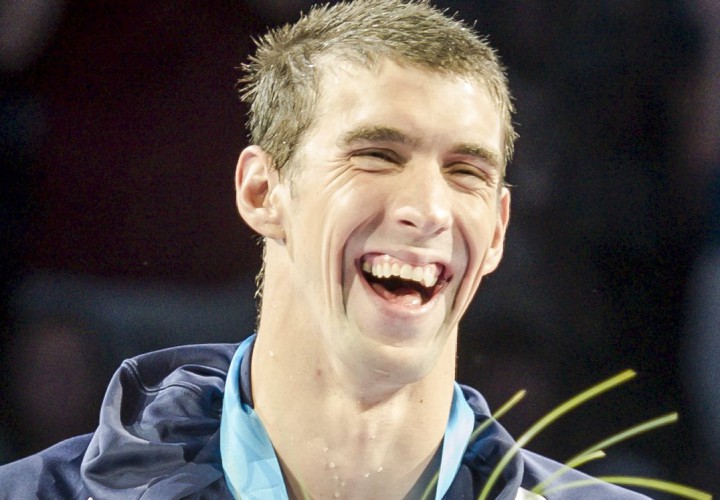 COLORADO SPRINGS, Colorado, April 14. USA Swimming has put an end to months of speculation with an announcement today that Michael Phelps is expected to race at the Arena Grand Prix in Arizona next week.
Phelps has been somewhat quietly making a comeback to competitive swimming since last fall, when the United States Anti-Doping Agency announced that the Olympic legend had taken two out-of-competition random drug tests, something a retired athlete does not do.
All athletes who return to competition after officially submitting retirement papers are required to sit out from competition for nine months. Phelps' nine-month "blackout period" ended last month, and the world has speculated that the upcoming Arena Grand Prix in Mesa, Ariz., would be the logical place for Phelps to make a major statement on the comeback trail.
Swimming World has reached out to coach Bob Bowman to confirm USA Swimming's announcement, but has not yet received a reply.
The events Phelps is swimming in Mesa will not be known until the release of the psych sheets later this week. He'll be in good company under the Arizona sun. USA Swimming also announced that longtime out-of-the-pool friend and in-the-pool rival Ryan Lochte is scheduled to swim in Mesa. Lochte has been working his way back to top form since injuring his knee in November and the crowd would love to see the two best 200 IM swimmers in history battling side by side once again.
Update: An article by Paul Newberry of The Associated Press reports that Phelps is entered in the 50 and 100 free, as well as the 100 fly.
Katie Ledecky, Matt Grevers, Nathan Adrian, Natalie Coughlin, Conor Dwyer, Tyler Clary, Anthony Ervin, Allison Schmitt are among the other Olympic champions who have entered in the meet. Recent NCAA champions Kevin Cordes and Margo Geer will lead the strong team from Tucson Ford that will make the drive north for their first long course racing opportunity this year.
Full official announcement from USA Swimming:
Olympic gold medalists and world record holders Michael Phelps (Baltimore, Md.), Ryan Lochte (Daytona Beach, Fla.) and Katie Ledecky (Bethesda, Md.) are expected to headline a star-studded field for next week's Arena Grand Prix at Mesa, slated for April 24-26 at the Skyline Aquatic Center.
In addition to the record-setting trio of Phelps, Lochte and Ledecky, Olympic medalists with Arizona ties expected to compete include Tucson resident Matt Grevers (Lake Forest, Ill.) and Tucson native Caitlin Leverenz. University of Arizona NCAA champions Kevin Cordes (Naperville, Ill.) and Margo Geer (Milford Center, Ohio) also are slated to swim.
Other top U.S. athletes expected to compete in Mesa include Olympic medalists Nathan Adrian (Bremerton, Wash.), Elizabeth Beisel (Saunderstown, R.I.), Tyler Clary (Riverside, Calif.), Natalie Coughlin (Vallejo, Calif.), Conor Dwyer (Winnetka, Ill.), Anthony Ervin (Valencia, Calif.), Jimmy Feigen (San Antonio, Texas) and Allison Schmitt (Canton, Mich.).
A record-setting 22-time Olympic Games medalist, Phelps is expected to swim competitively for the first time since winning six medals, four of them gold, at the 2012 London Olympic Games.
The more than 500 athletes expected to compete include nearly 50 members of the USA Swimming National Team.
The action begins Thursday, April 24 and continues through Saturday, April 26 with prelims at 9 a.m. MST followed by finals at 5 p.m. MST.
Tickets are required for each session and can be ordered online through Tuesday or purchased at the pool. Single-session tickets cost $5 for prelims and $10 for finals, and an all-session ticket is available for $40. Visit mesagrandprix.com for ticket and event details.
Universal Sports Network will televise live coverage from the Arena Grand Prix at Mesa on Friday, April 25 and Saturday, April 26 at 8 p.m. EDT. Click here to find Universal Sports Network on your television provider. Additionally, a live webcast of the entire meet will be streamed online Thursday through Saturday via usaswimming.org.
The Arena Grand Prix at Mesa is the fourth stop of USA Swimming's 2013-14 Arena Grand Prix Series, which provides the nation's best swimmers six opportunities to face top-flight competition on U.S. soil.
As part of USA Swimming's partnership with Arena, the Arena Grand Prix Series will offer swimmers the opportunity to take home prize money for top finishes in all individual Olympic-distance events. In total, $150,000 in prize money is available to be distributed over the course of the six-meet series. At each meet, $500 will be awarded for a first-place finish, $300 for second and $100 for third in all individual events. Arena is serving as the title sponsor for the Arena Grand Prix Series for the second straight season.
In addition to the prize money, swimmers will compete for a Series grand prize from BMW. For the first time in the history of the Series, BMW will give the highest-scoring eligible male and female U.S. swimmer a one-year lease of a BMW ActiveHybrid 3 Series.
Male and female overall Arena Grand Prix Series champions will be honored at the conclusion of the 2013-14 series based on the number of points accumulated throughout the six meets. Participants will be awarded points in each individual Olympic event throughout the duration of the Series (Five points for first, three for second, one point for third place).
Dwyer and France's Yannick Agnel currently top the men's Arena Grand Prix Series standings after three of six meets with 27 points each, while Megan Romano (Jacksonville, Fla.) leads the women's standings with 27.5 points. All three series leaders are slated to swim in Mesa. Click here for a complete leaderboard and additional series information.