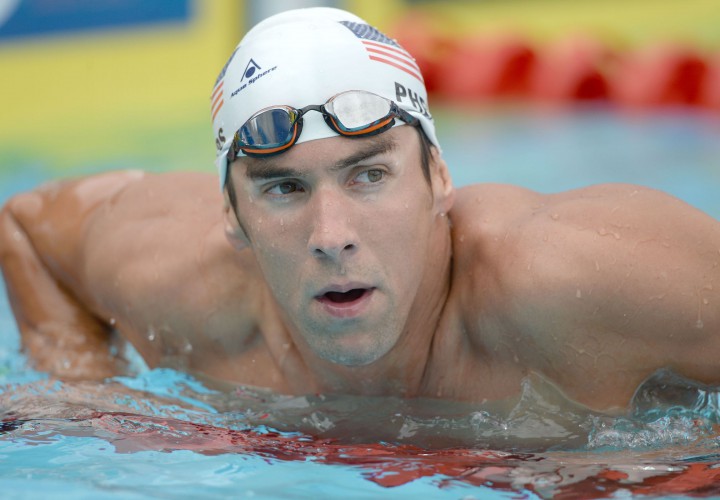 Editorial coverage for the Pan Pacific Championships is proudly sponsored by Master Spas! For complete coverage of the Pan Pacific Championships, check out our event landing page.
GOLD COAST, Australia, August 22. FOR the second straight relay tonight, it took a special effort by an American anchor to deliver Team USA the gold.  After Katie Ledecky made up more than a second to win the 800 free relay, Matt McLean gave training partner Michael Phelps his first international gold since returning from his 18-month retirement.
Entering the water at the same time as Takeshi Matsuda of Japan, McLean held off Matsuda down the stretch with a 1:46.44 anchor against Matsuda's 1:46.58 as the U.S. won in 7:05.17.  The U.S. foursome was made up of 3/4 North Baltimore Aquatic Club swimmers with Conor Dwyer, Phelps, Ryan Lochte and McLean taking the title for the Red, White and Blue.
Japan, meanwhile, took second in 7:05.30 with the team of Kosuke Hagino, Reo Sakata, Yuki Kobori and Matsuda.  Australia's David McKeon, Cameron McEvoy, Mack Horton and Thomas Fraser-Holmes finished third in 7:08.55.  New Zealand (7:13.83) and Hong Kong (7:41.74) also competed.
Results
  1 UNITED STATES  'A'            7:01.72    7:05.17   954  
     1) DWYER, CONOR 25               2) r:+0.44 PHELPS, MICHAEL 29   
     3) r:+0.20 LOCHTE, RYAN 30       4) r:+0.22 MCLEAN, MATT 26      
    r:+0.65  24.56        51.28 (51.28)
      1:18.79 (1:18.79)   1:47.08 (1:47.08)
        2:11.93 (24.85)     2:38.60 (51.52)
      3:06.08 (1:19.00)   3:33.16 (1:46.08)
        3:56.85 (23.69)     4:23.77 (50.61)
      4:51.04 (1:17.88)   5:18.73 (1:45.57)
        5:43.43 (24.70)     6:10.36 (51.63)
      6:37.26 (1:18.53)   7:05.17 (1:46.44)
  2 JAPAN  'A'                    7:02.26    7:05.30   953  
     1) HAGINO, KOSUKE 20             2) r:+0.15 SAKATA, REO 18       
     3) r:+0.46 KOBORI, YUKI 20       4) r:+0.00 MATSUDA, TAKESHI 30  
    r:+0.66  24.96        51.86 (51.86)
      1:19.30 (1:19.30)   1:46.13 (1:46.13)
        2:10.07 (23.94)     2:37.10 (50.97)
      3:04.66 (1:18.53)   3:31.91 (1:45.78)
        3:56.45 (24.54)     4:23.93 (52.02)
      4:51.27 (1:19.36)   5:18.72 (1:46.81)
        5:43.39 (24.67)     6:10.66 (51.94)
      6:38.03 (1:19.31)   7:05.30 (1:46.58)
  3 AUSTRALIA  'A'                7:07.38    7:08.55   931  
     1) MCKEON, DAVID 22              2) r:+0.54 MCEVOY, CAMERON 20   
     3) r:+0.25 HORTON, MACK 18       4) r:+0.41 FRASER-HOLMES,OMAS 22
    r:+0.69  24.77        51.53 (51.53)
      1:18.91 (1:18.91)   1:46.85 (1:46.85)
        2:11.87 (25.02)     2:38.77 (51.92)
      3:06.79 (1:19.94)   3:34.97 (1:48.12)
        3:59.27 (24.30)     4:26.68 (51.71)
      4:54.72 (1:19.75)   5:22.03 (1:47.06)
        5:46.37 (24.34)     6:13.20 (51.17)
      6:40.99 (1:18.96)   7:08.55 (1:46.52)
  4 NEW ZEALAND  'A'              7:16.36    7:13.83   898  
     1) STANLEY, MATTHEW 22           2) r:+0.27 DUNLOP-BARRETTYLAN 23
     3) r:+0.17 KENT, STEVEN 26       4) r:+0.09 DONALDSON, MITHELL 21
    r:+0.69  25.09        52.14 (52.14)
      1:19.69 (1:19.69)   1:47.09 (1:47.09)
        2:11.90 (24.81)     2:39.16 (52.07)
      3:07.30 (1:20.21)   3:36.07 (1:48.98)
        4:00.40 (24.33)     4:27.36 (51.29)
      4:56.00 (1:19.93)   5:24.96 (1:48.89)
        5:49.38 (24.42)     6:16.51 (51.55)
      6:44.65 (1:19.69)   7:13.83 (1:48.87)
  5 HONG KONG  'A'                7:27.16    7:41.74   744  
     1) CHEUNG, KENT 21               2) r:+0.42 NG, CHUN NAM 20      
     3) r:+0.32 KONG, KEI KOI 22      4) r:+0.28 WONG, DAVID 25       
    r:+0.74  25.92        54.95 (54.95)
      1:24.89 (1:24.89)   1:55.77 (1:55.77)
        2:22.06 (26.29)     2:51.32 (55.55)
      3:21.56 (1:25.79)   3:51.64 (1:55.87)
        4:18.42 (26.78)     4:46.85 (55.21)
      5:16.65 (1:25.01)   5:46.39 (1:54.75)
        6:12.66 (26.27)     6:42.17 (55.78)
      7:12.53 (1:26.14)   7:41.74 (1:55.35)
Afterward, three of the members of the winning relay offered some thoughts on the swim via audio recordings by USA Swimming:
Phelps:

Lochte:

McLean: