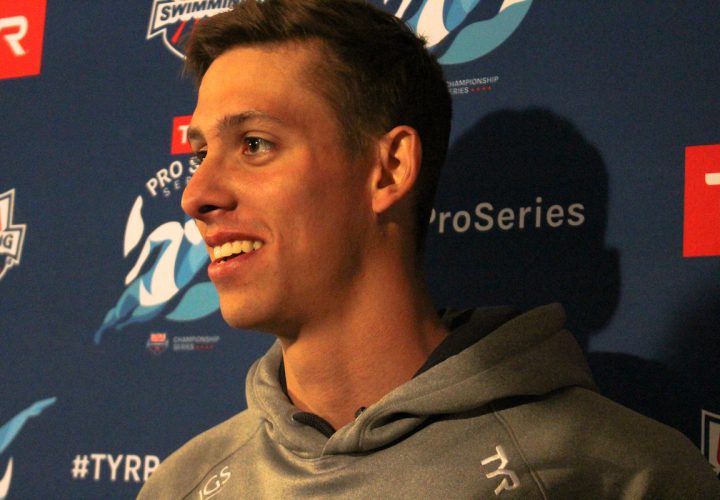 Photo Courtesy: Taylor Brien
Editorial content for the 2018 TYR Pro Swim Series Mesa is sponsored by SwimOutlet.com. Visit SwimOutlet.com for more information on our sponsor. For full Swimming World coverage, check out our event coverage page.
Michael Chadwick, who put up strong times in the men's 50-meter freestyle shootout this weekend at the TYR Pro Swim Series in Mesa, Arizona, discusses coming back to racing after a break since short course nationals. A lot happened during that break, the least of which he married his long-time girlfriend Cassi Diya. In talking with Swimming World, he discusses his honeymoon trip, the benefits of married life, and the positive training environment he experienced over the past few months.
He attended a national team camp, where he worked with notable coaches such as David Marsh, Bill Rose, and Jon Urbanchek. The great amount of wisdom on the pool deck and the ability to test his limits and challenge what he thinks he is capable of were his biggest takeaways from that experience.
He also discusses the success of his pro swimming career and the process of forming successful partnerships and sponsorships.
Watch more video interviews from TYR Pro Swim Series Mesa here.