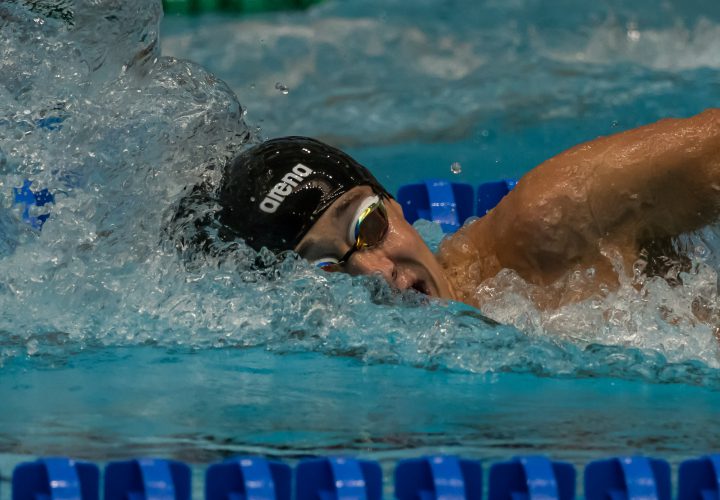 Photo Courtesy: Peter H. Bick
GRAVELINES, France – With top finishes at Thursday's French Open Water Swimming Championships, Michael Brinegar (Columbus, Ind./Mission Viejo Nadadores), Taylor Abbott (Cedar Park, Texas/Tennessee Aquatics), Hannah Moore (Cary, N.C./Wolfpack Elite) and Chase Travis (Newark, Del./Nation's Capital Swim Club) claimed spots on USA Swimming's roster for the 10-kilometer open water event at this summer's Pan Pacific Championships.
Already qualified for Pan Pacs at this month's USA Swimming National Championships, two-time Olympian Haley Anderson (Granite Bay, Calif./Trojan Swim Club) won the women's 10K in 1 hour, 55 minutes, 30.18 seconds and world champion Ashley Twichell (Fayetteville, N.Y./TAC Titans) took third in 1:55:32.63.
Joining Anderson and Twichell in August in Japan will be Moore and Travis, who finished ninth in 1:55:45.68 and 13th in 1:55:51.81, respectively. Travis also was the top junior finisher.
Brinegar was the No. 1 American on the men's side, touching in 1:44:30.00 to finish 10th overall and second among junior men. Abbott was on his heels, finishing just over a second later in 11th place at 1:44:31.47. Brinegar and Abbott will team up with Jordan Wilimovsky (Malibu, Calif./Team Santa Monica) and David Heron (Mission Viejo, Calif./Tennessee Aquatics) on USA Swimming's men's roster for the 10K at Pan Pacs. Wilimovsky and Heron were the top two men's finishers at USA Swimming Open Water Nationals.
In addition to being the French Open Water Swimming Championships, the event also was stop No. 2 of the LEN European Open Water Cup. Complete results are available online: https://www.timepulse.run/epreuves/resultats/821
Team USA will be back in action in Gravelines Friday for the team relay event.
About USA Swimming
As the National Governing Body for the sport of swimming in the United States, USA Swimming is a 400,000-member service organization that promotes the culture of swimming by creating opportunities for swimmers and coaches of all backgrounds to participate and advance in the sport through clubs, events and education. Our membership is comprised of swimmers from the age group level to the Olympic Team, as well as coaches and volunteers. USA Swimming is responsible for selecting and training teams for international competition including the Olympic Games, and strives to serve the sport through its core objectives: Build the base, Promote the sport, Achieve competitive success. For more information, visit www.usaswimming.org.
The above press release was posted by Swimming World in conjunction with USA Swimming. For press releases and advertising inquiries please contact Advertising@SwimmingWorld.com.