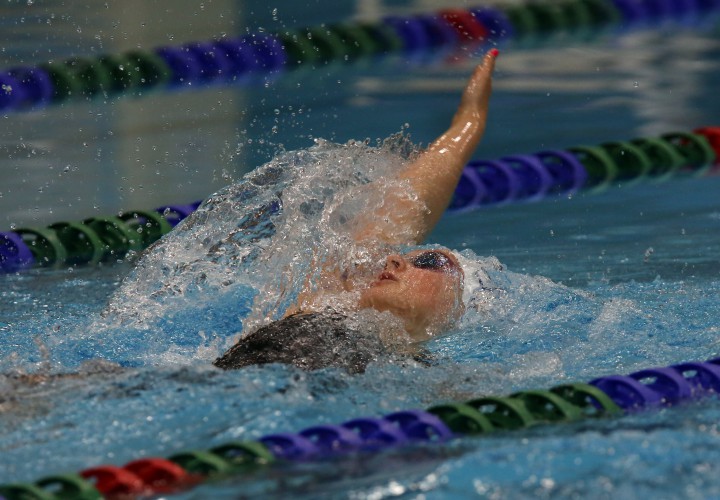 Photo Courtesy: Swimming Canada
Meryn McCann of Burlington, Ont., started one of the biggest months of her swimming life well by with a victory in 200-metre freestyle on Saturday for her third individual gold of the 2015 Canadian Age Group Championships.
The 16-year-old from Etobicoke Swimming Club finished third in 16- to 18-year-old girls 100-m backstroke in her first final of the evening at the Laval University Sports and Physical Education Pavilion (PEPS) aquatics centre. However, McCann rebounded in freestyle, posting a winning time of 2:02.41 to out-touch Mackenzie Paddington of the Campbell River Killer Whales, who earned silver in 2:02.76.
"I was definitely happy with how I came back after the 100 back," McCann said. "The time was pretty good considering I haven't rested for this meet, although I have had a best time under two [minutes]. I was really strong in the last 50 metres and that helped me out-touch [Paddington] at the wall."
McCann and her coach, Kevin Thorburn, have their sights set on the FINA World Junior Swimming Championships that will be staged in Singapore from Aug. 25-30. McCann stacks up as a medal hopeful in 200-m backstroke, where she posted an impressive result of 2:11.20 on Wednesday.
"I'm definitely feeling good about going to the junior worlds," McCann said. "I think I should have a good shot at a medal. I'm also going to try to work on the 400 freestyle on Sunday and next weekend [at the Canadian Swimming Championships in Pointe-Claire, Que.] to see if I can move up and get a shot at swimming that event at Junior Worlds as well."
In 16- to 18-year-old girls 100-m backstroke, Newmarket Stingrays' Danielle Hanus and Ingrid Wilm of Calgary's Cascade Swim Club had a riveting duel for the gold. Hanus prevailed in 1:01.80 to edge Wilm (1.01.85) by five-hundredths of a second, while McCann touched at 1:03.44.
James Guest of Baie d'Urfe, Que., made his penultimate race of his Age Group phase count by capturing boys 17- and 18-year-old 200-m breaststroke. The representative of Pointe-Claire Swim Club, which will host next week's Canadian Swimming Championships, touched the wall at 2:17.81 to shade namesake and friendly rival James Dergousoff (2:19.63) of Chena Swim Club, who competed at last month's Pan Am Games in Toronto.
"James [Dergousoff] and I have been racing each other for six years now – it's always a good race when he is in the pool," said Guest, who will wrap up his week by competing in 200-m individual medley on Sunday. "As far as the time I would like to have been faster, but I am happy with it for today … I just got back from the World University Games [in South Korea], with not much time to prepare in between – just two weeks.
"It's a good swim for right now and I'm really looking forward to next week at the nationals [Canadian Swimming Championships]," Guest added. "Hopefully I can use being at home there to my advantage. I'll be leaving for school [at the University of Georgia] just two days after next week's event. It's a big change but I'm glad I can spend my last nationals at Pointe-Claire before I go off to school."
Markus Thormeyer, who made his Pan Am Games debut last month, provided a thrill by delivering a come-from-behind win for his Winskill Dolphins in 16- to 18-year-old boys 4 x 100-m freestyle. Thormeyer swam a 49.42-second anchor leg to combine for the gold with teammates Brandon Freiberger, Tai Long Singh and Paul Zou.
Singh also won 15-year-old boys 100-m backstroke and 200-m freestyle for his fourth and fifth individual gold medals of the meet. The Winskill swimmer posted a 57.80-second 100-m backstroke.
Molly Gowans of University of Victoria – Pacific Swim Club won her fourth gold by capturing 15-year-old girls 200-m freestyle in 2:01.30. Gowans prevailed by two-thirds of a second over Red Deer Catalina Swim Club's Rebecca Smith (2:01.96).
Sunday's schedule also includes finals in 200-m IM and 400-m freestyle.
The above article is a press release submitted to Swimming World. To reach our audience, contact us at newsmaster@swimmingworld.com.
2015 Canadian Age Group Championships, Day 4 – Results