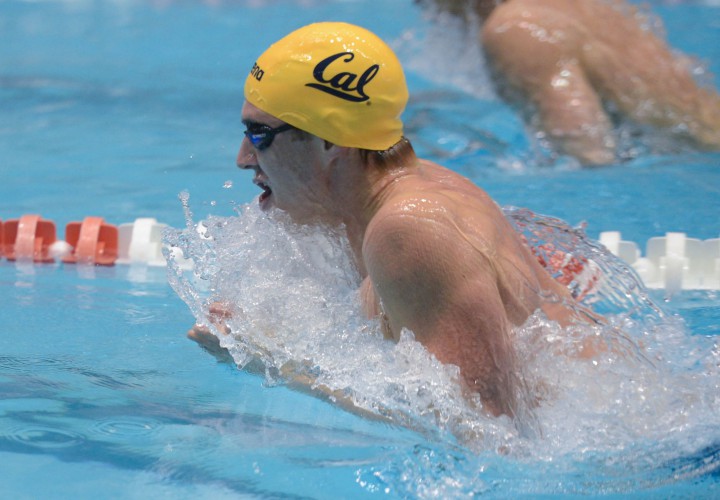 By Emily Sampl
BOULDER, Colorado, March 29. AFTER three days of racing featuring NCAA and American records, upsets, repeats and drama, the 2014 edition of the men's NCAA Division I Swimming and Diving Championships have officially come to a close, with the University of California hoisting their third team title in four years and Texas finishing second for the third time in four years. After battling Texas and Florida for the lead in the team standings for the first two days of racing, the Bears pulled away today behind several stellar performances and outstanding depth. Here are a few final thoughts from the three-day meet in Austin.
The Next Great Ryan
It's been a few years since Ryan Lochte graduated from Florida, but there appears to be a new NCAA backstroke king named Ryan – Cal freshman Ryan Murphy. Murphy closed out an impressive first NCAA meet with a sweep of the 100 and 200 back in record-breaking fashion. Murphy won the 100 back in 44.63, only .03 off Lochte's NCAA record from 2006, then erased Michigan's Tyler Clary from the record books with a new NCAA record of 1:37.35 in the 200 back. On top of that, he swam a leg on Cal's victorious 200 free relay and then led off their winning 200 and 400 medley relays. Five NCAA titles as a freshman? Not too shabby! He also finished eighth in the 200 IM and second as part of Cal's 400 free relay. With three years left of college, it's scary to think what Murphy could do in a couple of years.
More Repeats And Doubles
Murphy was one of four swimmers to either repeat as champion in the same individual event or win their second event of the meet tonight. Michigan senior Connor Jaeger got the final session started with a commanding victory in the 1650 free, successfully defending his title from last year and ending his career at Michigan on a winning note. After coming up just short of a win in the 500 free, Jaeger dominated the mile, winning by 10 seconds over Cal's Jeremy Bagshaw.
After defending his 200 free title last night, Louisville senior Joao De Lucca won the 100 free tonight in a bit of a surprise finish over Auburn's Marcelo Chierighini and USC's Cristian Quintero. De Lucca came into the meet seeded second behind Chierighini, and finished more than half a second behind him in prelims this morning. But, after flipping under 20 at the halfway point in finals, De Lucca had plenty of firepower to get his second individual title of the meet and third of his career tonight.
Arizona's Kevin Cordes doubled and repeated in the 100 and 200 breast this weekend, sweeping the breaststroke events for the second straight year. After dropping more than six-tenths in his 100 breast yesterday, a lot of people expected a huge drop in the 200 as well. Cordes didn't crush his time, but he still posted an American record of 1:48.66 in the 200, .02 under his time from last year. Even with two wins and two NCAA and American records, Cordes will still be hungry for next season, as he's on the cusp of breaking 50 in the 100 and missed out on a couple of possible relay wins with both of Arizona's medley relays getting disqualified. 
Texas Reloading For Next Year
Texas put up another great showing at NCAAs, coming up just short of their second team title since 2010. The Longhorns have finished first or second for six of the last seven years, taking second in 2008, 2009, 2011, 2012 and 2014, and winning in 2010. Luckily for Texas, only one of their scoring swimmers from this meet is graduating – senior Caleb Weir, who anchored the 200 and 400 medley relays. They'll definitely be dangerous next season, and are reloading with a couple of huge recruits in Jonathan Roberts, Joseph Schooling, Brett Ringgold and Austin Temple. Plus, with freshman diver Michael Hixon sweeping the 1-meter and 3-meter, they're set in that area for three more years as well.