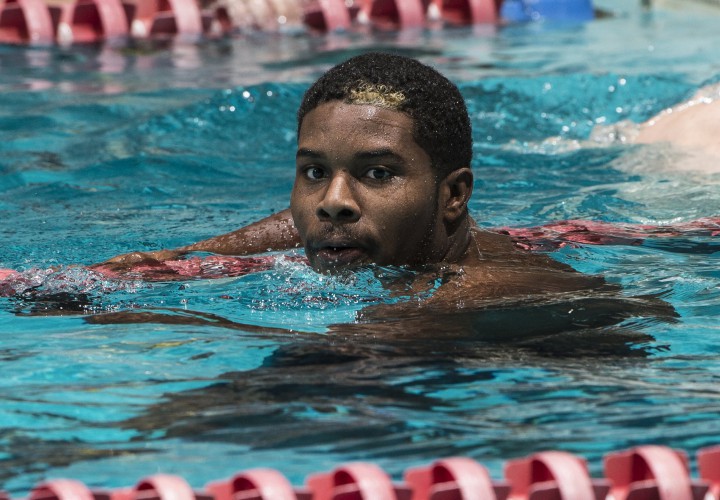 Photo Courtesy: Peter H. Bick
The 2017 French National Championships began today in Strasbourg with Mehdy Metella, Jordan Pothain, and Anna Santamans each grabbing victories.
Jordan Pothain delivered the top time for finals of the men's 400 free, stopping the clock at a time of 3:50.06. Joris Bouchaut and Damien Joly completed the podium with close times of 3:50.65 and 3:50.80. All three athletes landed between the FINA 'A' and 'B' qualifying standards, but with only one swimmer allowed per 'B' qualifying time the World Championships land within Pothain's reach.
Fanny Deberghes led a trio of 1:09s to the podium in finals of the women's 100 breast. Deberghes claimed gold with a time of 1:09.18, followed by Charlotte Bonnet and her time of 1:09.57. Solene Gallego rounded out the top three with a time of 1:09.69. Similar to the men's 400 free, all three women on the podium of the women's 100 breast finished above the 'A' cut and below the 'B' cut, leaving a spot on the Worlds Champs roster open to Deberghes.
The men's 200 back was dominated by Geoffrey Mathieu as he rocketed to a first place finish of 1:57.04. His time moves him to 13th in the world rankings for 2017 and beat the competition by over three seconds. Mathieu finished well beneath the FINA 'A' cut of 1:58.55 earning him a ticket to Budapest.
Picking up second was Paul-Gabriel Bedel with a time of 2:00.46, just ahead of Christophe Brun's third place finish of 2:00.48.
Fantine Lesaffre unleashed a 4:41.64 on the competition in the women's 400 individual medley, touching four and a half seconds ahead of the competition. Lesaffre's time falls under the 'A' cut of 4:43.06, earning her a spot on the World Champs roster. Cyrielle Duhamel took second overall with a 4:46.11, while Coralie Codevelle was third with a 4:51.10.
Olympian Mehdy Metella flew to victory in the men's 50 fly with a top time of 23.61, sitting just off his 2017 best of 23.58. Fellow Olympian Jeremy Stravius settled for second and a time of 23.88, making Metella and Stravius the only two athletes beneath the 24-second mark. Metella just barely squeaked beneath the 'A' cut of 23.67, qualifying himself for Worlds, however Stravius missed the 'A' cut.
Paul Pijulet rounded out the top three with a time of 24.12.
Anna Santamans sprinted her way up the world rankings with a top showing of 24.71 in finals of the women's 50 free. Earlier in the day Santamans had clocked a 24.93, tying her for tenth with Italy's Silvia di Pietro in the world rankings, but now moves to ninth overall. Melanie Henique picked up second overall with a time of 25.11, while Beryl Gastaldello was third with a 25.22.
Both Santamans and Henique stopped the clock below the FINA 'A' cut of 25.18, earning tickets to the World Championships in Budapest.