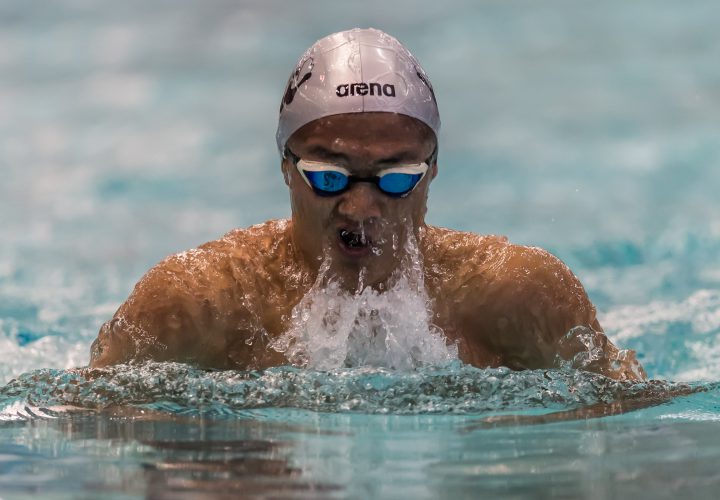 Photo Courtesy: Peter H. Bick
By David Rieder.
Daniel Roy stands a not-that-imposing 5 feet 8 inches, and he doesn't dictate the race right off the gun in his signature event, the 200 breast. But once he gets going, well, he can move.
He did not distinguish himself through the first half of his 200 breast final Friday night at Junior Nationals, swimming through the first 100 meters in a 1:04.42 split that put him just one hundredth ahead of the field. But at that point he took off, and his splits on the third and fourth 50s were each a full second quicker than anyone else in the race.
It was a strategy that Roy had honed under Doug Djang, his coach at King Aquatic Club, and it all clicked at Juniors. Roy finished in 2:11.25, clearing his previous best time by seven tenths of a second. The win was his second of the week, after previously winning the 100 breast in 1:01.42, and the time makes Roy the eighth-fastest American in the 200 breast this year.
"Doug and I, we started working together last year, and he told me, you can close a lot better than most of the guys out there," Roy said. "There are 1000 ways to swim the 200 breaststroke. You have to race your own race and stay within your lane."
Roy's time ranks as the second-best ever by an American swimmer aged 18 or younger, trailing only Kevin Cordes' 2:10.92 from back in 2012—a mark which will be on Roy's mind when he represents the U.S. later this month at the Junior World Championships in Indianapolis.
A 17-year-old breaststroker making inroads on the national elite—sound familiar? Sure, but Roy is more than a foot shorter than Reece Whitley, and the two hail from opposite sides of the country, Roy from the Pacific Northwest and Whitley from the Philadelphia area.
For all the attention Whitley has received, it was Roy who won the 18-and-under national championship in the 200 breast this year, while Whitley swam in the B-final. Roy's time from Juniors is five hundredths faster than Whitley has ever swum.
Roy calls Whitley "the nicest guy I've ever met," but considering they are the same age and they specialize in the same events, they seem like obvious rivals—right?
"I wouldn't call us rivals—I would call us more, like…" Roy paused to think of the right word. "Competitors," he settled on.
But amazingly, Roy and Whitley have never raced a 200 breast head-to-head. Well, not yet, anyway.
"We've been head-to-head in the 100 and the 50 but never in the 200," Roy said. "I hope at Junior Worlds we get to race each other."
Roy has represented the U.S. once before internationally, competing at the Junior Pan Pacific Championships last summer in Maui, where he won a bronze in the 200 breast. He is eagerly anticipating again getting to wear a USA cap in Indianapolis and the pressures and responsibilities that he feels like come along with that honor.
"It's special, especially when you're representing your country on your soil," he said. "It's a lot to live up to, especially with all the other amazing breaststrokers in the world. I'm really excited."
Roy is not shy about his own lofty expectations. As far as time, he expects much better from himself than a 2:11 come World Juniors and better than even Cordes' aforementioned 17-18 national age group record.
"I think there's more in the tank than a 2:11. I think I can drop a 2:10," Roy said. Maybe a 2:09, 2:09-high," he added, quietly.
2:09? That was the magical standard in the 200 breast for years, and prior to 2016 it never took quicker than a sub-2:10 performance to even make the U.S. Olympic team. Roy's lifetime best at the start of 2017, by the way, was 2:12.17.
"That's my goal, 2:09-mid. I set that goal at the beginning of the season, and I've been working towards that ever since."
Entering his senior year of high school, Roy is one of a shrinking minority of top-ranked swimmers who has not committed to swim for a particular university in the fall of 2018. He has yet to even narrow down his choices to two or three finalists.
But whatever school he ends up choosing will be getting a game-changer. For years, Whitley has gotten most of the attention as the future of American breaststroke, but lately, Roy has been opening some eyes, and not just this week at Junior Nationals.
Watch a video interview with Roy after his 200 breast win at Junior Nationals: