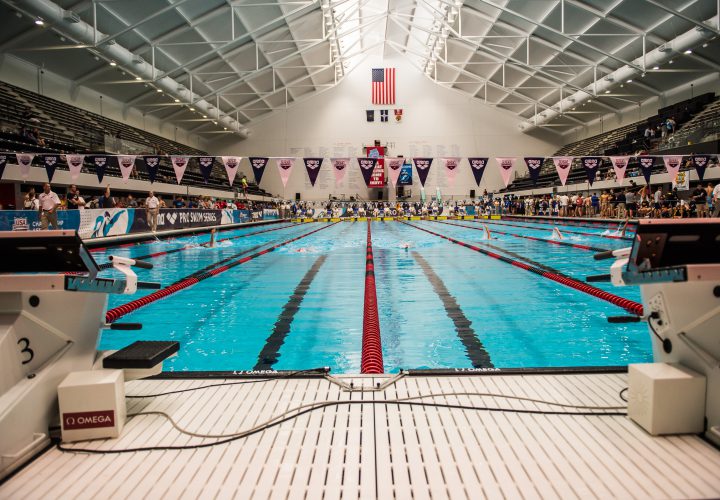 Photo Courtesy: Peter H. Bick
On the first day of the Indianapolis 2018 World Para Swimming World Series, U.S. athletes claimed 10 medals, including six gold, at the Indiana University Natatorium. Athletes from across the world are competing on U.S. soil for the second stop of the world series circuit. The event, which is being held in Indianapolis for the second year in a row, features 198 swimmers from 17 countries.
The World Para Swimming Points System will be used at World Para Swimming World Series competitions. All athlete results at each world series event will be calculated using a standardized points system. This will ensure that the overall World Para Swimming World Series winner will be the best performing athlete over the duration of the series, meaning that every performance counts. For further explanation, please read here.
Highlighting the night was McKenzie Coan (Clarkesville, Georgia), who set an American Record in the S7 400-meter freestyle, swimming to fourth place in a time of 5:09.49.
Thirteen-time Paralympic gold medalist Jessica Long (Baltimore, Maryland/S8, SB7) captured two medals on day one, including gold in the 400 free and silver in the 100 breaststroke. Paralympic bronze medalist Colleen Young (Saint Louis, Missouri/SB13) and Paralympic silver medalist Tharon Drake (Hobbs, New Mexico/SB11) each won the 100 breast, while five-time Paralympian Curtis Lovejoy (Atlanta, Georgia/SB1) and Alyssa Gialamas (Baltimore, Maryland/SB4) each won the 50 breast. Paralympic bronze medalist Robert Griswold (Freehold, New Jersey/S8) additionally claimed gold in the 400 free.
Leanne Smith (Beverly, Massachusetts/S3) secured silver in the 200 free, while six-time Paralympic medalist Becca Meyers (Timonium, Maryland/S13) swam to second place in the 400 free. Lawrence Sapp (Waldorf, Maryland/S14) captured the bronze medal in the 200 free.
The Indianapolis 2018 World Para Swimming World Series continues through Saturday, with preliminary rounds beginning at 9 a.m. ET, followed by finals at 5 p.m. All sessions are free and open to the public.
QUOTES
McKenzie Coan
"It felt amazing. It feels so good to be back out there. My first big Para meet of the season, and I couldn't have asked for a better final swim. It was so much fun being out there with all of them and I'm really happy with that race. I have so much pride swimming for the United States, and to be able to come here to Indy and have an amazing meet so far. To be able to do that in my favorite event is so much fun, and I feel so lucky to be able to be here and do this."
Tharon Drake
"This is my first start in the world series circuit. It was an awesome opportunity for a gold. Team USA is doing well, and it's been an amazing meet so far."
RESULTS
Competition will continue Friday with the 50 backstroke, 100 back, 50 free, 150 individual medley and the 200 IM. Full results of each session can be found here.
For more information, please contact Olivia Truby, U.S. Paralympics, at 920-428-1700 or Olivia.Truby@usoc.org.
Press release courtesy of the United States Olympic Committee.