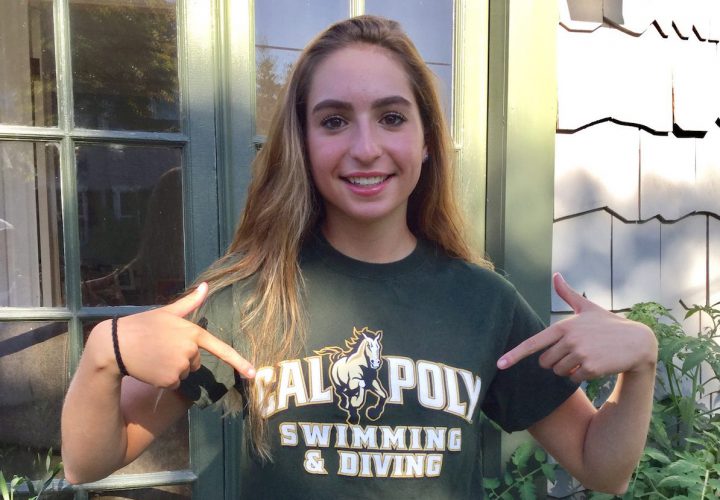 Photo Courtesy: William Maguire
Agon is the proud sponsor of all high school coverage (recruiting, results, state championships, etc.) on SwimmingWorld.com. For more information about Agon, visit their website AgonSwim.com.
To report a college commitment, email HS@swimmingworld.com. Join Swimming World's Watch List
NEW COMMIT: Grace Maguire of Gator Swim Club has verbally committed to swim for Cal Poly beginning with the 2018-2019 season. Maguire, from Marblehead, Massachusetts, is a senior at Marblehead High School.
She's strongest in backstroke but is fairly versatile and puts together some strong IMs. Her best times include:
200 Back 2:03.73
100 Back 58.64
400 IM 4:32.00
200 IM 2:07.90
She told Swimming World,
"I can't imagine a better situation than studying and swimming in beautiful San Luis Obispo. The "Learn By Doing" motto at Cal Poly has me excited for all the academic opportunities. I know Coach Milich and Coach Yoshida will train me up and have me swimming faster than ever. Thanks to my Gator coaches and teammates and my sincere appreciation for my former coach, Chris Morgan, whose expertise, optimism, and enthusiasm always keeps swimming fun!"
Swimming for the Marblehead High Magicians, Maguire is a seven time high school state finalist. In 2016 the team took home the state title, powered by a runner up 200 IM finish from Maguire.
Maguire should continue her scoring ways on the west coast, as her lifetime best times in the 200 back and 400 IM would have added to Cal Poly's point total at the 2017 MPSF Conference Championships.