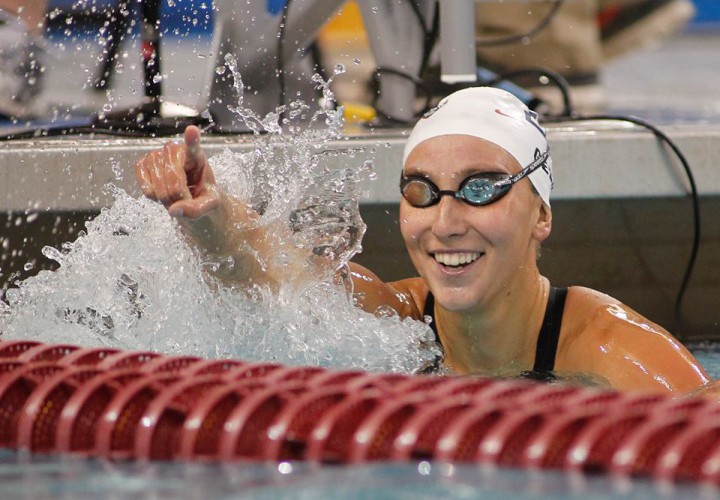 Photo Courtesy: Peter H. Bick
Editorial content for the 2018 TYR Pro Swim Series Austin is sponsored by SwimOutlet.com. Visit SwimOutlet.com for more information on our sponsor. For full Swimming World coverage, check out our event coverage page.
In the first edition of the 50 shootout events at the TYR Pro Swim Series in Austin, Margo Geer collected the first win in the 50 free final. Geer swam a 24.90 to out-duel Zhang Yufei of China (24.99). Geer swam a 24.89 in the quarters, 24.91 in the semis and finished her third swim with a time in between both of those.
Zhang improved on her 25.21 in the quarters and 25.25 in the semis to make the final a little more interesting with her first sub-25 swim of the meet.
For more information on Geer and her comeback, read our feature on her here.
 Event 25F  Women 50 LC Meter Freestyle
=========================================================================
        World: W 23.67  7/29/2017 Sarah Sjostrom
     American: A 23.97  7/30/2017 Simone Manuel
         Meet: M 24.17  2016      Sarah Sjostrom
         Pool: P 24.75            Dara Torres
    Name            Age Team                 Seed     Finals       Points 
=========================================================================
  1 Geer, Margo      25 Una Mvn-CA             NT      24.90        
  2 Zhang, Yufei     19 CHINA-ZZ               NT      24.99