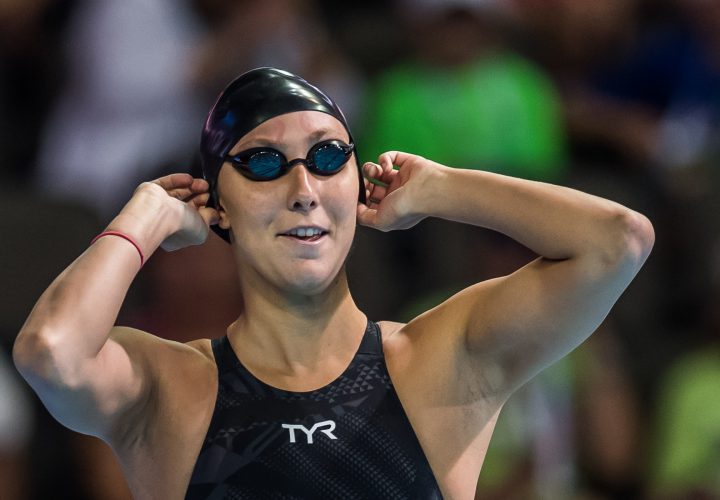 Photo Courtesy: Peter H. Bick
By David Rieder.
Margo Geer was physically present in the building for Olympic Trials in 2016, but compared to the swimmer she had been, she was a shell of herself.
Geer had finished up her time as a University of Arizona Wildcat in 2014 as a three-time NCAA champion, and in 2015, she swam on four U.S. relays at the World Championships in Kazan, contributing 100 free splits as quick as 53.12—the second-fastest among any American at the meet.
But just 11 months later in Omaha, Neb., Geer was nowhere close to making a single final. Bothered by a nagging shoulder injury, she finished 15th in the 100 free, recording a time of 54.91, and in the 50 free, after only qualifying for the semi-final after a scratch, Geer took 16th in 25.56.
"You kind of want to block out any injury feeling or any of that stuff, so you have to push through it. I think afterwards I realized it affected me more than I thought it did," Geer said. "But the thing is, for Trials, you have to find a way to get it done, regardless. I wouldn't say my shoulder is the reason I didn't make the Olympic team."
Then, Geer added something telling: "I just didn't enjoy it that much, either. I didn't enjoy the meet."
Not swimming well surely contributed to the bitter taste she carried with her out of Omaha, but the whole journey to and experience of Olympic Trials just had not been a pleasurable experience. Whatever her future would be, she needed a break.
But the break, as it would turn out, would lead Geer back to the pool. Less than 17 months after Trials, Geer raced at U.S. Winter Nationals in Columbus, Ohio. Swimming for the first time under Indiana sprint coach Coley Stickels, Geer put up a pair of top three finishes in the 50-yard free (second, 21.72) and 100 free (third, 47.50).
Three weeks later, she joined Stickels and the Hoosiers in Tempe, Ariz., for a winter training camp. After one three-hour lactate practice, she wrapped her head in a white towel, sat down on a set of bleachers poolside and explained all that she had been through since she left Omaha.
That warm December afternoon, Geer answered the burning question: Why did she come back?
The Road Back to Swimming
Geer's swimming story picks up in September of 2016, two months after Olympic Trials, when she moved home to Ohio and started coaching. She was a volunteer assistant with the Ohio State women's team and also helped coach a group of young swimmers at a local club.
Over the next six months, Geer connected with her swimmers and saw first-hand their motivation for doing what they do, the reasons they loved the sport and the relationships they built amongst themselves and with their coaches. The whole experience refreshed her.
"Coaching just gave me a whole new perspective, definitely made me see the bigger picture," Geer said. "Stepping away makes you appreciate things a little more. It made me realize the relationship side of swimming more and how important it is and how much you can get out of it."
For the burnt-out Geer, coaching was medicine.
Shortly after a minor surgery in November to repair her shoulder injury, Geer felt the itch to come back, to give swimming one more shot. In March, the urge came again as she coached Ohio State at the NCAA championships in Indianapolis. She asked Rick DeMont, her coach at Arizona, if she could come train during the summer.
Geer headed out west and made plans to swim at the U.S. Open, but then DeMont announced his retirement over the summer, leaving Geer again to figure out her future.
She ended up swimming at the U.S. Open, finishing fifth in the 50 free and fourth in the 100 free—while still not in the best physical condition. While there, she connected with Stickels.
"She said she was still considering swimming and wanted to give it a go," Stickels said. "Now that Rick was leaving, I was probably the closest thing in terms of philosophy and training to Rick. She thought it would be a good fit. She's from Ohio, and it wasn't too far away from home. She just thought it would be a good change of scenery."
So in September, Geer moved to Bloomington, Ind., and joined Stickels' sprint group at Indiana University. Even if Stickels had a similar coaching philosophy to DeMont, Geer found the training totally different. "I had never done anything that we're doing right now," she said.
And Geer is enjoying it. She's fully engaged with the practices and with the program, and she said that she's been busy picking Stickels' brain for innovative ideas. As for her physical fitness, she admits it's not all the way back yet, but she insists that she's "in much, much better shape than when I started."
"She has great feel for the water, and she is very detailed about her technique," Stickels said. "And she's easy to work with—when I tell her to make a change technically or in the weight room or dryland or anything we do, she's able to do that automatically."
Geer's times in races have not yet approached her previous form, but even after she didn't get on the blocks for over a year, she found her racing instincts had not deserted her.
"It's kind of like riding a bicycle," Geer said. "It's more about getting back into shape and getting to that fitness level where you can train and do a three-hour lactate set. The racing never left me."
Unfinished Business
Looking at Geer's résumé, the big item missing that any swimmer craves is a spot on the Olympic team, and certainly what happened at the last Olympic Trials spurred her back into the water this past spring.
But to categorize her comeback as either a success or a failure based on whether she qualifies for the Olympics would be erroneous. Sure, qualifying for more international teams and winning medals would be great, but that's only part of the bigger picture.
So what is she hoping to get out of the sport at this point?
"I guess just inner fulfillment. Nothing external, to be honest. I don't believe I hit my peak. I wanted to change the environment, change the stimuli. I wanted to get with Coley and try some new things," Geer said. "Just trying to get better every day, that's really what I'm focused on right now."
As far as a long-term plan, Geer said that she had none "in the moment" and that's she's planning to re-evaluate her swimming after she gets to the summer, when the U.S. will select rosters for five upcoming international meets. After that, she will reevaluate.
But the big picture is not what concerns her right now. Eighteen months after a purely unhappy Olympic Trials, Geer was calm and relaxed that afternoon in Tempe as she pondered how she ended up in that spot and what objectives she wanted to reach.
"You get so laser-focused in on things that sometimes you forget to just enjoy it and have fun with it," she said. "That's what I'm trying to do every day. The group we have at IU makes that possible, I think."
The post-grad swimmer training among collegians at Indiana is no longer a rare breed, with Cody Miller, Zane Grothe and Ashley Neidigh among those training in Mike Westphal's group and Geer and Amanda Kendall in the sprint group with Stickels. In Kendall, Geer found someone with the same motivations to stay in the sport long after many of her contemporaries had moved on.
"She's been really good to train with," Geer said. "She's also trying to make her way up the rankings. We had unfinished business, I guess, for swimming, so we're kind of in the same boat."
Unfinished business?
"Yeah. It's just personal business, though."