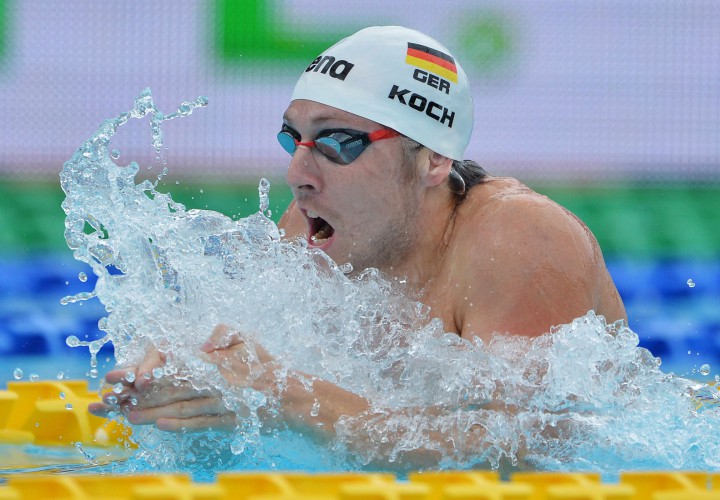 Photo Courtesy: Gian Mattia Dalberto/Lapresse
The 2016 FINA/airweave World Cup Series continued with the fifth installment of the meet in Dubai.
Marco Koch soared ahead of the competition in prelims of the men's 200 breaststroke, turning in a sizzling 2:07.54 for the first place seed. He will be joined in finals by fellow breaststroke stars Daiya Seto and Josh Prenot.
Pieter Timmers clocked the top qualifying time in the men's 100 free with a 48.32 over Vladimir Morozov's 48.49.
Morozov will also make appearances in the finals of the men's 50 breaststroke, led by Brazil's Felipe Lima (26.85), 100 IM, and 50 fly.
Katinka Hosszu was the only woman to dip below the 2-minute mark in prelims of the women's 200 free with a time of 1:59.25. Hosszu continued to swim her event-heavy schedules adding finals appearances in the women's 100 fly, 50 back, 200 IM,
Jeanette Ottesen returns as the top athlete in the women's 100 fly, clocking a leading 58.40 in prelims, as well as the 50 free. Ottesen posted one of two sub-25 second swims with a 24.68, followed by Natalia Lovtcova's 24.91.
Australia's Bobby Hurley posted the top time in prelims in the men's 100 back at a 51.88 to return as the top seed. Takeshi Kawamoto and Stanislav Donetc return as second and third with times of 52.19 and 52.38 respectively.
The women's 100 breaststroke continues to be highlighted by the same five dynamic women. This go around it was Rie Kaneto who posted the top time in prelims at a 1:05.95, just ahead of Katie Meili's 1:06.09. Breeja Larson (1:06.16), Yulia Efimova (1:06.50), and Alia Atkinson (1:07.83) all return for tonight's final as well.
South Africa returned both Myles Brown and Chad le Clos for finals in their respective events. Brown posted the top qualifying time in the men's 400 free by more than three seconds, while le Clos turned in the top times for 50 fly. Brown will have some competition in the 400 free finals from the likes of James Guy, Poul Zellmann, and Bobby Hurley.