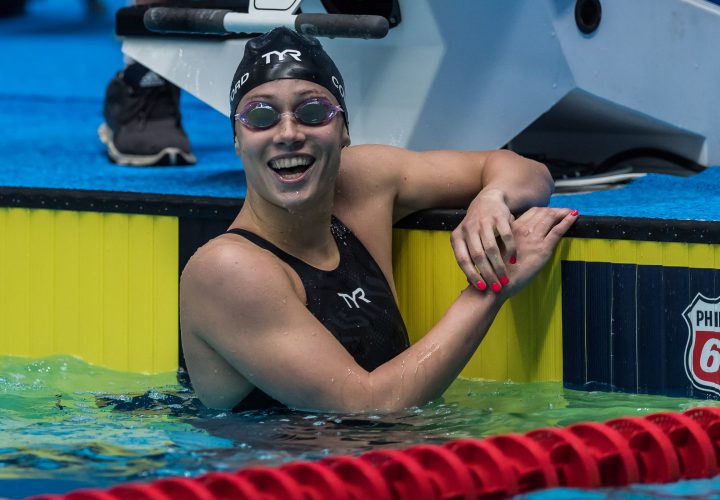 Photo Courtesy: Peter H. Bick
The women's ACC championships will be among the first of the major conference championship meets, set for Feb. 14-17 in Greensboro, N.C., and five-time World Championships gold medalist Mallory Comerford is expected to highlight the field.
Comerford, a junior at the University of Louisville, has won three individual conference titles in her career: the 200 free in both 2016 and 2017 as well as the 100 free last year. This season, Comerford is the top seed in the 100, 200 and 500 free, as well as the 100 fly, and she's third in the 50 free behind North Carolina senior Caroline Baldwin and Virginia senior Caitlin Cooper.
However, swimmers are limited to three individual events at any Division I championship meet, so it's most likely Comerford will focus on the 100, 200 and 500 free. Her butterfly has come on strong over the last year — she finished third in the 100-meter fly at U.S. Nationals — but it's unlikely that she will choose to swim that event over the 200 free, where she is the reigning NCAA co-champion with Katie Ledecky.
Comerford's Louisville team is expected to battle with NC State and Virginia for the conference title. The Wolfpack were victorious at last year's meet in Atlanta, while Virginia won the previous nine titles.
Other swimmers to watch include Baldwin, who is the top-ranked swimmer in the country in the 50 free this season and is seeded second in the 100 free and 100 back, as well as World University Games medalist Hannah Moore, a senior at NC State, and Virginia senior Jen Marrkand, who was third in the 200 fly at last year's NCAA championships and the top seed in that event for next week.
NC State freshman Julia Poole is the top seed in the 200 IM, and Virginia Tech's Reka Gyorgy will look to defend her conference title as the top seed in the 400 IM. Others occupying No. 1 spots going into the meet include NC State's Elise Haan in the 100 back, Florida State's Natalie Pierce in the 100 breast, Virginia's Emma Seiberlich in the 200 back, Pitt's Lina Rathsack in the 200 breast and UNC's Bryanna Cameron in the 1650 free.
All women's and men's diving will be contested at the meet as well, with the men's swimming-only championships coming one week later.
Check out the full psych sheet here.
Note that the psych sheet includes swimmers over-entered in more events than they could swim at the meet and also more swimmers per team than the conference allows. In other words, not all swimmers listed will actually compete in the meet.