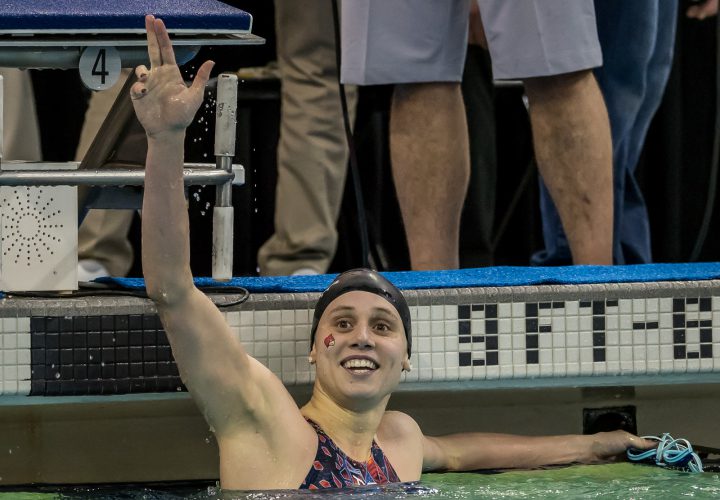 Photo Courtesy: Peter H. Bick
Editorial content for the 2018 NCAA DI Championship coverage is sponsored by TritonWear. Visit TritonWear.com for more information on our sponsor. For full Swimming World coverage, check event coverage page.
By David Rieder.
For more than a year, Mallory Comerford could seemingly do no wrong. In the year after her best finish at 2016 Olympic Trials was 12th, Comerford quickly became one of the best freestylers in the world, tying Katie Ledecky for the NCAA title in the 200 free and then winning five relay gold medals and a fourth-place finish in the 100 free at the 2017 World Championships.
But this week, at the NCAA championships, something did go astray. Comerford entered as the No. 5 seed overall in the 500 free, but she ended up falling off the pace of her heat. Her final time was 4:41.24, more than five seconds off her best time. Overall, she finished 27th.
"I just had a bad race. Everyone has a bad race—it happens," Comerford said. "I was really upset, obviously, but moving forward, I knew my sprints were really good and I needed to get back up and do it for my team. My teammates really lifted me up and helped me get back in the game. Just because one bad thing happened, that doesn't need to define who you are."
And Comerford did not let that one bad race get her down. Even through the first two days of the meet, when Comerford had yet to score a single individual point, she was one of the most impressive swimmers at the meet on relays.
In Wednesday's 4×200 free relay, she posted the fastest split in history at 1:39.14. A day later, she posted career-best splits of 21.04 on the 200 free relay and 45.74 anchoring the 400 medley relay. All three Louisville relays finished in the top six.
When Comerford got another chance in an individual event—her best one, by the way—she was ready. Too ready, perhaps. As the referee called the 200 free final to the blocks, Comerford already had one foot on the top step and looked to see when they would let her step up. She was first onto the blocks.
The 20-year-old trailed Siobhan Haughey and Simone Manuel at the first turn. She took over at the halfway point. She extended her lead with 25.13 third split, a half-second quicker than anyone else in the race. No one was going to catch her after that.
"Going into the 100 wall, I start my consistent kick," Comerford said. "That was planned. Going into the 125, that's when I make my move. I was really focusing on swimming on my own race, going out how I felt comfortable and then bringing it home as I could."
Comerford finished in 1:39.80, the second-fastest time in history behind Missy Franklin's American record of 1:39.10. No one aside from those two has ever broken 1:40.
This NCAA title meant something a bit different for Comerford than her first last season—namely, that one was a huge surprise and this one very much expected. After that tremendous relay split from two nights earlier, it seemed unlikely that Manuel or anyone else was going to keep pace.
Even though her junior year has been, in Comerford's words, "different," she still has that same drive that fueled her rise from obscurity. The new spark? Finishing fourth—and not better—in that World Championship final. In triumph and in disappointment, Comerford continues to find more impetus to push for more success.
At the same time, the position she has placed herself in through her performances in the pool has humbled her.
"It's an honor to be at this level and to be able to say I'm a national champion, especially with the girls that I'm racing," she said. "They're great competitors, and I love being able to go out there and race all these girls. They're making me better."
Yes, Comerford's 500 free was a disappointment for her but, in the grand scheme of things, no more than a speedbump. Even the best of swimmers have their down swims or their down meets—just look at the woman Comerford tied with, Ledecky, who has been two seconds off her own best times in both the 500 free and 400 IM at the NCAA championships.
But Comerford brushed off her less-than-perfect race almost immediately, and one day later, she reminded the country of what she proved last summer: She deserves her spot among the world's best freestylers.